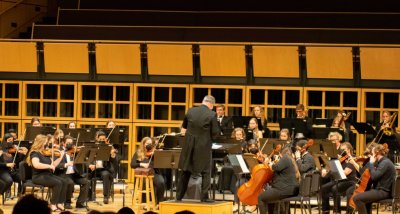 The Goshen College Symphony Orchestra is a group that varies in size and repertoire from that of chamber orchestra to full philharmonic dimensions. Formed in the 1950s, it has actively performed standard symphonic repertoire ever since. The group presents concerts of major orchestral works each semester. In addition, it accompanies the choirs, operas and student winners of the Concerto-Aria Competition.
Richard Brunson, conductor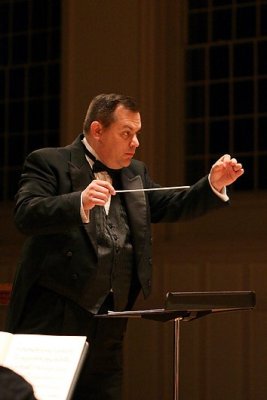 Richard B. Brunson, DMA, has held conducting positions in Utah, Nevada and Wisconsin, and has guest conducted in Nevada, Utah and London, England.
Richard has a reputation as a program and ensemble builder. He was the founding conductor and Music Director of the Taylorsville Orchestra (Taylorsville, UT) (2004 – 2006 and 2009 – 2011), and directed of the Desert Spring Arts Orchestra and Choir (Summerlin, NV) from (2007 – 2009). During his tenure, each organization grew in size and artistry.
Prior to Goshen College, Richard served as Assistant Professor of Music at the University of Wisconsin – Marshfield/Wood County, where he directed the Chamber Choir, the Marshfield Symphony Orchestra and the Marshfield Symphonic Band, and taught undergraduate theory, ear training, music appreciation and conducting.
Additionally, as a French hornist, Richard maintains a private teaching studio in the Marshfield area and has performed with various orchestras in Wisconsin, Utah and Nevada, including the Las Vegas Philharmonic, Salt Lake Symphony, Orchestra at Temple Square and La Crosse Symphony.
Audio Samples
2023-24 Concert Schedule
For tickets, please visit the Goshen College Box Office.
Homecoming Music Gala – Sat. October 7, 2023, 7:30 p.m., Sauder Concert Hall
GC Symphony Fall Concert – Fri. November 3, 2023, 7:30 p.m., Sauder Concert Hall
A Festival of Carols – Fri.-Sat.  December 1-2, 2023, 7:30 pm.; Sun. December 3, 2023, 4:00 p.m., Sauder Concert Hall
64th Annual Concerto-Aria Concert – Sat. February 17, 2024, 7:30 p.m., Sauder Concert Hall
GC Symphony Orchestra Spring Concert – Sunday, April 16, 2024, 7:30 p.m., Sauder Concert Hall