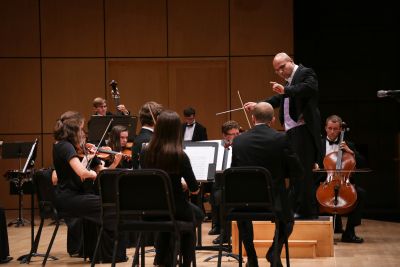 The Goshen College Symphony Orchestra is a group that varies in size and repertoire from that of chamber orchestra to full philharmonic dimensions. Formed in the 1950s, it has actively performed standard symphonic repertoire ever since. The group presents concerts of major orchestral works each semester. In addition, it accompanies the choirs, operas and student winners of the Concerto-Aria Competition.
Jose Rocha, Conductor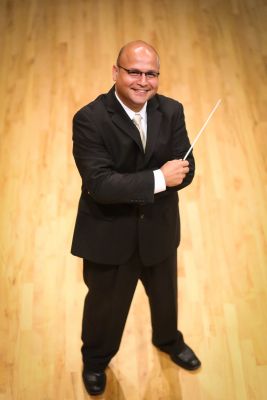 Jose Rocha brings 16 years of experience in public music education, most recently serving as director of orchestras and chamber music at Johnston Middle School for the Performing and Visual Arts in Houston (Tex.). His musical training began in Monterrey, Mexico where he was student and later faculty of the Youth Orchestra of Monterrey, a program inspired by El Sistema. His bachelor and master of music degrees are from the University of Florida. He completed a Doctor of Musical Arts degree in cello performance with a minor in music education from the University of Houston.
AUDIO SAMPLES
2015-16 Concert Schedule
Homecoming Music Gala:  Saturday, October 3, 2015, 7:30 p.m., Sauder Concert Hall.
GC Symphony Orchestra Fall Concert: Friday, November 6, 2015, 7:30 p.m., Sauder Concert Hall.
A Festival of Carols: December 4-6, 2015, Sauder Concert Hall.
56th Annual Concerto-Aria Concert: Saturday, February 6, 2016, 7:30 p.m., Sauder Concert Hall
GC Symphony Orchestra Spring Concert: Sunday, April 10, 2016, 4:00 p.m., Sauder Concert Hall.