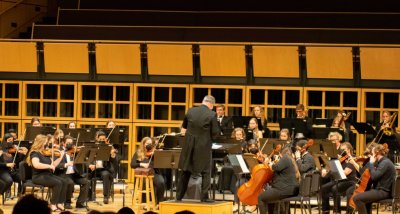 The Goshen College Symphony Orchestra is a group that varies in size and repertoire from that of chamber orchestra to full philharmonic dimensions. Formed in the 1950s, it has actively performed standard symphonic repertoire ever since. The group presents concerts of major orchestral works each semester. In addition, it accompanies the choirs, operas and student winners of the Concerto-Aria Competition.
Brian Mast, conductor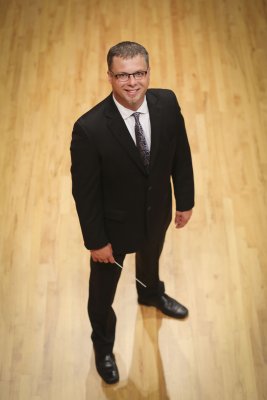 Brian Mast, MM, has been a conductor, music educator and arts administrator in Elkhart County for over 20 years. In addition to his role as Executive Director of the Goshen College Music Center, he is an Adjunct Professor of Music at Goshen College where he conducts the GC Symphony Orchestra. As a music educator, Brian has held teaching positions at Bethany Christian Schools, Goshen High School and Concord High School.  Additionally, he served as interim conductor of the Goshen College Orchestra and Brass ensemble for the 2007-2008 season. As a community arts advocate, Brian has served on the board of Goshen Theater, Inc., and has served as Music Director and Conductor of the Maple City Chamber Orchestra since 2002. Brian holds a BA in Music and Education from Bethel College in North Newton, Kansas, and an MM in orchestral conducting from Western Michigan University in Kalamazoo, MI, where he served as the assistant conductor of the University Symphony Orchestra and founded the University Chamber Strings. Brian has studied conducting with Bruce Uchimura, James Bass, and Michael Esselstrom. He lives in Goshen with his wife, Cheryl, and their three children, Mackenzie, Tristan and Tobias, and Sketch, the dog.
Audio Samples
2022-23 Concert Schedule
For tickets, please visit the Goshen College Box Office.
Homecoming Music Gala – Sat. October 8, 2022, 7:30 p.m., Sauder Concert Hall
GC Symphony Fall Concert – Fri. November 4, 2022, 7:30 p.m., Sauder Concert Hall
A Festival of Carols – Fri.-Sat.  December 2-3, 7:30 pm.; Sun. December 4, 4:00 p.m., Sauder Concert Hall
63rd Annual Concerto-Aria Concert – Sat. February 18, 2023, 7:30 p.m., Sauder Concert Hall
GC Symphony Orchestra Spring Concert – Saturday, April 22, 2023, 7:30 p.m., Sauder Concert Hall