Co-Curriculars and Internships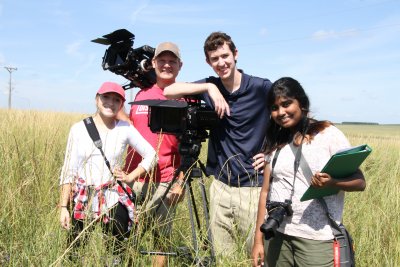 Dive in on day one and make a difference in the world! To study communication at Goshen College is to use your gifts and talents immediately. While students at larger universities need to "wait their turn" (often until their junior or senior years), you will receive practical experience in our top-notch, nationally recognized programs and related co-curriculars right away. This means that when you graduate, you will have high-quality, practical and professional experience under your belt, all while working on life-affirming, purpose-driven projects. You will receive concentrated, professional, one-on-one mentoring from professors as you develop an impressive resume during your college career. Whether you want to become a radio personality or a magazine editor, a graphic designer or a news reporter, a filmmaker or a teacher, the Goshen College Communication department offers numerous opportunities for you to be educated culturally and trained professionally.
Co-Curriculars
You will be encouraged to publish and produce, shaping a robust portfolio over your four years as a Maple Leaf. Practical experience is available through:
When you are a GC student, you may have the privilege of leading one of these groups — a great way to build leadership skills and your resume! Here is the place for current students to apply for one of the 2021-22 co-curricular leadership positions. The deadline for applications is Friday, March 12, 2021.
Internships
One or more internship opportunities are provided, depending on your major. In recent years, students have interned with:
Other opportunities
Make a difference in the world! Communication is a dynamic field of study that prepares students for meaningful service and fulfilling careers. Our professors are committed to Goshen College's five core values, and in bridging studies in the classroom with applied work off-campus — in the U.S. and across the world. In recent years, for example, teams of students and faculty have collaborated to develop a variety of impressive documentaries. These include a moving and fun piece documenting an SST group's experience in Tanzania, a film focusing on Mennonite women of color; a work about the Apostle Paul ("Journeys of Paul") in Greece and Rome; and a film production about sustainable farming work being done in Kenya. Groups have also traveled to El Salvador to report on fair trade coffee, to Swaziland to give an account of the HIV/AIDS pandemic; and to various locations in the U.S., putting journalism skills to work while publishing a daily newspaper at biennial church-wide conventions.
For film studies, you can major in communication with a concentration in film, and spend a semester at the LA Film Studies School.