91.1 The Globe wins big awards in the Big Apple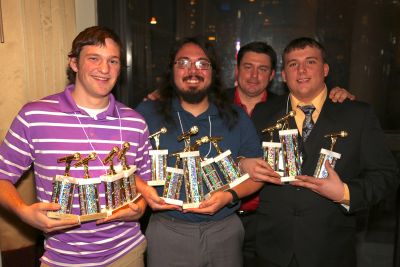 Goshen College's student-run radio station, 91.1 The Globe (WGCS), received two first place awards from the Intercollegiate Broadcasting System (IBS) at their 76th annual convention in New York City last weekend. The station and students were finalists for a total of 13 awards, including the Best College Station in the Nation.
"I am extremely proud of our students' efforts and success," said Jason Samuel, assistant professor of communication and WGCS station manager. "Their hard work and dedication to the craft are shining examples of the Goshen College Communication Department's culture of excellence. Recognition at the highest level serves to reinforce the quality of a Goshen College education in preparation for careers within the industry. WGCS continues to be a major player in this highly competitive field."
Colin Samuel, a first-year broadcasting and film production double major from Goshen, won first place for Best Celebrity Interview for his interview with musician Ben Folds at the 2015 Bonnaroo Music Festival.
WGCS staff also won first place for Best Use of Social Media with the station's efforts to connect with audiences through Twitter and Facebook.
Goshen College's other nominations included:
WGCS

for Best College Station in the Nation (under 10,000 students) and Best Station Promo.

Danielle Kersschhackl

, a senior broadcasting and American Sign Language double major from Elmwood Park, Illinois, for Best On Air Personality.

Victor Garcia

, a senior communication major from Goshen, for Best Station Student Manager.

Maria Bischoff

, a senior broadcasting and communication double major from Noblesville, Indiana, and

Victor Garcia

, for Best Community News.

Colin Samuel

, for Best Spot News and Best Live Music Broadcast.

Andrew Snyder

, a junior broadcasting major from Goshen, for Best Sports Play-By-Play (Other).

Dalton Shetler

, a junior broadcasting major from Spencerville, Indiana, for Best Sports Update and Best Radio Documentary.

Berke Beidler

, a junior broadcasting major from Lancaster, Pennsylvania, for Best Event Promo.
The Intercollegiate Broadcasting System is the oldest running collegiate broadcasting association in the United States. This year more than 115 schools of all sizes participated in the annual awards competition, garnering a record number of entries.
WGCS has won the IBS Best College Station in the Nation award twice in the last 5 years. Despite Goshen's good showing of nominations in 2016, the University of Tennessee at Martin won Best College Radio Station for schools under 10,000 enrolled students. The Hoosier State was well represented, though, with Indiana State University taking home the Best College Radio Station Award for colleges over 10,000 enrolled students and Pendleton Heights High School taking the Best High School Radio Station Award.

The Globe is still up for more state and national awards in 2016, which will be announced in the next month.