Planting sweet corn on Monday the 30th of March felt like a bright ending to what otherwise was an exceptionally difficult month.  Having a greenhouse and a detached hoophouse is a blessing, giving our farm the opportunity to extend the season in early spring and late fall.  Can you believe we have tomatoes in the ground already?  In the greenhouse, of course.  Radishes are filling out, lettuce is leafing, and soon we will place baby cucumber in the soil next to the hoophouse sweet corn.  Picture sweet corn and cucumbers in June!  If we are lucky, we may have a cucumber by late May–lemon cucumber.  See this link if you've never seen such a wonderful little ball of crunch.
I can barely believe all that has happened in just one month.  Dale passed that snowy Sunday morning, March 1st, just hours after I returned with Luke Gascho from Wisconsin.  Days later came the funeral, and with it came an emotional and very moving recap of Dale's life and work.  Those of us who attended the viewing and funeral had the pleasure to see artifacts of his days in Tanzania, Niger, Mali, Burkina Faso, and his years in Lancaster, PA.  Stalks of sorghum were displayed on his casket.  He was a gift to God for carrying the torch for honoring the botanical world with such reverence and passing on that passion to his students.
Earlier in the month, I also had the pleasure of attending the Indiana Small Farm Conference in Danville, partnering with the Savannah Institute to talk about restoration agriculture to a packed room of attendees.  Executive director Keefe Keeley and I were encouraged by the interest in restoring savannah with new forms of agroforestry.  Many learned about Merry Lea for the first time, and news of our work and educational programs was spread to a sizable crowd that day.  It was also positive to connect with fellow farmers I met last year at the conference, some of whom were returning with impressive updates from their expanding small farm operations.  This included Alan and Amy fromHeritage Meadows Farm in Clayton, IN who won the GRIT magazine homestead of the year award in 2014!  Their heritage hogs are gaining attention.
The month of March has also meant hours in the greenhouse, starting our onions, brassicas, basil, parsley, and much more.  The tables are full of trays waiting for warm weather to come outdoors.  With Dale's passing, many volunteers have stepped forward, though the need for help continues.
One of the fond memories of March came when 20 students from Goshen College arrived for the first ever Sustainable Living Skills course March 20-22, taught by Merry Lea faculty member Lisa Zinn.  Students broke into two groups of ten students, choosing between food preservation and cooking skills track and a food growing track, which Lisa and I led.  Activities included inoculating oak logs for growing shiitake mushrooms, building window boxes for growing early spring greens using used materials, seed saving, harvesting and washing lettuce, germinating sweet potatoes in jars of water, and creating worm compost bins!  Students used a variety of tools and walked away with practical skills as well as deeper knowledge about food production.  The other group learned to make kimchi, baked sourdough bread, dried apples with a dehydrator, and canned dilly beans!  Best weekend ever!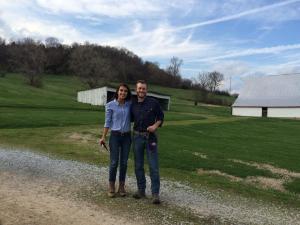 I had the privilege of taking a last-minute trip to visit Lipscomb University in Nashville the last week of March, paying visit to a 2014 graduate of the Agroecology Summer Intensive and her contacts at the university.  It was wonderful to see what students who came through our doors at Merry Lea Sustainable Farm are doing with their experience!  Christina Gomez is now preparing to be farm manager at a large property north of Nashville beginning in June, implementing many of her plans proposed in the Small Farm Management & Marketing class last summer!  The visit was helped greatly by the warm, sunny weather and seeing green grassed dotted with the emerging daffodils.  Winter has been long in northern Indiana this year!
We are hopeful about the month of April bringing the return of chickens, the planting of broccoli and onions, and the Farm Open House on April 10th.  Keep in touch!  We are still open to students enrolling this summer in the Agroecology Summer Intensive, the deadline being April 15th.
– Jon Zirkle