$5000 donated to fund student research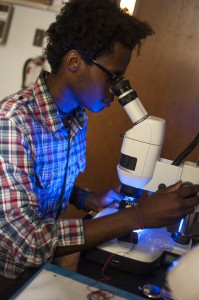 A generous friend of the Biological Sciences department is interested in promoting undergraduate research. This individual pledged to match contributions up to $5000 to fund undergraduate research in the new Junior Seminar class.
Would you consider helping launch this new initiative?  Please consider a donation today. Click here – after entering an amount in the "other" box, write "Biology Undergraduate Research" in the comments section.
If you prefer to make a gift by check, please make it out to Goshen College and in the memo section of the check, write Biology Undergraduate Research.  Send it to the Goshen College Development Office, 1700 S. Main St., Goshen, IN 46526-4724
Course philosophy
The Junior Seminar class is a brand new required course for all 3rd year Biology majors.  The course will be team-taught by all Biology faculty members who will mentor a subset of students in choosing, designing, and implementing a Senior Thesis or Special Project.
The Senior Thesis and Special Project options include similar outcomes: a) an extensive literature review, b) detailed project proposal, c) application to the Department's Undergraduate Research Fund to secure funding, and d) presentation to the public of project results. The two options, however, are designed to meet the varied interests of our students, with potential examples below.
Potential Examples of Senior Theses
Extensions of research currently underway in the labs of GC Biology faculty.
Summer work with faculty at other institutions, for example in NSF's REU programs (Research Experience for Undergraduates)
Potential Examples of Special Projects
Development of a sustainability/energy plan for the J.N. Roth Marine Biology station
Research on the latest science teaching pedagogies through interviewing local teachers
Summer internship in a medical or surgical practice with intensive literature review of a particular medical issue in healthcare
Collection and analysis of local case studies in bioethics, perhaps through interviewing healthcare practitioners
 Ways alumni can get involved