Julia Spicher Kasdorf, Mennonite poet, visits Goshen in S.A. Lecture Series
Julia Spicher Kasdorf, Mennonite poet visits Goshen in S.A. Lecture Series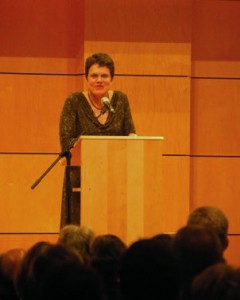 For more information, see press release
Julia Spicher Kasdorf, poet and Goshen College alumnus, grinned as she faced dozens of students and several English department professors in a science classroom.  She had just been asked what makes a professional writer. "Well," she said after a slight pause, "you practice it, and you get paid for it."
Spicher Kasdorf, who visited Goshen on Friday as a stop on her book tour for her latest collection, Poetry in America, is simultaneously lyrical and blunt, much like her poetry. Prior to her Friday night performance in Reith Hall, the poet spoke to a group of students from several classes, answering questions about writing poetry and her own experiences with the art.  The discussion ranged from interpretations of past work to Spicher Kasdorf's Mennonite background, which she says is "where I come from and what I love.  I think it's the one field I was given to plow over and over again. Spicher Kasdorf also delved into her experiences on the truth expressed in poetry. Some truths about her small community life were altered for her works, the poet explained, in order to convey a more significant emotional truth.
Later that evening, the poet presented excerpts from Poetry in America, which focuses on work, particularly women's work, and resilience. Spicher Kasdorf demonstrated both humor and poignancy as she read through her pieces, which students appreciated. Upon hearing "Eulogy Against—Ten Years Later," junior Maryn Munley commented that she liked the "interesting use of silence within a literary piece."
The content of this particular collection makes it exciting to share with others, Spicher Kasdorf said, because it is "going out into the world at a time when people seem open to thinking about work—jobs, for one thing, but also the idea of what constitutes meaningful work or what we can realistically expect along those lines."
Yet the poet feels that the art is more fundamental than that. When asked about her purpose as a poet, Spicher Kasdorf paused again, then said simply: "to make something of beauty out of what you get…beauty is really important. Beauty is sometimes all we have of the world here."
Julia Spicher Kasdorf agreed to answer a few further questions in interview format, which follows:
What gave you your inspiration for this latest collection of poems?
This book was written over a long time–from about 1998, when EVE'S STRIPTEASE was published, until now, although "Rachel on the Threshing Floor" was written in 1994.  So, it's impossible to name a single "inspiration."  I can say that when I was gathering and ordering and revising the manuscript I kept returning to a few themes that seem to resonate through the collection:  work, especially women's work; war; and resilience.
Who is your favorite poet, one that you look up to as a model and guide for your poetry?
This question always silences me.  I turn to poetry for many things, and I love many poets.  As an undergraduate I memorized a lot of Yeats and I still love him for his music and his passionate struggles with poetry and politics.  The poets named in my book, Yehuda Amichai and Galway Kinnell (both teachers) and Gerard Manley Hopkins, have been important.  I think about Muriel Rukeyser a lot. Sharon Olds was my teacher.  I try to read the morning office most days, and so there are the Psalms. Oh, there are just quite a few.
Where did your English major take you? What classes did you appreciate the most at Goshen?
My English major, plus SST in China, took me to New York City, because in those days that's where you had to go to publish poetry–I thought–and because after SST in Chengdu in 1982, what else could be more extreme and shattering?  I wanted to keep traveling.  I taught high school in a Catholic school for a year, typed labels for art history slides, watered plants in office buildings, and then for 6 years wrote grant proposals during the day and did graduate work at night…but always my English major kept me reading and writing and thinking.
We modern parents tell our children to "use their words" rather than bite the kid or sit down and melt into a puddle of sobs.  Well, my English major encouraged me to "use my words" in all kinds of ways, to earn a living but also to begin to figure out the meaning of the journey my parents and I had taken from a traditional, religious community to a secular world, where our neighbors didn't know Mennonites from Mormons.
How long is your book promotion tour?
This academic year I'll be doing a bunch of readings at various venues–from the wonderful S. A. Yoder Lecture here at Goshen College to an outdoor festival on a lama farm called Alpacapalooza in Bloomsburg, PA.
Where do you find is the best place to write your work?
Any place where people aren't making demands on my attention–you know, my child or my students or my friends.  This sounds cranky, but it just reflects the stage of life I'm in right now.  It's hard for me to get time alone.
~ Abby Hertzler