Sierra Ross Richer wins Indianapolis Press Club award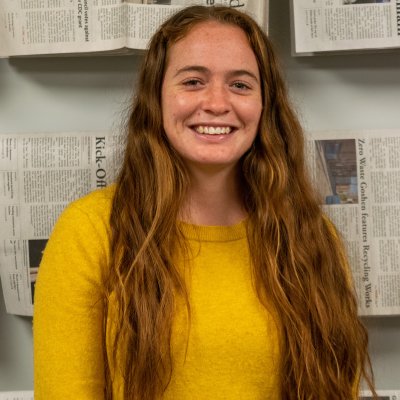 Sierra Ross Richer, a senior journalism major, received the Indianapolis Press Club Foundation scholarship this week for deadline news coverage.
Ross Richer is the second consecutive Goshen College student to receive the highly competitive scholarship for deadline news reporting; Mackenzie Miller shared the award in 2021.
"Sierra is an unusually gifted writer across genres and subjects," said Duane Stoltzfus, the faculty adviser to The Record and chair of the communication department. "In the years to come I expect she will win many accolades as she focuses her writing on the natural world and sustainability, her calling."
Commenting on Ross Richer's two entries, the judges said: "Sierra's stories capture life on the Goshen College campus in the era of COVID. Her writing is strong and her reporting is thorough."
Each year, the Indianapolis Press Club Foundation invites the top student journalists in the state to submit their best work in an open competition; judges then select winners in three categories: deadline news, feature writing and sports writing.
The awards are officially named the Last Row Party Scholarships, in recognition of the Indianapolis Motor Speedway, which sponsors the scholarships.
The awards – in the amounts of $1,031, $1,032 and $1,033, for deadline news, features and sports writing, respectively  –  mirror the checks distributed to the last row drivers in the Indianapolis 500 (the drivers get checks for 31, 32 and 33 cents).
Each spring, students can submit two samples of their best work in any of the categories. The Indianapolis Press Club Foundation received 26 entries this year.
Grace McCormick of Ball State University won for feature writing; and Matt Cohen of Indiana University claimed the sports writing award.
Ross Richer, who is from Goshen, is serving as executive editor of The Record, the weekly student newspaper, this semester. The Indiana Collegiate Press Association last year named The Record "Newspaper of the Year" in the college division; the awards for the 2021 calendar year are pending.