The Record wins 'Newspaper of the Year' award for fourth consecutive year
The Indiana Collegiate Press Association (ICPA) named Goshen College's student newspaper, The Record, "Newspaper of the Year" for the fourth consecutive time in the college division, with a flurry of awards in design, photography and graphics.
More than 20 Goshen College students collected 42 awards at the ICPA annual awards ceremony, which extended across several days in April. For the second year in a row, the awards were released on Facebook rather than at a gala luncheon in Indianapolis.
Apart from driving the event online, the pandemic also provided subject matter for many winning entries, including best informational graphic, in which Nathan Pauls, a senior art and communication major from Kinzers, Pennsylvania, took first for a photo collage in the form of 105, the number of COVID cases at the college.
This is the fifth time in six years that The Record, which publishes a weekly print edition and competes against schools across the state with enrollment under 3,000, received the top billing.
The awards recognized Record staff from the spring of 2020, when Megan Bower, a 2020 graduate from Sheffield, England, served as executive editor, and the fall of 2020, when Mackenzie Miller, a senior journalism and English major from Lancaster, Pennsylvania, was editor.
While The Record earned multiple first-place awards in writing categories, including two for Miller, this was a year when the visual contributors made a statement with their artistry.
Priscilla Tanujaya, a junior music major from Jakarta, Indonesia, took first place for a feature photo of three students in front of the Farmers Market that the judges said had "a kind of vintage vibe." Gabe Miller, a 2020 graduate from Goshen, took first-place with a news photo that offered an intriguing angle on the Indiana Science Olympiad.
Other top awards went to Alex Koscher, a first-year business major from South Bend, for a photo essay featuring Laura Olsen in the ceramics studio, and to Juan Perez, a senior exercise science major from Goshen, for a women's soccer photo delivered with what the judges called "an extreme horizontal composition" of players in pregame formation.
Nick Yutzy, a senior communication major from Iowa City, Iowa, took the best illustration award for a poster of Ruth Bader Ginsburg, the former Supreme Court justice, with a quote: "Fight for the things that you care about, but do it in a way that will lead others to join you." The judges responded: "Wow."
In the editorial cartoon competition, Pauls took first for "quarantine in six words"; and Greta Klassen, a sophomore elementary education and TESOL major from Goshen, claimed second for "the ultimate guide to choosing your two friends," a clever reply to the college's request to limit social contacts.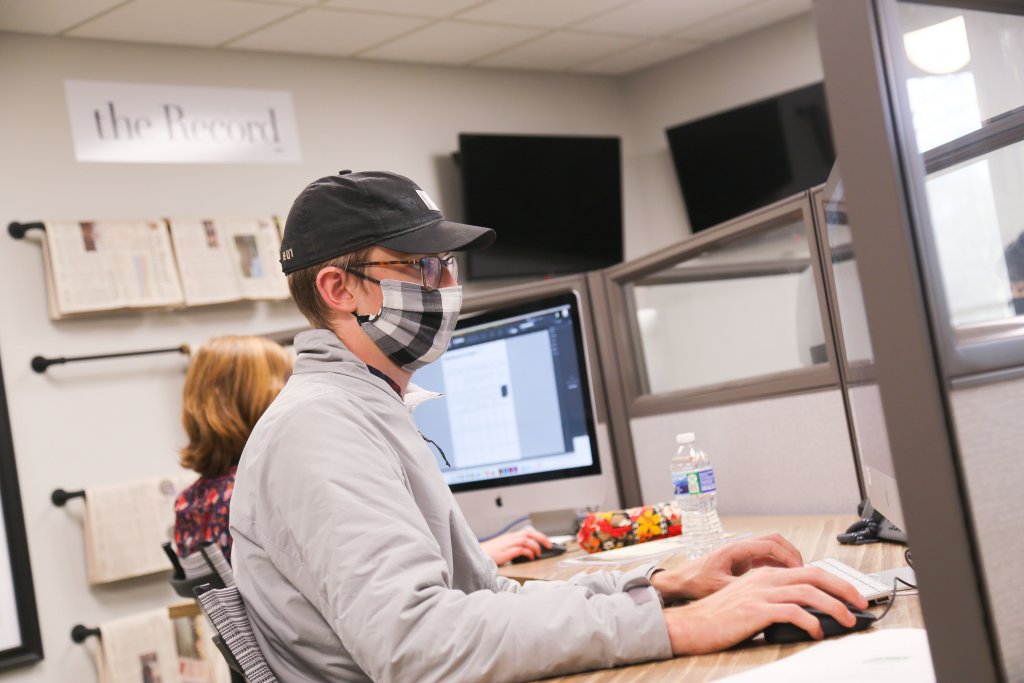 The other first-place awards included:
Mackenzie Miller, for a profile of Paul Keim and the study of languages; and sports feature on Austin Branagan's devotion to basketball and bull riding;
Elizabeth Reimer, a senior Bible and religion and peace, justice and conflict studies major from Naperville, Illinois, for a perspective called "Notes from the loneliest major: Bible and religion";
Staff, for best single issue, best front page, best overall design, best feature page, best sports page, best special section cover and best themed issue.
Graysen Cockerham, a junior sport management major from Brighton, Michigan; Dakota Cain, a sophomore undecided major from Carmel, Indiana; Camryn Kopka, a junior sport management major from Winamac, Indiana; Janis Perez, a junior English major from Lakeland, Florida; Anna Smucker, a junior graphic design major from Goshen; Patrick Webb, a senior writing major from Goshen; and Nathan Pauls, for a guide to the 2020 election, the best pull-out section.
Second-place awards included
Mackenzie Miller and Yutzy, best continuous coverage of a single story, COVID;
Mackenzie Miller, best entertainment column;
Ellie Keener, a 2020 graduate from Lancaster, Pennsylvania, for best entertainment story; staff, best news or feature series;
Gussie Nafziger, a sophomore music major from Weyer's Cave, Virginia, for best review;
Jace Longenecker, a 2020 graduate from South Bend, for best feature photo;
Koscher, best photo essay;
Juan Perez, best sports photo;
Klassen, best editorial cartoon;
Pauls, best illustration; and
Cain, best informational graphic.
Third-place awards include
Klassen, Smucker and Webb, best continuous coverage of a single story, 2020 election;
Klassen, best entertainment column;
Amber Heydon, a junior communication major from Elkhart, Indiana, best entertainment story;
Emmalene Rupp, a senior social work major from Warsaw, Indiana, best in-depth story;
Emery and Mackenzie Miller, best news or feature series;
Klassen, best news story;
Gabe Miller, best opinion column;
Colin Flowers, a junior broadcasting major from Merrillville, Indiana, best sports column; and
Tanujaya, best news photo.
"The pandemic presented plenty of challenges to doing good journalism, including having to wear masks and maintain a distance," said Duane Stoltzfus, professor of communication and adviser to The Record. "Of course, there were also historic  opportunities to share compelling stories. Week after week, the staff provided an authoritative report, often with a creative flourish."
The Record received 90 points to finish in first; The Echo of Taylor University took second, with 34 points; and The Andersonian of Anderson University finished in third, with 25 points.