'Blosser's Park' documentary uncovers forgotten local history
Premiere: "Blosser's Park: The Social Gathering Place of Goshen"
Date & Time: Friday, Oct. 29, at 7 p.m.
Location: Goshen Theater, downtown Goshen
Cost: Free & open to the public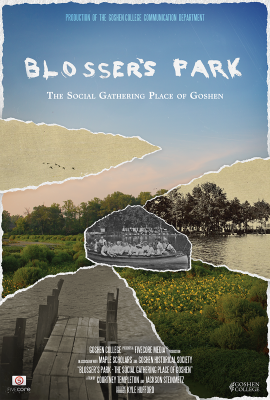 This summer, two students took on a project to uncover a little known piece of Goshen history, resulting in a short documentary titled "Blosser's Park: The Social Gathering Place of Goshen," about a former youth leisure park in the early 1900s, located on Blosser's Island in the middle of the Goshen Dam Pond.
The 14-minute mini-documentary will officially premiere Friday, Oct. 29, at 7 p.m. at the Goshen Theater. The showing is free to the public. Following the screening, there will be a talkback session with the filmmakers and Ron Hoke of the Goshen Historical Society.
Goshen College students Courtney Templteon, a junior film production major from St. Louis, Missouri, and Jackson Steinmetz, a junior film production/communication major from Bluffton, Ohio, worked with Kyle Hufford, associate professor of Communication on the documentary, through the Maple Scholars program.
The documentary shines a light on the park that once made its home on the island in the middle of the Goshen Dam Pond. After it opened in 1909, Blosser's Park drew people in from across northern Indiana. It hosted boats, beaches, picnic grounds and even a skating rink. After it closed in the 1940s it was largely forgotten and today only a few traces of it's past remain on the island. "Blosser's Park" hears stories from community members that went to the park in their youth and from historians who share the legacy it left behind.
Blosser's Park closed down a few years following World War II. The island is now a bird sanctuary closed to the public.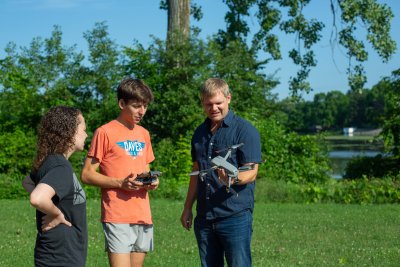 Telling the park's story
The trio chose Blosser's Island and collaborated with the Goshen Historical Society, who provided assistance and resources.
"We didn't know what we were getting into. It was an unexpected direction and we were both happy with it," said Templeton.
"Blosser's Park" is a part of the Goshen Spotlight series, which highlights local Goshen stories that might not otherwise be told. The team had a sense of urgency to complete the documentary.
People who were at Blosser's Park are "accelerating in age," said Steinmetz, so it was important to interview them before the knowledge and stories were lost. The Goshen Historical Society helped set up interviews with people who visited the park in their youth.
"It's really cool to be able to tell stories that wouldn't be if we waited any longer," said Templeton.
Steinmetz and Templeton were given permission by the current owners to visit Blosser's Island. On their first visit they scouted for shooting locations, then returned with their film equipment.
After working in an office for the pre-production, Steinmetz said it was "relieving to do something in person. Once we got onto the island, it was really overgrown."
"I really enjoyed interviewing older people about the island," said Templeton. "I had no idea there was such a rich history behind this place."