Goshen College, ever singing: The show will go on, virtually
By Mackenzie Miller '21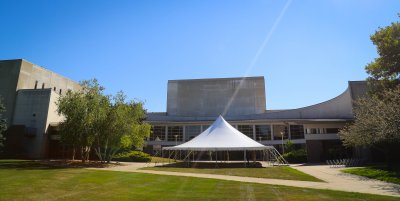 The 900-seat Sauder Concert Hall in Goshen College's Music Center will be empty of audience members this fall due to the pandemic, as will Umble Center, home to the theater department.
But the arts at Goshen College will continue to move ahead in new and reimagined ways, as students, staff and community members are invited to participate in and enjoy music performances and theater productions online.
"We can do magical stuff in the virtual environment, and we can end up making it sound beautiful," said Scott Hochstetler, professor of music.
The music department recently confirmed some guidelines for music-making this fall:
All three of the college's choirs – Vox Profundi, Voices of the Earth and Chamber Choir – will adopt a hybrid rehearsal model, with some rehearsal times on Zoom and others slated to take place distanced outside under a tent.
Private lessons for voice, brass and woodwind students will take place online while piano and violin students have the option of in-person lessons, while wearing a mask.
Orchestra and Lavender Jazz will rehearse in person with masks and appropriate physical distancing.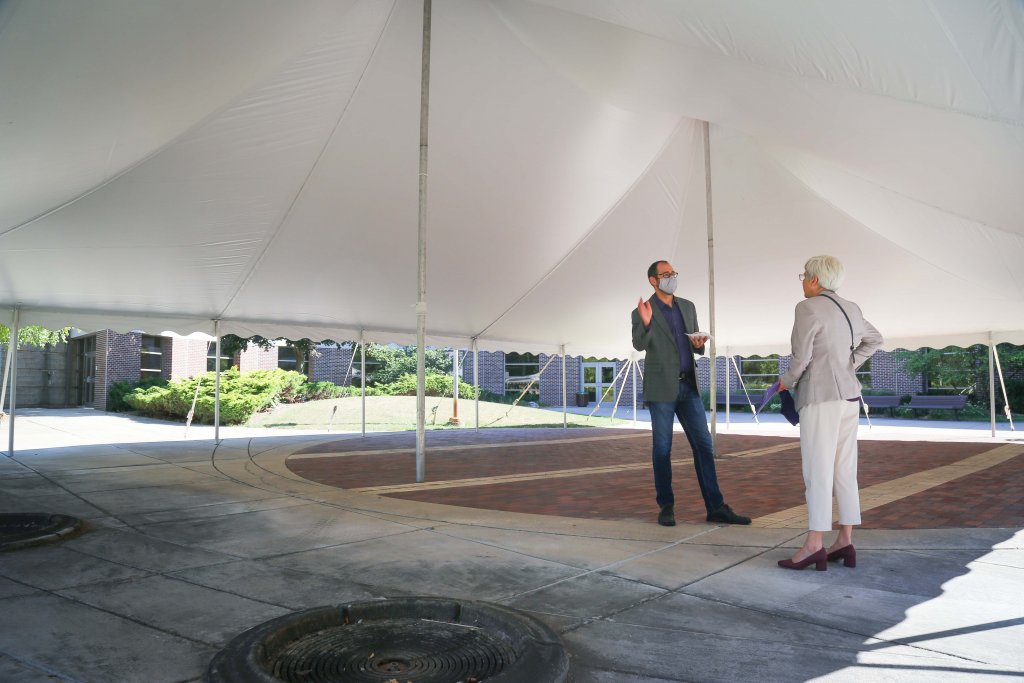 "This is what choir directors are doing around the world and especially in our country," Hochstetler said. "We're learning about the virtual platform."
For a majority of the music students at GC, a new reality of making music online will begin.
Though Bek Zehr, a music major with a theater minor, didn't come to Goshen College for an online music experience, they're hopeful for the new learning opportunities this semester could bring.
"Singing is such a personal and vulnerable act of connecting with other people, that a screen separating us just doesn't feel right," Zehr said. "But it's very encouraging to be in meetings and discussions with people about the new possibilities and experiments we can try with an online format."
After being postponed this past spring semester, the theater mainstage, Shakespeare's "Cymbeline," is set for this fall, with much of the same cast returning to the stage.
"There will definitely be performances from the theater department this fall," said Anna Kurtz Kuk, associate professor of theater. "The current plan is for most performances to be virtual. Our students will still have opportunities to design and to perform, just in a bit of a different format than traditional theater."
This past May term was the first time Zehr and their classmates explored virtual theater, but they are eager for more.
"I think that because so many of us have been deprived of community and friends in the past few months, it'll be an awesome journey of figuring out how to connect with others and to share our theatrical experiences in whatever way we can," Zehr said.
"I imagine years from now theater artists will still be talking about how they kept theater alive, how they got creative during the pandemic," Kurtz Kuk said.
And while there is added risk for singers, brass and woodwind students according to scientific studies, all will attempt to do the same: to keep the arts alive.
"It will be a unique experience with some learning being done remotely, but we know that this is only for a limited time, and our shared humanity is what we are created for when we share together the beauty, meaning and power of music," said Matthew Hill, professor of music.
Hochstetler notes that the reality of GC's 135-acre campus paired with a smaller student body is advantageous during this time. But the focus of making music on campus will change for now.
"The idea is that we're working towards being better musicians and really focusing on what music can do for us," he said. "We're normally so focused on performances and deadlines, and I rarely was able to give time to talk about the text or about the background of the composers."
While interacting with the music department will be limited to those on campus, making virtual music as a community is still possible. Hochstetler notes the potential for a virtual Festival of Carols this December.
Referencing the lyrics to the college's Alma Mater, Hochstetler said, "Goshen College [is] ever singing (and playing)!"