Students support the Elkhart County Food Council with real-world research
By Leandra Beabout
Even in a county replete with farmland, healthy food is not accessible to everyone. Buying fresh produce could take hours of bussing back and forth to the supermarket. Families might be unaware of local community gardens in their own neighborhoods. That's why Goshen College supports the Elkhart County Food Council (ECFC).
From food council research to on-the-ground food asset mapping, Goshen College students are teaming up with ECFC to promote healthier, sustainable food for everyone in the community.
The work began in the fall. Levi Ebersole, a junior sustainability management major from Corvallis, Oregon, investigated successful food councils across the country. He presented his research—and suggestions for improvement—to the ECFC.
Ebersole said food councils seem to take longer to "gain momentum" in Indiana. But he sees big potential for healthy food access if local leaders, business owners and researchers work together.
"Healthy food and affordable food, those are the main things that food councils are trying to address," Ebersole said. "(ECFC is also) encouraging local farming, local food, and supporting smaller markets."
This semester, another group of Goshen College students will build on Ebersole's research. Assistant Professor of Sustainability and Environmental Education John Mischler's food sustainability class is mapping food sources in Elkhart's neighborhoods.
Phyllis Miller, ECFC board member and a 1981 Goshen College alum, explained, "By USDA terms, 'food deserts' is a focus on what's missing. John's class is gathering information for what Elkhart has. From that, we can glean how to make that better or fill in those gaps."
Eventually, the food asset information will be combined with community health data from Goshen Health. ECFC consultant and 2008 Goshen College alum Nicole Bauman will analyze the information to pinpoint areas that lack access to healthy food.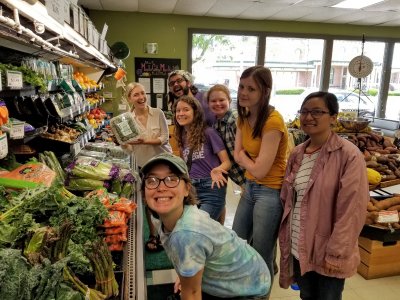 Real-world Experience
In January, Mischler's students canvassed neighborhoods in Elkhart. They asked residents about food items and stores available near their homes. Students' "market basket surveys" tally available food and associated costs. Even the nutritional quality of available foods was noted.
Mischler said this "on the ground" research is about more than supporting ECFC. It's also a robust educational opportunity for students.
"Students are able to do something real, which is a much better use of their time than solving some contrived example," he said. "It's a messier form of instruction. But they get experiential exposure to what our local communities and societies are facing, and how they might be changemakers in the future."
Mischler wants the research results to be accessible to everyone. From academics and food council members to Elkhart families and farmers, a map of food sources in Elkhart should benefit all.
Ebersole also commented on bridging the gap between academic research and real change. "For a lot of communities, food security among disadvantaged groups is a pretty big issue," he said.
Miller, who is thrilled about the ECFC's progress and her alma mater's role in it, agreed.
She said, "Food is central to community. Food is central to health. It's central to quality of life."