Graduate Story: From the West Bank to Northern Indiana, Meqbil weathers life's challenges
By Emily Kauffman '18
While working as a phonathon caller in his first semester at Goshen College, Yazan Meqbil, a molecular biology/biochemistry major from Palestine, connected with Tamara Loewen Hazbun '89 over her Palestinian last name. Her husband has Palestinian roots.
When she later came to visit GC with her daughter, who is now a student, the two met at Java Junction and talked. She shared with Meqbil about Purdue University's programs, where her husband is an associate professor of medicinal chemistry and molecular pharmacology.
In January of 2018, Meqbil emailed 50 professors around the country asking about fellowships and internships. Tony Hazbun, Tamara's husband, was one of three to respond back offering Meqbil a summer research internship as well as a place to stay in their home. The Hazbuns made things easier for Meqbil and allowed him to spend a very educational summer at Purdue.
Meqbil left Purdue with a greater sense of the science world. He will return in June to begin a Ph.D. program in Medicinal Chemistry and Molecular Pharmacology.
A huge accomplishment that hasn't come easy to Meqbil.
He grew up in Beit Ommar, a small town between Hebron and Bethlehem in the West Bank.
Meqbil was a Palestinian refugee, which was a struggle by itself. It was financially difficult for him to go through school. He didn't always have everything and felt he had to work harder.
Meqbil took a gap year after graduating high school to take the SAT and study for TOEFL, a standardized test to measure the English language ability of non-native speakers wishing to enroll in English-speaking universities.
Then came the realities of having a Palestinian passport and needing to obtain a student visa, not to mention almost a week of travel to get from his home in Palestine to the United States.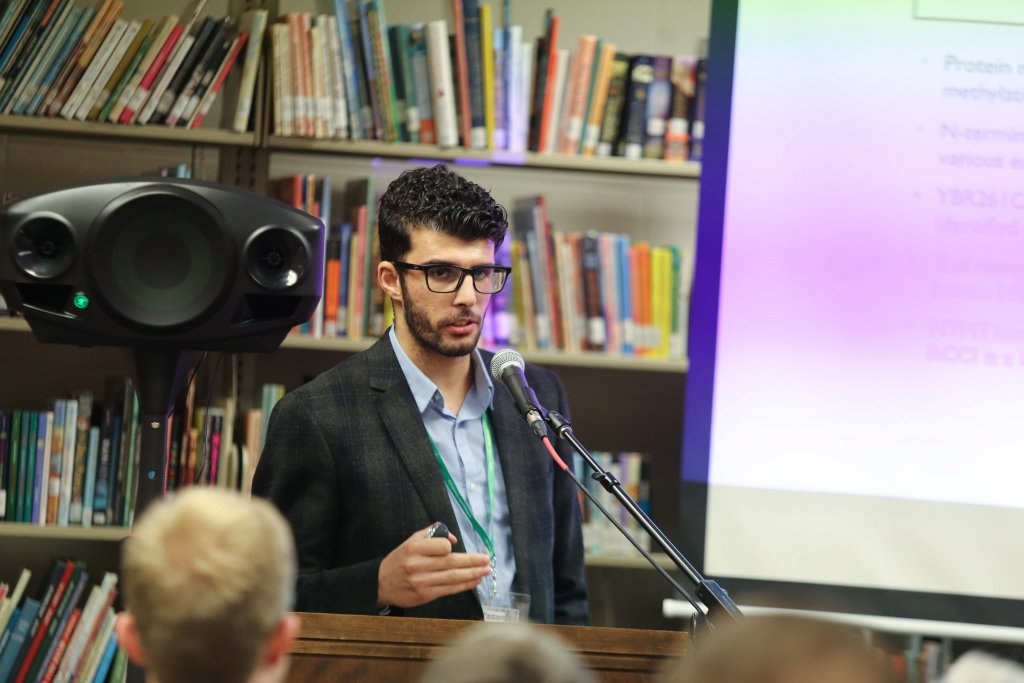 The struggle for going through school didn't stop when coming to the United States. His first host family fell through and his money was stolen while he was a student at Ivy Tech in Indianapolis. It got to the point where he was planning to go home. Then, Meqbil got a call from Sara Azzuni, a student at GC, informing him that he had been accepted to Goshen College. A second call from Sara came the summer before Meqbil started classes at GC to inform him that a host family was awaiting him.
"I was going to get a haircut in Indianapolis and I was in an Uber when I screamed 'YES!' and the driver played a song to celebrate the moment," said Meqbil.
With the help of Leonard Education Organization, a nonprofit that helps bright, young Palestinians attend college, and two churches, Meqbil was able to attend Goshen College.
Meqbil knew very little of what to expect when coming to GC. While he had heard of GC through the Christian Peacemaker Teams (CPT) back home, the transition proved to be challenging.
But Meqbil is grateful for the challenge.
In terms of exposure to the classes and structure of his major specifically, GC, to Meqbil, is very strong academically. The analytical and critical thinking that are presented both in the sciences and other classes have prepared Meqbil very well for graduate programs.
Meqbil names the semesters researching alongside professors Dr. Kris Schmidt, Dr. Andrew Ammons and Dr. Doug Schirch as being particularly influential as well.
He's felt connected to his professors in a way that other colleges or universities haven't offered him. They allowed him to work in the lab with them and wrote him recommendation letters and went so far as giving him their personal cell phone numbers and told him to contact them whenever he needed help.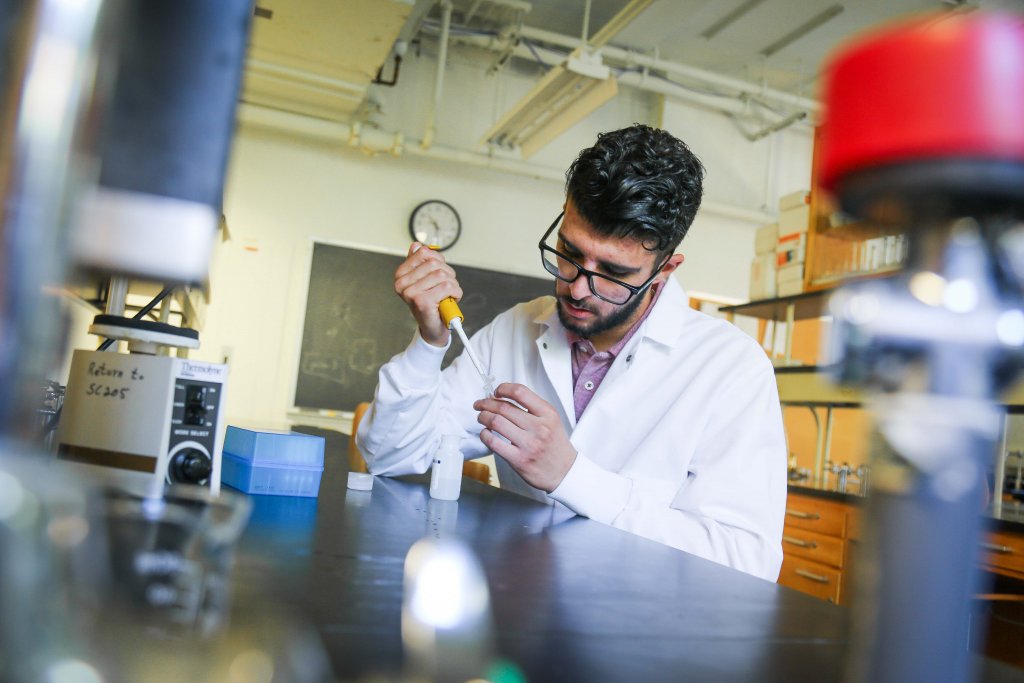 Last week, Meqbil presented his senior thesis on the research he did at Purdue. He streamed it on Facebook Live so that his parents and friends from all over the world could see it.
"My mom was sending me these emotional texts. Saying 'I wish I was with you' and 'I'm so proud of you,'" said Meqbil.
Meqbil's parents are grateful he decided to come to Goshen College.
"They are really happy because they saw me grow and improve in terms of my science and my intellect," said Meqbil.
"Realizing that despite the pain and the struggles that we all as a family went through, I still made it and I'm graduating in a couple of weeks," he said.