Campus farm enhances liberal arts education
It's the sorghum season at Merry Lea Environmental Learning Center of Goshen College
and two Goshen College students stand at the sorghum evaporator skimming foam off of a
vivid green liquid.
Miguel Rodrigez, a junior history major, and Erica Ewing, a freshman considering both
history and sustainability studies, are both early for a field trip with their Food History
course. The group is touring the Merry Lea Sustainable Farm.
"I'm doing an internship at Merry Lea," Miguel explains.
"I just came early because I wanted to," Erica says.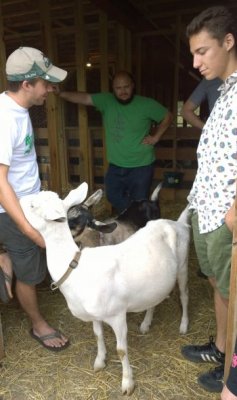 Sorghum is a species of grass that grows about the height of field corn. The stems can be pressed and boiled to make a sweetener and the heads can be eaten as a grain. Both are fed to animals. Worldwide, it is the fifth most important cereal crop.
For history buffs, sorghum offers a number of angles of exploration. Rodriguez and Ewing are getting a hands-on window into small-scale food production strategies more common a generation ago. Elderly people who live near Merry Lea recall seeing large fields of sorghum in their youth. What has changed and why could well be the topic of a paper.
Students studying the history of American food culture might also wonder about the plant's origins and how this species, domesticated in hot, arid regions of Africa, came to the U.S.
But there is more than just sorghum to see at the Merry Lea Sustainable Farm, and the rest of the class has arrived, along with Dr. Philipp Gollner, who teaches the course.
They've come to visit with Dr. John Mischler, director of Merry Lea's Agroecology Summer
Intensive. Mischler is delighted to host the group. This summer semester on the farm has
recently expanded into a Sustainable Food Systems major on campus, and today's visit
will touch on food ethics and other themes covered in the new major.
"We are concentrating on bringing more classes down from the college," he says. "We want
to encourage multiple disciplines to use the farm to enhance their offerings." The farm's use
of pollinator strips beside its crops attracted a course entitled Pollinators in Peril. Later in
the year, zoology students will observe the farm animals when studying large mammals.
Mischler takes the group to the barn where everyone has a chance to interact with pigs,
chickens, turkeys and goats. Other stops on the tour include the vegetable gardens and the
Woody Perennial Polyculture, an area where young nut trees, fruit trees, vines and
brambles grow together, simulating an oak savanna ecosystem. It is an effective use of
marginal land, Mischler points out.
One of the topics the food history students came to learn about was the CSA movement,
which surged in the mid-1980s and has had rockier times lately due to the availability of
organic food in traditional grocery stores. CSA customers buy a share of farm produce at
the beginning of the season, providing guaranteed income to the farm.
The history class has come on a Tuesday, the weekday that the Merry Lea Sustainable Farm
delivers bags of fresh produce to its customers. Several dozen Navajo squash sit in the
washing station in preparation for sorting into bags, and more CSA food is inside in the
coolers. This allows the students to assist with CSA packing and learn about food safety
certification.
Exploring the CSA model leads to discussion of the class issues around food. Who benefits
and who suffers when food reaches rock bottom prices? Does industrial agriculture enable
income equality? Why can't many people working full time afford sustainable food? Why is
it so hard for farmers to pay themselves a living wage?
Some of this discussion could have happened in a classroom. But it's hard to picture the
behind-the- scenes work it takes to feed people without experiencing it.
— By Jennifer Schrock, Merry Lea Environmental Learning Center of Goshen College