Dr. Rebecca Stoltzfus appointed Goshen College's 18th president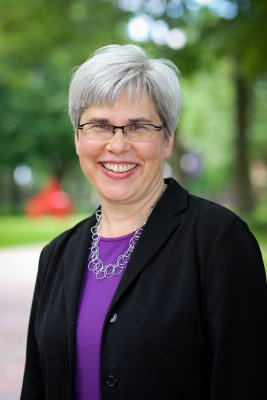 Dr. Rebecca Stoltzfus has been jointly appointed as Goshen College's 18th president by a unanimous vote from both the college's board of directors and the board of the Mennonite Education Agency. She will officially take office on November 1.
Dr. Stoltzfus, a 1983 Goshen College graduate, is currently vice provost for undergraduate education and professor of human nutrition at Cornell University, an Ivy League institution in Ithaca, New York.
"Rebecca has an outstanding record as an executive leader, administrator, teacher and scholar," said Dr. Conrad Clemens, chair of the Goshen College Board of Directors and the associate dean for graduate medical education at the University of Arizona College of Medicine. "She understands the complexities and rapid changes we are experiencing in higher education. And as a critically-thinking problem solver, she will bring extensive experience from other fine institutions of higher education as she comes to serve her alma mater."
---
» VIDEO: Watch or read her campus remarks on June 14
» Learn more about the presidential search process
---
On May 24, Dr. Stoltzfus was announced as the candidate of choice by the Presidential Search Committee and visited campus June 14-15 to meet with members of the campus community, who provided overwhelmingly strong support and affirmation for her to the committee.
"I enjoyed every moment of my campus visit — in particular my interactions with students — and am eager to join the vibrant community of learning that is Goshen College," she said. "I am compelled by Goshen's innovative strengths in global education, experiential learning and excellent liberal arts education. I see a  bright future for this college and I am humbled and excited by this opportunity to be a part of creating it."
During her campus visit, Dr. Stoltzfus gave a public presentation (watch a video of the speech or read her prepared remarks) and named seven values that will guide her leadership: relationships, truth, excellence, stewardship, diversity, growth and enthusiasm.
Placing a high value on relationships, she said, "Organizations run at the speed of trust. Social capital is created one room, one conversation at a time."
Noting various ways she has already observed healthy engagement between the college and the community, Dr. Stoltzfus said, "I am eager to invest in this local community, here in Elkhart County and in Goshen."
And in conclusion, she said, "Most fundamentally, what brings me back to Goshen College is the possibility that the education we provide is one that integrates reason and love. [It is] an education that teaches us to unite our minds and our hearts."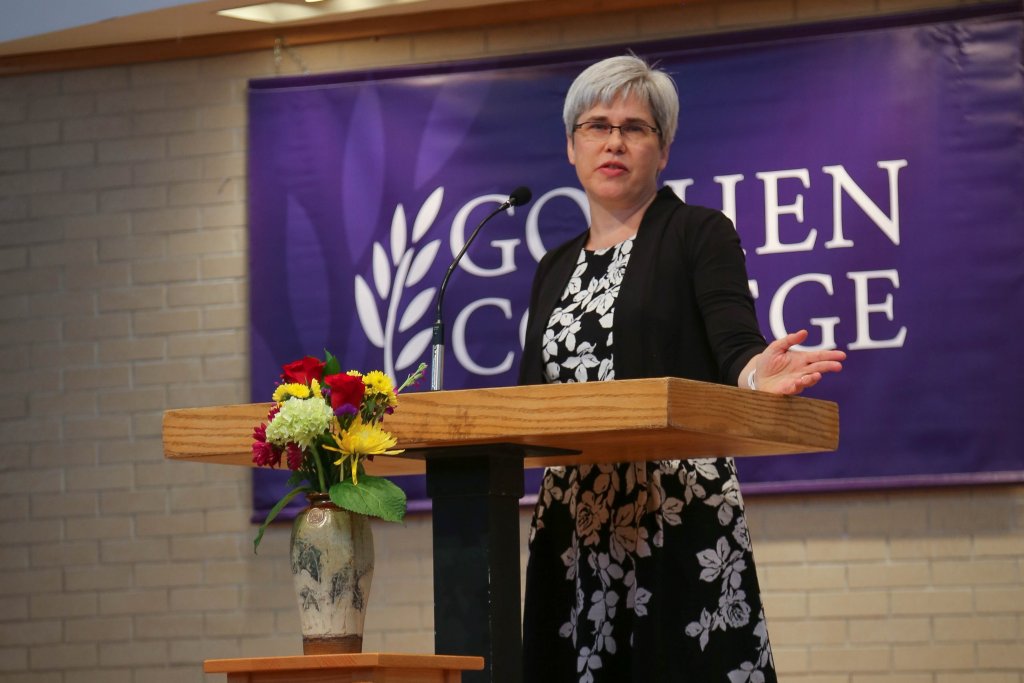 Dr. Stoltzfus studied chemistry at Goshen College and received master's and doctoral degrees in human nutrition from Cornell University. Before joining the Cornell faculty in 2002, she taught human nutrition at the Johns Hopkins Bloomberg School of Public Health (Baltimore, Maryland) — the top-ranked school of public health in the United States. Her ongoing research focuses on the causes and consequences of malnutrition in women and children in low-income countries.
As a vice provost at Cornell, Dr. Stoltzfus oversees initiatives designed to enhance undergraduate instruction and campus efforts to support inclusivity and academic success for all 14,000-plus undergraduate students. She also has experience cultivating major financial gifts for the university. Since 2011, she has been part of the leadership team of Engaged Cornell, a university-wide public engagement initiative.
"I congratulate Becky on this well-deserved appointment," said Cornell Provost Michael Kotlikoff. "Goshen College could not have found a more outstanding leader, and the fact that she is an alumna makes this appointment even more special. As a member of our faculty and as vice provost, Becky has had an enormous impact on our research and on student and engagement programs. She has left an indelible imprint on this institution, and her vision and experiences will serve Goshen well."
Dr. Stoltzfus is married to Kevin Miller, a 1985 Goshen College graduate. They are parents of Lydia, a Goshen College senior majoring in mathematics, and Gabe, a Goshen College sophomore majoring in environmental science. Her parents are alums Victor and Marie Stoltzfus of Goshen, and her father was president of Goshen College from 1984 to 1996.
Dr. Stoltzfus will succeed Dr. James E. Brenneman, who served as the college president since 2006 and ends his tenure on June 30. Goshen's provost, Dr. Ken Newbold, will serve as interim president beginning July 1.
The search process was a joint effort of the Goshen College Board of Directors and the MEA Board of Directors. Her appointment successfully fulfills the task of the Presidential Search Committee, which began its work in October 2016 and included board members, as well as college alumni, faculty, students, church and educational leaders, and community members. It was chaired by Faith Penner, a GC board member from Harper, Kansas.
"On behalf of the MEA board, I want to express gratitude to the members of the Goshen College Presidential Search Committee for their exceptional commitment to this important work," said Dr. Judith Miller, chair of the MEA Board of Directors. "Their careful discernment has led to the ideal person to lead GC at this pivotal time."
A joint release of Goshen College and Mennonite Education Agency