Search committee announced for next Goshen College president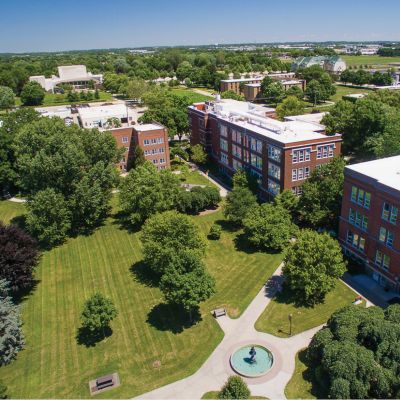 Goshen College (GC) and Mennonite Education Agency (MEA) will begin the search for the 17th Goshen College president with the first meeting of the search committee set for October 11-12, 2016.
The Presidential Search Committee includes board members, as well as college alumni, faculty, church and educational leaders, and community members. A student representative will be added to the committee following the initial meeting.
The boards hope to have a new president named by the time President James E. Brenneman concludes his 11 ½-year tenure June 30, 2017.
Dr. Conrad Clemens, chair of the GC Board of Directors and a 1985 alumnus from Tucson, Arizona, said, "I am grateful for the commitment and enthusiasm of this group of individuals who have said 'yes' to the important task at hand. Their diverse life experiences and perspectives will serve the committee, and ultimately the college, well. And I have full confidence that they — ably led by Faith Penner — will recommend a president ideally and uniquely suited for this time in our rich 122-year-old history. This will help us more fully live into the vision for international, intercultural, interdisciplinary and integrative teaching and learning rooted in our core values."
The committee includes:
Faith Penner

is a 1977 GC graduate, a GC board member and the chair of the search committee from Harper, Kansas. She supervises building projects and an event center for her family-owned manufacturing business. In addition, Penner has worked in education for many years, including several assignments with

Mennonite Central Committee

.

Rose Gillin

is a 1981 GC graduate and board member from Goshen. She is the director of clinical care at

Maple City Health Care Center

.

Marlene Kropf

is the MEA board secretary from Port Townsend, Washington. She is a spiritual director, ordained minister and professor emerita of spiritual formation and worship at

Anabaptist Mennonite Biblical Seminary

. She served for more than 20 years as Mennonite Church Minister of Worship and Spirituality.

Beverly Lapp

is a 1991 GC graduate. She is professor of music, chair of the music department and the core curriculum chair at the college.

Felipe Merino

is the owner and managing attorney at

Merino Law Firm

in Goshen, working closely with immigration and criminal defense matters.

Dona Park is a senior art and history double major from Abbotsford, British Columbia. She sings in Women's World Music Choir, serves on Student Senate and is a member of several student organizations.
John Powell

, a GC board member from Ypsilanti, Michigan, serves as regional pastor at

Indiana-Michigan Mennonite Conference

.

Launa Leftwich

is a 1992 GC graduate and is dean of students at the college.

Ryan Sensenig

is professor of biological and environmental science, the environmental science program director and chair of the faculty at Goshen College.

Bruce Stahly

is a 1967 GC graduate and a GC board member from Goshen. He was superintendent of

Goshen Community Schools

for 13 years, before his retirement in 2012.

Tom Stuckey

is a 1970 GC graduate and a MEA board member from West Unity, Ohio. He is the president of

Northwest State Community College

.

Roy Williams

is a MEA board member from Land O' Lakes, Florida. He is a retired bank executive, the pastor of College Hill Mennonite Church and former moderator of

Mennonite Church USA

.

Carlos Romero

, of Goshen, is executive director of Mennonite Education Agency and serves as an ex-officio member of the search committee.
Faith Penner, chair of the search committee, said, "The committee members are eager to get started in this discernment process of the current leadership needs for Goshen College. We welcome others' thoughts and prayers for this important work as we seek God's guidance."
Carlos Romero, executive director of MEA and ex-officio member of the search committee, added, "The committee is well-equipped to search for and recommend a president for GC who will help lead the institution into the future. Breadth of experience, deep commitment to GC and grounding in Christian faith are precious gifts that each committee member brings to the endeavor."
Romero noted that at the first meeting in October, the committee will lay the groundwork for the search process, refine the presidential profile and plan for promoting the position in order to generate a list of possible candidates. The committee is also tasked with listening to the various perspectives of the college's stakeholders and guiding their work with the institution's strategic plan.
"Selecting the president is one of the most important responsibilities of both the Goshen College and Mennonite Education Agency Board of Directors," said MEA board chair Judy Miller. "Their work will culminate in recommending a candidate of choice to both the GC and MEA boards, which we greatly look forward to receiving with joy."
---
Updates and information about the search process are available online at: goshen.edu/presidential-search.
Editor's note: The student representative, Dona Park, was added to this committee after this was originally announced.