President Brenneman signs letter stating 'we are still in' Paris Climate Agreement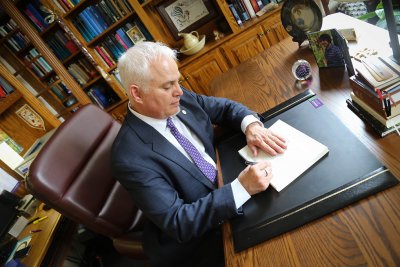 Goshen College President Jim Brenneman joined other college presidents, mayors, governors and business leaders by signing an open letter to declare institutional commitment to the 2015 Paris Agreement, despite recent withdrawal by the federal government.
"As a globally-minded and sustainability-focused house of learning, we remain committed to living more fully into our call to care for God's creation and to solving today's climate challenges, through practical applications right here on our campus and by educating and preparing our students to better protect and preserve this planet for all future generations," said Brenneman.
His signature on the We Are Still In website was added to those of over 1,000 governors, mayors, businesses, investors, colleges and universities, and over 20 Fortune 500 companies, all of which are committed to taking leadership on climate change action.
---
View the entire letter and a list of all signatures here.
---
The letter reads, "In the U.S., it is local and state governments, along with businesses, that are primarily responsible for the dramatic decrease in greenhouse gas emissions in recent years. Actions by each group will multiply and accelerate in the years ahead, no matter what policies Washington may adopt. In the absence of leadership from Washington, states, cities, colleges and universities, businesses and investors, representing a sizable percentage of the U.S. economy will pursue ambitious climate goals, working together to take forceful action and to ensure that the U.S. remains a global leader in reducing emissions."
The document also vows to remain engaged with the global community to limit carbon emissions and move toward a clean energy economy. Many of the institutions, including Goshen College, have long been committed to climate action on their own campuses. In 2013, Goshen began purchasing all of its energy from renewable sources, and in November 2015, President Brenneman was invited to participate in a higher education roundtable discussion at the White House as part of the American Campuses Act on Climate day of action.
"With the signing of this letter, we reaffirm our commitment to environmental justice and stand in solidarity with the other signatories in supporting climate action to meet the Paris Agreement," said Goshen College Provost Ken Newbold. "Goshen College has a long-standing commitment to supporting and demonstrating actions to combat the advancement of climate change through our curriculum, reducing our reliance on fossil fuels and participation in various state and federal policy organizations. As an institution, we will continue to implement new climate solutions on our campus and work with others for positive change."
Learn more about Goshen College's significant commitments to sustainability, climate action and creation care at goshen.edu/sustainability.
- By Katie Hurst