Alums expand Menno Tea business with mint farm and cafe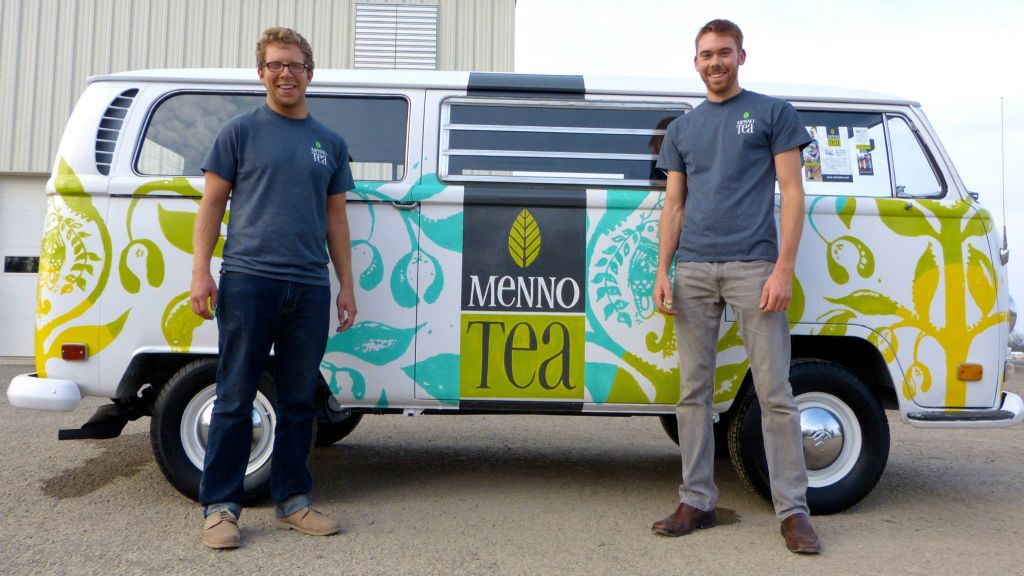 Menno Tea co-founders Hans Weaver '13 and Niles Graber Alvarez '14 are returning to their roots this summer with the grand opening of the Menno Tea Mint Farming Cafe in Bird-in-Hand, Pennsylvania.
Inspired by a family recipe from Lancaster County, Weaver and Graber Alvarez launched their product six years ago from their dorm room.
At Goshen College, Weaver and Graber-Alvarez both majored in business and were awarded two entrepreneurial grants, in 2010 and 2012, to pursue their business endeavor. They first sold their product at Java Junction, GC's student-run coffee shop, using student feedback to perfect the Menno Tea recipe before marketing outside the college.
Since its inception, Menno Tea's product line has grown to include four flavors of bottled tea and three dried boxed versions. The beverages are now sold in over 600 stores across the Midwest, Mid-Atlantic, East Coast and Southeast United States.
The farming cafe will give Weaver and Graber Alvarez the unique opportunity to share the Menno Tea experience in the region where the bottled tea first became popular.
"We wanted to find different ways to make Menno Tea, provide for the consumer and also experiment with new flavors without a whole new product line," said Weaver, who has spent much of the last few months focused on this new endeavor.
The farming cafe will employ seven part-time workers along with Weaver, who is brushing up on his barista skills after last working as a barista for Java Junction.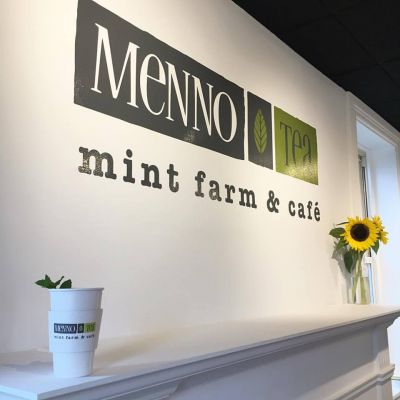 "I loved that job and am looking forward to making drinks here as well," said Weaver.
When guests visit the farming cafe, they can purchase Menno Tea in the traditional bottled or boxed dried varieties and also enjoy the new tastes of a mint latte and cold brew mint tea. The Menno Tea owners are partnering with One Village Coffee, an organic coffee roaster based in Souderton, Pennsylvania, to provide the coffee for the cafe and with Carmen and David's, a popular Lancaster County creamery, to supply mint chip ice cream.
Six varieties of organic mint are currently growing in the two-acre plot by the cafe including peppermint, Kentucky Colonel spearmint, mojito, apple, chocolate and orange mint. Visitors can tour the field to see the different mint plants or head inside the cafe to taste the individual flavors.
"It's an experience," Weaver said. "People want to see what the plants look like, how they smell, how they're grown and what the process is to create a final product."
Weaver said they plan to use the mint from the field not only to continue research and development for new products, but also to provide a source for organic farmers looking to produce their own mint.
According to Weaver, mint is rarely produced on the east coast and can be challenging and expensive to grow. The Menno Tea owners want to encourage local mint farmers by providing root stock and starter plants. In the future, they hope to create a partnership with local growers and eventually buy enough grown mint to flavor the entire line of Menno Tea beverages.
"I hope in the coming years that the Menno Tea Mint Farming Cafe is a must-see tourist attraction in Lancaster County," Weaver said. "I hope that it is recognized by locals and tourists as a place where they can start to understand organic farming practices and get a good beverage at the same time."
Following the official opening on July 20, the farming cafe will be open year-round, Wednesday through Saturday from 9 a.m. to 5 p.m.
— By Christina Hofer '16
---
Read More
» Q&A with Hans and Niles
» Menno Tea: brewed for culture
» Student entrepreneurs receive business grants
---