Five alumni honored during 2015 Homecoming Weekend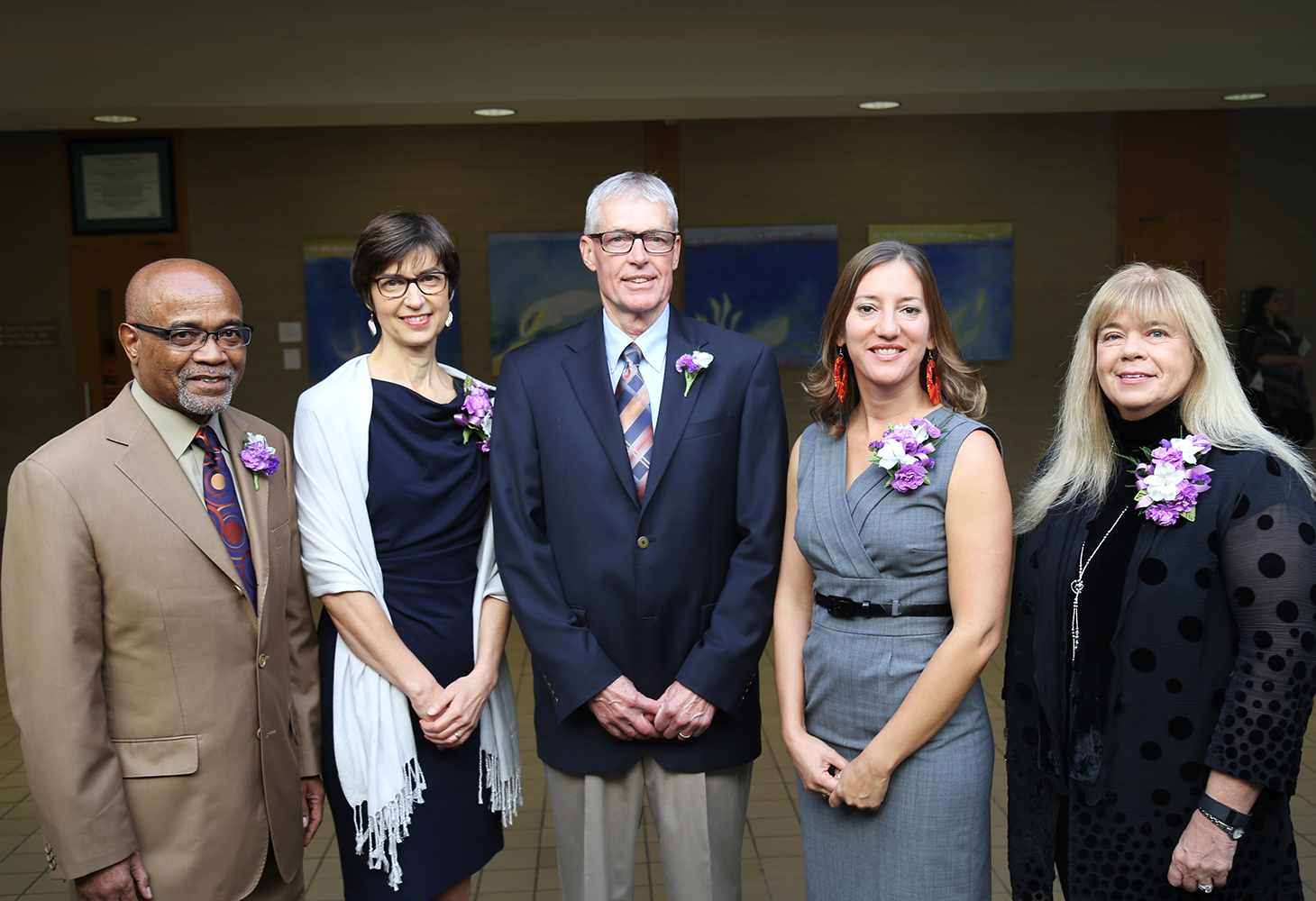 During Goshen College's Homecoming Weekend on Oct. 2-4, 2015, the college honored five outstanding alumni with awards for their commitment to the college's core values.
Sponsored by the Goshen College Alumni Board, the 2015 Culture for Service Awards were presented to Kathy Short '75, of Tucson, Arizona and Aliko Songolo '68, of Madison, Wisconsin. The 2015 Young Alumni Servant Leadership Award was presented to Sonia Graber '00, of Denver, Colorado. The 2015 Dr. Ruth Gunden Champion of Character Award went to Alice Gunden Bender '80 of Washington, D.C., and the Dr. Roman Gingerich Champion of Character Award went to Ken Pletcher '70, of Goshen.
The Culture for Service Awards were initiated in 1989 and are given annually to honor Goshen College graduates who have made lifelong commitments to service. Recipients distinguish themselves through commendable accounts of service and achievements at home or in their churches, colleges, communities and the larger world.
For the 10th year, the Goshen College Maple Leafs Athletic Club is presenting the Dr. Ruth Gunden and the Dr. Roman Gingerich Champion of Character Awards. The two awards, created in 2005, are presented to a male and female alumni athlete who exemplify the college's core values in their lives, work and community service. Gunden and Gingerich were pioneers in Goshen College's athletic history.
---
Aliko Songolo '68 – Culture for Service award  (Full story)
Aliko Songolo '68 is a professor in the Department of French and Italian and the Department of African Languages and Literature at the University of Wisconsin – Madison, whose passion for languages is equaled by his passion for the people and natural resources of his birthplace, the Democratic Republic of Congo (DRC).
He came to the United States in 1963 and studied at Hesston College before completing his degree in Spanish at Goshen College. He then earned a master's degree in French at the University of Iowa. He earned a doctoral degree in Francophone African literature at the University of Iowa in 1975 and worked at the University of California–Irvine for 18 years before being recruited by the University of Wisconsin in 1991.
Over the years, Songolo has contributed time, energy and personal funds for the relief of populations in Eastern Congo. Currently, Songolo serves as chair of the board of directors for Congo Progress, a nonprofit organization that works for the development and support of Congolese people, both in Africa and the diaspora. With colleagues in environmental science, he helped launch the Central Africa Initiative (CAI) and the University of Wisconsin to join the Congo Basin Forest Partnership, an international organization dedicated to the conservation of natural resources in the planet's second largest tropical forest area.
In 2008, Songolo was named Chevalier dans l'Ordre des Palmes académiques, or Knight in the Order of Academic Palms, a national order of France for prominent figures in the world of culture and education, by the French Ministry of Education.
In addition to serving as chair of African languages and literature, chair of French and Italian, and director of the African Studies program at the University of Wisconsin-Madison, Songolo is currently co-director of the Center for Interdisciplinary French. His research and teaching interests lie primarily in Francophone literatures of Africa and the Caribbean, and Francophone cinemas of Africa and Québec. He has also authored and co-authored several books.
On the national stage, he chaired the Modern Language Association's (MLA) African Literature Division (2002), and its Division of Francophone Literatures and Cultures (2009); was president of the African Studies Association and twice president of the African Literature Association.
Songolo lives with his wife, Emilie, in Madison. They have three children, Tosha, Ngijol and Aliko Jr.
---
Kathy Short '75 – Culture for Service award (Full story)
Kathy Short '75 is a professor of language, reading and culture at the University of Arizona and director of Worlds of Words (WOW). WOW is an initiative that encourages thoughtful dialogue around children's literature and develops intercultural understandings and global perspectives through children's and adolescent literature.
In addition to her work at the University of Arizona, Short was a committee member for the prestigious Caldecott Medal Award in 2014 and is the current president of the National Council of Teachers of English (NCTE), which has more than 35,000 members. She was awarded the Outstanding Educator in the Language Arts from the NCTE in 2011.
Short's exceptional scholarship and influence as a teacher educator at the University of Arizona have also earned her the 1996 Outstanding Faculty Award in Research, the 2000 Outstanding Graduate Mentor Award, the 2001 Sarlo Family Foundation Outstanding Faculty Award, the 2003 Extraordinary Faculty Award from the Arizona Alumni Association and the National Board of Directors, the 2006 Erasmus Circle Fellow Award, and the 2014 Outstanding Faculty Teaching and Mentoring Award.
Short's research focuses on the integration of global literature into curriculum, the role of the teacher in discussion and inquiry-based curriculum. In addition to teaching, Short has co-authored 14 books, including, "Essentials of Children's Literature," "Creating Classrooms for Authors and Inquirers," "Talking about Books" and "Stories Matter: The Complexity of Cultural Authenticity in Children's Literature."
Short earned a master's degree from Ball State University in 1978, and a doctoral degree in language education and elementary education from Indiana University in 1986. She taught in the Goshen College Education Department from 1980-89, before assuming her current role at the University of Arizona.
Short's research is extensive, but her passion for children's literature goes beyond academia and into her everyday life—including to her congregation of Shalom Mennonite Fellowship in Tucson, Arizona.
Short lives with her husband Jerry '73 in Tucson, Arizona.
---
Sonia Graber '00 – Young Alumni Servant Leadership award (Full story)
When Ebola swept through West Africa in 2014, Sonia Graber, a 2000 Goshen College graduate and family nurse practitioner in Denver, saw a chance to use her passion and skills, and decided to do something to help.
In January 2015, during the height of the Ebola epidemic, Graber traveled to Liberia with Doctors Without Borders, where she helped open a hospital in Monrovia to provide medical care to pediatric patients in an Ebola context.
It wasn't her first medical trip to a hurting country. Graber has traveled to four continents and 21 countries, including trips to Nigeria and to Haiti in 2010-11 to help with the cholera epidemic.
As a family nurse practitioner in Denver, Colorado, Graber works for Salud Family Health Center (SFHC), providing healthcare to low-income communities, never turning people away based on their ability to pay or insurance coverage.
In addition to being a nurse practitioner, Graber teaches classes at Regis University and the University of Colorado Denver School of Medicine as part of the CU Unite program.
Graber grew up on a farm in Central Illinois hearing stories from her parents who did agricultural development with Mennonite Central Committee (MCC) in Mexico and South America. It was her family's international work that shaped her outlook on service.
During her time with GC's Study-Service Term in Honduras, Graber did vaccination campaigns with a local health department. After graduating from GC, Graber earned her master's degree from the University of Arizona.
Graber is involved at First Mennonite Church in Denver, and enjoys salsa dancing, cooking and eating new foods, attending concerts at Red Rocks Amphitheater, and like any Coloradan, outdoor sports.
---
Ken Pletcher '70 – Dr. Roman Gingerich Champion of Character award (Full story)
Ken Pletcher, a 1970 Goshen College graduate, is a familiar face around the Goshen College athletic facilities. He's been a player, a coach, a teacher and fan in his 50-plus year history with the college.
Pletcher has given significant amounts of his time and energy to the college. In addition to being an alumnus, he has held a variety of roles on campus, including assistant professor of physical education (1972-74, 1981-82), admissions counselor and assistant director of admissions (1974-75, 1979-81), and athletic director (1999-2007). Throughout his career, he also coached men's basketball, golf, cross country and track.
After earning his bachelor's degree in health and physical education from GC, Pletcher taught physical education and coached at Goshen College and WaNee Schools for several years, before earning his master's degree in physical education from Indiana University in 1978.
During and following graduate school, he taught and coached at Goshen College. He later worked at Northridge High School from 1984-1999, where he served as athletic director for 11 years. He returned to GC as athletic director until 2007, and then worked in the development office until his retirement in 2011.
Pletcher has been an active participant in the Goshen College Maple Leafs Athletic Club. In 2002, he ran a 50-mile race as a fundraiser for GC athletics, raising $20,000 at a time when athletic budgets were on the verge of being cut.
Ken and his wife Justine '72 live in Goshen and attend College Mennonite Church. They have two adult children, Nathan '00 and Todd '05. 
---
Alice Gunden Bender '80 – Dr. Ruth Gunden Champion of Character award (Full story)
Alice Gunden Bender '80 has dedicated her professional career to helping people live healthier lives.
As the associate director for nutrition programs at the American Institute for Cancer Research (AICR) in Washington, D.C., Bender promotes healthy lifestyle choices for lower cancer risk. AICR studies the link between diet and cancer, funding research in nutrition, physical activity and cancer prevention and survival.
Bender keeps healthcare providers up to date on the research for cancer prevention and helps the public stay informed on cancer-preventive lifestyle choices as AICR's spokesperson.
While earning her bachelor's degree in home economics at Goshen College, Bender was also a member of the women's tennis team. After completing a master's degree in nutrition and public health from Teacher's College, Columbia University, Bender developed the nutrition services program for students at the University of Georgia Health Center in Athens, Georgia. She has served in leadership roles in professional organizations, including as president of the Georgia Dietetic Association in 2006.
Bender has been involved in church activities, providing food for Warm Nights, a short-term shelter program, and community café, both sponsored by her home congregation, Hyattsville Mennonite Church in Maryland.
Bender currently resides in Washington, D.C., with her husband, Michael Bender '80. They have two daughters, Emily and Katie '06, and a new grandson. As Ruth Gunden's niece, she is especially honored to receive this award.
– Dominique Chew '15 contributed to this story