Sonia Graber '00: 2015 Young Alumni Servant Leadership Award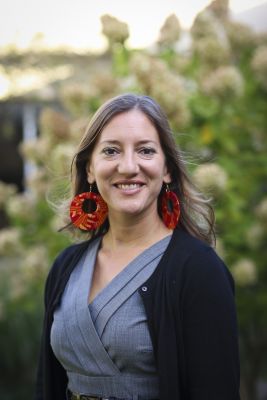 Sonia Graber '00 is the recipient of the 2015 Goshen College Young Alumni Servant Leadership Award. The Young Alumni Servant Leadership Award recognizes young alumni who are making significant contributions to their communities, churches and world.
---
Learn more about Homecoming Weekend 2015
---
When Ebola swept through West Africa in 2014, Sonia Graber, a 2000 Goshen College graduate and family nurse practitioner in Denver, saw a chance to use her passion and skills, and decided to be part of the solution.
In January 2015, during the height of the Ebola epidemic, Graber traveled to Liberia with Mèdecins Sans Frontiéres (MSF), better known as Doctors Without Borders, where she helped open a hospital in Monrovia to provide medical care to pediatric patients in an Ebola context.
"It was a very momentous time in history and I wanted to learn more about what things looked like on the ground there and feel like I was really willing to put myself out there in a place where a lot of people were really afraid to go," Graber said.
It wasn't her first medical trip to a hurting country. Graber has traveled to four continents and 21 countries, including trips to Nigeria and to Haiti in 2010-11 to help with the cholera epidemic. But Graber said that her most recent mission to Liberia "was by far the most challenging."
"Working 10 hour days six days a week, sharing bedroom space, sweating constantly throughout the day and night, getting sick…a team that was changing almost weekly, communicating in most people's second language daily, and near complete loss of freedom of movement due to security protocols added up to a lot of constant stress," Graber said.
As a family nurse practitioner in Denver, Colorado, Graber works for Salud Family Health Center (SFHC), providing healthcare to low-income communities, never turning people away based on their ability to pay or insurance coverage.
SFHC is a great fit for Graber, who earned her master's degree from the University of Arizona and wanted to work with uninsured or underinsured patients. The clinic opened nearly 40 years ago, serving primarily migrant and seasonal farmworkers who have minimal access to healthcare.
In addition to being a nurse practitioner, Graber teaches classes at Regis University and the University of Colorado Denver School of Medicine as part of the CU Unite program.
Graber grew up on a farm in Central Illinois hearing stories from her parents who did agricultural development with Mennonite Central Committee (MCC) in Mexico and South America. Additionally, Graber's aunt and uncle had done three years of voluntary service in Tucson, Arizona, working with El Salvadoran families affected by the civil war in that country. It was her family's international work that shaped her outlook on service.
"Service felt like part of the fabric of the culture that I grew up in," said Graber who studied Nursing at GC. "Everyone that I knew and respected had done some type of work like this."
During her time with GC's Study-Service Term in Honduras, Graber did vaccination campaigns with a local health department and discovered her love for learning and giving back.
Graber is involved at First Mennonite Church in Denver, and enjoys salsa dancing, cooking and eating new foods, attending concerts at Red Rocks Amphitheater, and like any Coloradan, outdoor sports. You can follow her adventures abroad at https://littlegoatgirl.wordpress.com/.