Kathy Short '75 : 2015 Culture for Service Award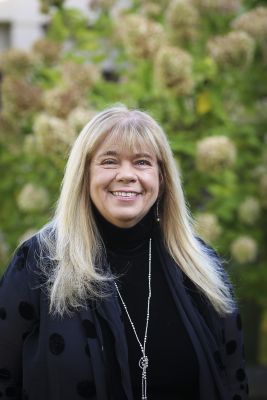 Kathy Short '75 is the recipient of the 2015 Goshen College Culture for Service Award. The Culture for Service Awards were initiated in 1989 and are given annually to honor Goshen College graduates who have made lifelong commitments to service. Recipients distinguish themselves through commendable accounts of service and achievements at home or in their churches, colleges, communities and the larger world. 
---
Learn more about Homecoming Weekend 2015
---
For Kathy Short, being an educator is not something she does – it's something she is. She is also a lifelong student, and she's on a mission to introduce children around the globe to literature that broadens their understanding of the world.
Short, a 1975 Goshen College graduate, is a professor of language, reading and culture at the University of Arizona and director of Worlds of Words (WOW). WOW is an initiative that encourages thoughtful dialogue around children's literature and develops intercultural understandings and global perspectives through children's and adolescent literature.
"My interest in the ways in which global literature can build intercultural understanding for children and adolescents grew directly out of Goshen's focus on peacemaking and global citizenship," Short said. "Through my time at Goshen, I developed a broader view of our responsibilities as members of a global community and that view is woven throughout my university teaching and my research and writing."
In addition to her work at the University of Arizona, Short was a committee member for the prestigious Caldecott Medal Award in 2014 and is the current president of the National Council of Teachers of English (NCTE), which has more than 35,000 members. She was awarded the Outstanding Educator in the Language Arts from the NCTE in 2011.
Short's exceptional scholarship and influence as a teacher educator at the University of Arizona have also earned her the 1996 Outstanding Faculty Award in Research, the 2000 Outstanding Graduate Mentor Award, the 2001 Sarlo Family Foundation Outstanding Faculty Award, the 2003 Extraordinary Faculty Award from the Arizona Alumni Association and the National Board of Directors, the 2006 Erasmus Circle Fellow Award, and the 2014 Outstanding Faculty Teaching and Mentoring Award.
Short's research focuses on the integration of global literature into curriculum, the role of the teacher in discussion and inquiry-based curriculum. In addition to teaching, Short has co-authored 14 books, including, "Essentials of Children's Literature," "Creating Classrooms for Authors and Inquirers," "Talking about Books" and "Stories Matter: The Complexity of Cultural Authenticity in Children's Literature."
"What drives Kathy's interest in global children's literature is her belief that it is a medium for promoting understanding between groups of differing nationalities, peoples and religions," said Kathy Meyer Reimer, professor of education and director of elementary education at GC. "Her work is based in her interest and passion for social justice, promoting understanding and reducing conflict."
Short earned a master's degree from Ball State University in 1978, and a doctoral degree in language education and elementary education from Indiana University in 1986. She taught in the Goshen College Education Department from 1980-89, before assuming her current role at the University of Arizona.
Short's research is extensive, but her passion for children's literature goes beyond academia and into her everyday life—even to her congregation of Shalom Mennonite Fellowship in Tucson, Arizona.
Short lives with her husband Jerry '73 in Tucson, Arizona.