Intercultural mentoring program nurtures learning, leadership and friendships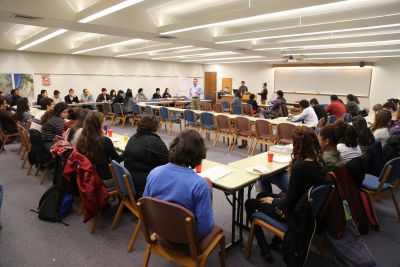 College got a bit easier and more enjoyable this past academic year for some students at Goshen College, thanks to an innovative peer mentoring program by the Center for Intercultural and International Education (CIIE).
Gilberto Pérez Jr., the college's senior director of intercultural development and educational partnerships, created the Intercultural Mentoring Program to help students gain study and goal-setting skills, improve their decision-making and conflict resolution abilities, and increase their civic engagement through campus leadership.
Sixty-five students were paired with students from a higher class level – first-year students with juniors and sophomores with seniors. All of the participants received merit-based scholarships last fall and nearly all were first-generation students, who sometimes struggle to adjust to college. A central intent of the program was to foster mutual student support as well as to help students develop the intercultural leadership skills needed to thrive in diverse communities.
Along with 12 hours per semester of small group mentoring sessions, students also attended monthly meetings with CIIE staff to improve their mentor-mentee relationships and participated in quarterly leadership workshops; some mentees and mentors also went on a fun end-of-year outing to Chicago. Leading the program was Diverse Student Program Coordinator DaVonne Kramer, with assistance from Multicultural Outreach Community Liaison Rocio Díaz.
"First-generation students often struggle with balancing academic and social demands," Kramer said. "More often than not, these students are introduced to academic rigor drastically different from their high school experience. First-generation students also struggle with navigating basic college culture, particularly developing financial aid literacy and dealing with financial stress while in college. Many of these students come into college with little to no social capital and don't have infrastructures within their family and or social circles to help explain college basics."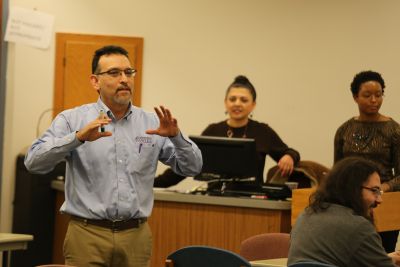 The mentoring program replaced a program in which select first-year Latino students gathered for "cohort" meetings for support and leadership development while CIIE staff closely monitored their academic progress and got them academic help as needed.
Pérez said the new program has included a broader range of minority and white first-generation scholarship recipients and focused on helping students improve their interpersonal and networking skills through peer-to-peer relationships.
"We believe that all of us benefit from having someone to listen or guide us along the way," Pérez said. "Intercultural mentoring is all about sharing oneself with the 'other.' This strengthens bonds, builds awareness and shared meaning between students."
It's too soon to determine how the program affected academic performance and retention rates, but first-year students said the mentors helped with class work and provided support and friendship. And Pérez said the program produced another powerful outcome – a doubling in the number of minorities who will serve in paid leadership positions next year at the college.
"CIIE offered intercultural leadership training to the student mentors and encouraged them to see themselves as leaders on the Goshen College campus," Pérez said. "During the 2015-16 academic year, students of color will comprise half the resident assistants, four of the 11 ministry leaders, half of the Campus Activities Council leaders, and two students of color will serve on the Student Senate."
Pérez said that leadership diversity will help in myriad ways because last fall, 22.6 percent of full- and part-time students at the college were U.S. minorities – including 12.8 percent Latino – and 9.9 percent are from abroad (25 countries). And this fall, that diversity is expected to continue, at least insofar as incoming students.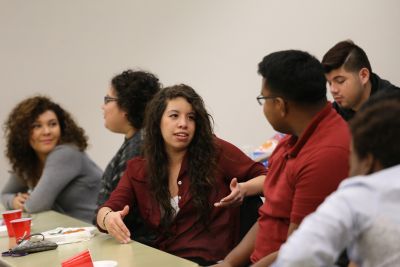 In end-of-year essays, students strongly affirmed the value of the mentoring program.
Bryan Nguyen, a first-year biology major, said he enjoyed interacting with "a community of minorities" and gained a new perspective about his leadership capabilities.
"I never thought of myself as a leader and this program has redefined my perspective and made me feel more powerful," Nguyen wrote. "The eye-opening experience of how we are all leaders has empowered me to do more with my life and not take 'no' for an answer. This program caused me to apply to be a resident assistant."
Valentin Calvillo, a first-year student majoring in molecular biology and biochemistry, wrote that he appreciated the leadership training and the encouragement to get more involved in campus life. "I remember how Gilberto (Pérez) was speaking about how we needed to diversify the campus and clubs and that's exactly what I am trying to do," he wrote. "This program has really helped me see that I am not the only one that has a different cultural background and that I can become involved in the same things as other students."
Samantha Peña, a senior social work major, wrote that she enjoyed mentoring younger students, interacting with students from different races and ethnicities, and seeing them develop as leaders.
"I also liked how there was an emphasis on being student leaders on campus," Peña wrote. "Sure, it's my last year at Goshen, but it is nice to hear that these talks are motivating underclassmen to go out there and apply for positions that they normally wouldn't have done."
Phillip Chan, a first-year physics major, said his mentor shared the same major and their interaction helped Chan improve his study skills and adjust more quickly to college.
"It was a really good experience to know someone who has been through the same classes and is going through the same path I want to go through. To have a mentor … really helped me in terms of grades and building friendships," Chan wrote. "He taught me how to manage my time efficiently and have priorities before making decisions, and to follow through with my goals and not give up on certain things."
Dimitry Shendel, another first-year student, wrote that even though he is chemistry major and his mentor is a pre-engineering major, "there was enough overlap that I was able to receive tutoring on hard concepts and also received a lot of beneficial information regarding future classes, as well as helpful tips about professors."
Other first-year students commented that the mentoring program – and its emphasis on small group meetings – helped them adjust to campus life and feel more at home.
"For some people finding their place in a community can be difficult, so having a program like this one facilitates their integration into the community," wrote Elfriede Diestel, a first-year biology major. "The effort put into this program is something that shows the members that their presence is welcomed and that they have a place in this community. This program has the potential to foster a sense of belonging within its members."
Diestel also wrote that the program helped her interact with a wider range of students than she might otherwise have met. "Throughout this program, underclassmen and upperclassmen interacted rather frequently and developed relationships. In addition, this program gave me the opportunity to interact with people who don't live on my dorm floor and those who I do not have any classes with. I also became acquainted with a group of ethnically diverse people."
Gabby Castañon, a first-year exercise science major, agreed with that perspective and wrote that her mentors provided much more than homework assistance.
"Both of my mentors displayed incredible amounts of hospitality and kindness, which are characteristics I strive to emulate. Aside from being positive role models, my former and current mentor have offered thoughtful advice and insight about their college experiences. Their stories have presented me with unique approaches to life and school. Establishing connections with others has served as a beneficial experience for a multitude of reasons."
Reena Ramos, a first-year biology major, expressed a common sentiment among first-year students – that the mentoring program produced many friendships.
"One of the main reason I enjoyed the program was because I was given the opportunity to befriend and connect with an upperclassman," Ramirez wrote. "Even though we did not know each other at the beginning of the year, my mentor and I have grown quite close and enjoy hanging out together even after we have finished our required hours. I believe this relationship that we have formed will continue into next year and hopefully after we graduate."
Students also offered feedback on how to improve the program, such as suggesting greater scheduling flexibility and providing service opportunities and enhanced leadership training. So Pérez said he is evaluating the feedback and is in the process of deciding the type of support and program to offer next year.
Overall, Pérez said the program was a success, adding, "Goshen College is more diverse and inclusive of the 'other.' Students of color have built relationships in the intercultural mentoring program and are in more leadership positions, which is a sign of an empowered student body. "Paso a paso" (Taking it step-by-step) will continue to be our approach."
– By Richard R. Aguirre, director of corporate and foundation relations