Goshen College earns silver for commitment to sustainability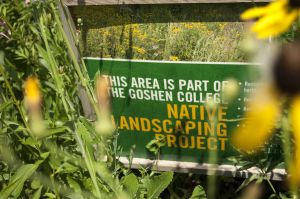 Goshen College recently earned a silver rating from the Sustainability Tracking, Assessment and Rating System (STARS) report, which recognizes colleges and universities for their commitment to sustainable practices on campus.
Between 2008 and 2013, the campus reduced its carbon footprint by an estimated 22 percent. In the spring of 2013, the college took the further step of purchasing 100 percent of its electricity from renewable sources through the procurement of renewable energy credits. The campus has also converted nearly 20 percent of its lawn space to native plants and prairie restoration. Goshen College students and staff have developed a food composting system, planted a community garden, built a solar hot water collection system and continued to reduce energy consumption campus-wide.
The report also shows that Goshen College has added numerous courses that emphasize sustainability and environmental responsibility to its curriculum.
"There has been significant growth in academic course material related to sustainability," said Glenn Gilbert, utilities manager and sustainability coordinator at the college. "The college currently offers 20 courses specifically about sustainability, and 17 others with a sustainability component, not just in biology classes, but in business, sociology or history classes."
Read about more of Goshen College's sustainability efforts at goshen.edu/sustainability
The STARS silver rating reflects a campus-wide commitment to gathering data and documenting progress by the college's Ecological Stewardship Committee. Goshen College first completed the STARS assessment three years ago, earning a bronze rating, and is just the sixth school in the nation to have completed the updated 2.0 version of the program. The college is one of only seven colleges and universities in Indiana to have earned a STARS silver or gold rating.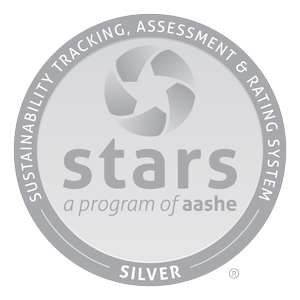 "We started using the STARS tool as a way to document our sustainable practices," Gilbert said. "It's more like an audit that, if properly used, will help us become more intentional in our sustainability efforts."
This cycle, students from a class called Roots of the Environmental Crisis took on the various subsections of the STARS checklist, analyzing Goshen College's sustainability achievements. By taking this approach, along with assistance from paid student interns, the college was able to better promote sustainability efforts on campus and involve a large number of students in the process.
"One thing that we identified is that we could have earned so many more points if we had more policies in place," said Joanna Epp, a sophomore environmental science major from Newton, Kan., who helped oversee the report as a sustainability intern. "We do so many of these things, but we just don't have a policy behind it."
For example, some of the college's commitments include using recycled paper, green cleaning supplies and serving local food in the dining hall, but there are currently no policies in writing requiring those actions.
"It also deals with a lot of things beyond what you might typically think of when you hear sustainability. There are sections on diversity, affordability and investments, different things that are part of the sustainability of campus," Epp said. "There are always so many more things we could be doing, but I also gained a lot of appreciation for what we are already doing."
See Goshen College's STARS report
STARS is an initiative from the Association for the Advancement for Sustainability in Higher Education (AASHE). At Goshen, the STARS report will be used as a tool to develop strategies for further documentation and policy making.
"While we continue to compare very favorably to other institutions, what we are most interested in is how we can improve our own policies," Gilbert said.