Student-run composting program simply turns waste to food: 'Nothing else like it'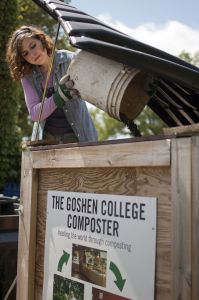 Where might you find coffee grounds, potato skins and egg shells mixed with meat, napkins and leftover spaghetti? Typically, beside other garbage in the dump. In fact, for years, this is where Goshen College sent its food waste.
However, in 2010 the college implemented a much better practice by taking something perceived as dirty trash and transforming it into something of value: compost. Beginning with a trial run that received enthusiastic support, the college began composting food waste in the dining hall. It has evolved to become a successful model due to the strong commitment of students and the implementation of a simple composting method.
This system – low-cost and low-tech – works well for a small college serving over 200 mouths per meal in the cafeteria. Goshen College Sustainability Coordinator Glenn Gilbert said, "What I like about this approach to composting is its simplicity and community engagement. Rather than invest in a complicated expensive form of technology that operates in the background, Goshen College has chosen to rely on student involvement, creating a simple system, that is easily replicable almost anywhere."
Student energy and commitment
All students that eat in the dining hall participate in the process by scraping their food waste into special containers. Student volunteers are also critical to the daily maintenance and implementation of this project. The college's student environmental club, EcoPAX, organizes the volunteers.
Junior Natasha Weisenbeck, a public relations major from Clifton, Ill., is one of those students. "It takes dedicated, excited people to engage and participate in the process, much like what we have here at Goshen," she said.
In addition to volunteering with the student compost team for three years, she served as the campus compost intern last summer. Combining her passions for the environment and communication, she created tutorials, maintained the composting process and even solved a problem that has greatly improved the college's approach.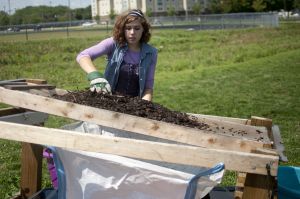 Weisenbeck identified the need for a better compost screening solution (to separate the final product from the woodchips which are combined with the food waste). She designed and constructed an innovative creation: a pivot screener which hangs on a 20-degree angle and hits bumpers allowing the compost waste to fall through the screen and be collected. The woodchips tumble to the end. This cuts the time in half from the prior – more basic approach – and creates a better quality final product.
At the United States Composting Council's annual conference in late January 2013, Weisenbeck presented on the growth of the college's composting program and demonstrated its simplicity for others to learn from. The college's program was "definitely an outlier at the convention because we are so small. We're unique in the sense that our operation is very low-tech and extremely low cost," said Weisenbeck. "There was nothing else like it there."
In addition to the significant role students play in making this program happen, the support and assistance of the AVIFresh dining hall staff is critical. If AVIFresh hadn't been fully behind the project from the beginning, "it is unlikely that food waste composting at Goshen College would be a reality," said Weisenbeck. As well, Gilbert and Lew Naylor, an adjunct chemistry professor and international composting consultant, provide vital technical support, and Naylor has provided generous funding to support the project.
A low-cost approach
A benefit of the simple approach is that it is cost-effective, with just an 8-month payback. This is the result of using student labor and a reduction in garbage bags and landfill costs. The composting boxes – designed by Naylor, Gilbert and students – only cost about $150 in materials to build. Compared to alternatives, composters that use electricity are as much as 10 to 100 times the cost.
Even if all of the labor was paid instead of volunteer, composting saves the college money. Between waste pickup fees and garbage bag savings in the kitchen, the college saves an estimated $1,800 per semester.
A low-tech approach
On a typical weekday during the semester, about 75 to 100 pounds of food waste is produced in the college's dining hall. When students are done eating, they have the option to scrape fruit, meat, napkins and any other compostable waste from their plates into waste receptacles clearly designated for composting.
At the end of a day, a student volunteer spends 15 minutes collecting the receptacles and dumping all of the contents into the campus compost bin, a large insulated wooden box located behind the dining hall dumpsters. Woodchips – received free from local tree trimmers – are added as mulch and combined with the food waste at a two-to-one ratio to provide airflow. This introduces bacteria to the food, which prevents odors and helps break up the pile.
On-site composting lasts for at least three weeks, self-heating to more than 140°F. Once full, a composter is transported to an on-campus location and replaced by an empty container. Decomposition continues for up to three more months prior to a screening process, during which the woodchips are separated and removed, using Weisenbeck's pivot screener.
The cycle is complete when the compost is returned to AVIFresh dining services to be used as a natural fertilizer in their small garden, which eventually produces vegetables and herbs for meals to be served to students. In 2011, the compost-treated garden provided the dining hall with 88 pounds of plum tomatoes, 35 pounds of heirloom tomatoes, 71 batches of basil, and other vegetables like kale and peapods for immediate or frozen use. 
View a video of Weisenbeck putting the pivot screener to use:
– By Kristina Lopienski