The numbers don't lie: For Goshen College accounting students, experience means success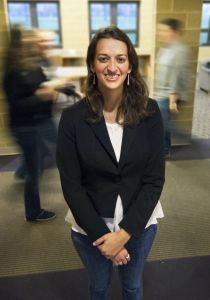 For major accounting firms, there just aren't enough students like Corine Alvarez.
She's on the Dean's List, plays tennis, has international experience, has had multiple internship and job experiences and has won student business awards. To sum it up, she's a pretty typical Goshen College accounting student.
That's one of the reasons accounting firms are knocking at Goshen College's door. Three of the top 10 accounting firms in the country recruit students directly from the college, as do regional and local firms. It helps that the college has one of the only regional accounting programs with a required, paid internship, which usually leads to a job offer.
"We are able to place nearly 100 percent of senior accounting majors in job-track internships every year," said Michelle Horning, professor of accounting at Goshen College. "Our accounting program can't have enough students. Firms regularly ask, 'Are there any more?'"
Alvarez is one of three accounting students who began her senior year with a job already in place for after graduation. She will move to Chicago to work for Deloitte, one of the largest accounting firms in the world. Five other senior accounting students all have job-offer track internships, which means that they too will be offered jobs if all goes well. To sweeten the deal, starting salaries can be upward of $50,000 a year.
"Our alumni network is strong and close knit and has helped us make inroads to the various CPA firms in Indianapolis and Chicago as well as keeping the local ties strong," said Russ Rupp, professor of accounting at the college.
"It's a great feeling to have a job already lined up, which surprises many non-business students who are wondering what the future has in store for them," Alvarez said. "But, my case is not unique. My graduating class already has numerous job offers and internships lined up for this spring."
Currently, she's studying for the Certified Public Accountant (CPA) exam, which GC students tend to pass at rates well above the national average. In fact, the Goshen College accounting program is ranked 10th nationally for a program of its size and second in Indiana, based on 2011 CPA exam passing rates for graduates.
Real world experience
Alvarez's family moved between Puerto Rico, the Philippines and Texas before settling in Goshen when she was in the seventh grade. Her parents are both Goshen College alumni, and her older sister attended as well.
"My journey to Goshen College was a fairly easy decision for me," Alvarez said. "Staying in Goshen for college near my family was a big pull for me, and the fact that my parents both went to Goshen didn't hurt."
Alvarez originally wanted to study history, but after her academic adviser recommended she take a finance course, she realized that she really enjoyed accounting work and could see herself working in the field.
"My advisor's whim turned into my career," she said.
Since declaring her major, there has been no shortage of hands-on opportunities. As a sophomore, Alvarez helped with an audit of a local camp and received an entrepreneurship grant to create her own bookkeeping business. As a junior, she prepared individual tax returns for community members through the IRS Volunteer Income Tax Assistance program. She has also completed three internships in both public and private accounting.
"I am lucky in that I have had multiple internship experiences during my college career," she said. "I learned a ton about the internal workings of a 'Big Four' accounting firm. I was offered a full-time position at the end of my (most recent) internship to begin the summer after I graduate."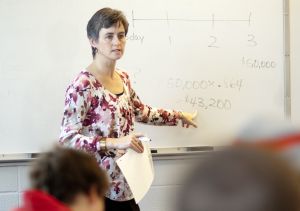 In October, accounting firms made their annual visit to the college to interview accounting majors for internships and post-graduation jobs. "Goshen is one of the few small schools in Northern Indiana that the accounting firms will visit," Horning said. "Other colleges have created a shared recruiting event to try and attract accounting firms to their students, but so far, GC doesn't participate in that event, because accounting firms want GC students and come here to interview them."
According to Doug Nisley, a partner at Crowe Horwath LLP, which routinely hires Goshen College graduates, firms look for students who take initiative, have real-world experience and can think on their feet. GC students fit the bill.
"We look for a well-rounded person who has excellent interpersonal skills as well as a broad range of knowledge," Nisley said. "Our clients reside across the United States as well as internationally. Travel to our clients often puts our professionals in new and varying cultural settings. GC grads, due to their liberal arts education, as well as the intercultural experience they have on Study-Service Term, are very well-rounded. They have shown an excellent work ethic and common sense."
Learning beyond the classroom
Alvarez's experiences outside the traditional classroom are part of what makes her and other students like her, as Nisley puts it, "well-rounded."
"I have had many opportunities to travel. I've studied in Peru for my Study-Service Term, taken a history course in Spain and Morocco and a business course in Barcelona," Alvarez said. "All of these courses and experiences have made the learning in the classroom more real. We talk about international differences in business, why not go to Spain and see them first hand? Getting to travel abroad in small groups has been an integral part of my learning experience."
In addition to studying abroad, Alvarez has been involved with various student organizations, participated in both intercollegiate and intramural athletics, and has won business competitions and awards.
"There are so many clubs and organizations that all are welcome to join here, which may seem more intimidating at a larger university. It's easy to get involved," she said. "The atmosphere at Goshen is very community focused — if I don't recognize someone in passing in the cafeteria or on the sidewalk, I am genuinely surprised."
To find out more about the accounting program, visit www.goshen.edu/business.