New Goshen College business team wins regional and national "Rookie of the Year" awards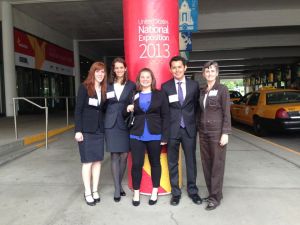 When a group of business students at Goshen College got together to put their business education into practice to help others, they had no idea the recognition and awards that would quickly follow.
A group of eight students formed a team through the international non-profit organization Enactus. Enactus brings students together with academic and business leaders who are committed to using the power of entrepreneurial action to improve the quality of life and standard of living for people in need.
The organization works with student teams to create a project fitting these criteria. Goshen College competitors worked with Meals on Wheels Goshen, a program of the non-profit organization The Window. They performed a variety of tasks to help the program, mostly focused around what would benefit them most in the future. Tasks included teaching accounting basics, working to establish requirements for meal delivery, organizing boxes of files, creating marketing materials and working to find grant opportunities.
Student participants gather at regional, national and international competitions to present their cases. On April 12, in their first regional competition held in Chicago, the Goshen College team won "Co-Champions" in their league. In addition to this the team was awarded a "Rookie of the Year" award and a $1,000 prize, giving them the privilege of moving on to the national competition held in Kansas City. On May 21-23, the team again won "Rookie of the Year" in this competition against 150 other collegiate teams.
Team members included senior accounting major Corine Alvarez (Goshen, Ind.), sophomore business major Marcos Castillo (Nappanee, Ind.), junior accounting major Derek Johnson (Prineville, Ore.), senior business major Danielle Klotz (Goshen, Ind.), sophomore business major Jenna Ramseyer (Wooster, Ohio), junior accounting major Chelsea Schmucker (Wauseon, Ohio), sophomore business major Jordan Weaver (Lanark, Ill.) and senior business major Jan Zawadzki (Berlin, Germany).
"Student teams range widely in number of student members and in budget, but all teams have the same goals – to help others help themselves," said Alvarez. "At the competitions, each team has about 15 minutes to present their projects from the year to a panel of executives and managers at various sponsoring companies."
The suggestion to begin an Enactus team this year at Goshen College came from Assistant Professor of Business Carlos Gutierrez, who had participated on an Enactus team while in college.
Professor of Accounting Michelle Horning, who traveled to the competition with this year's Enactus team, said that the goals for next year's team include, "the increase of participation and added students from majors outside the business department. The team would also like to create an advisory council of local business leaders to provide support for the team. The team has many ideas for involvement in the community and will be pursuing those potential projects in the fall."
 – By Lexi Kantz