Righteous Among the Nations: Alumna and former professor saved Jewish children during Holocaust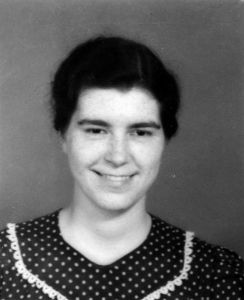 UPDATE: On January 27, 2016, Lois Mary Gunden Clemens '36 was honored posthumously as Righteous Among the Nations by the Embassy of Israel in Washington, D.C., in partnership with Yad Vashem, for her courageous work in France during World War II. President Barack Obama spoke at the ceremony, the first of its kind to be held in the United States. Gunden is only the fourth American (of more than 24,800 people throughout the world) to be recognized with this prestigious honor.
During World War II, in a French Mediterranean town far from her home in Goshen, Ind., Lois Mary Gunden Clemens risked her own safety by helping save the lives of Jewish children during the Holocaust.
Yad Vashem, Israel's official memorial to the Jewish victims of the Holocaust, recently recognized Gunden Clemens as Righteous Among the Nations for her courageous work in France during World War II. Gunden is only the fourth American (of more than 24,800 people throughout the world) to be recognized with this prestigious honor.
Gunden Clemens was a 1936 Goshen College graduate and a French professor at the college from 1939-1941 and 1944-1958.
"Lois' courage, compassion and her service are stirring examples to our college community and to the world that a single person of faith and humanity can make a huge difference," said Goshen College President James E. Brenneman. "I believe the decision by Israel and the Yad Vashem Holocaust Memorial to honor Lois as Righteous Among the Nations will provide the opportunity for many more people to learn about her brave sacrifice."
---
> Read Lois' letters from southern France and more of her story.
> View photos from this time from Gunden Clemens' personal collection.
---
In 1941, during World War II, Gunden Clemens joined Mennonite Central Committee and the Secours Mennonite aux Enfants to establish a children's home in southern France near the Mediterranean. The children's home became a safe haven for Spanish refugees as well as for Jewish children, many of whom were smuggled out of the nearby internment camp of Rivesaltes.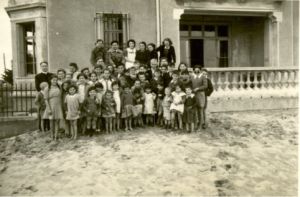 One of the Jewish children sheltered there was Ginette (Drucker) Kalish who was born in 1930. Her family lived in Paris until July 1942 when Ginette's father was deported to Auschwitz. Managing to hide from the police, Ginette and her mother fled to the south of France but were caught on the train and eventually taken to Rivesaltes.
It was there that Gunden Clemens approached Ginette's mother and pleaded with her to let her take the child out of the camp. While hesitant at first, Gunden Clemens managed to convince her that Ginette would be safer under her care, and Ginette's mother decided to part from her child. "At the time I was 12 years old and certainly scared," Ginette Kalish told Yad Vashem, "but Lois Gunden was quite kind and passionately determined to take me and these other Jewish children out of Rivesaltes to protect them from harm… I remember Lois Gunden being kind and generous and she made a special effort to blend us in with the other children. None of the other children were told that we were Jewish."
Far from her home, Gunden Clemens would show great courage, ingenuity and intuitiveness as she rescued children of a different nationality, religion and background. One morning while the children were out for a walk, a policeman arrived at the center in order to arrest three of the Jewish children, Louis, Armand and Monique Landesmann. Gunden Clemens told the police that the children were out and would not return until noon. At noon the policeman appeared again and ordered her to pack the children's belongings and prepare them for travel. This time Gunden Clemens told him that their clothing was still being laundered and would not be dry until the late afternoon. Gunden Clemens testified that throughout that day and evening she prayed for wisdom, guidance, and the safety of the three children. The officer never returned and the children were spared. During this time Gunden Clemens kept a diary, describing in it her experiences and daily activities.
In November 1942, the Germans occupied southern France. Although Gunden was considered an enemy alien after the United States entered the war, she continued to run the children's center. In January 1943, the Germans detained Gunden Clemens for more than a year before releasing her as part of a prisoner exchange.
After the war
After her release, Gunden Clemens returned to Goshen College to teach, and later earned her doctorate in French from Indiana University. She married widower Ernest Rittenhouse Clemens and after moving to Pennsylvania, she taught at Temple University from 1965 to 1975, and at North Penn High School in Lansdale. She also served on the Mennonite Church General Committee, Mennonite Board of Education and Goshen College Board of Overseers. She was editor of The Voice, the national publication of the Women's Missionary and Service Auxiliary of Mennonite Board of Missions and authored the book Women Liberated. She also taught English to immigrants.
Serving others was at the core of who Gunden Clemens was. In a 1989 interview with the Philadelphia Inquirer, Gunden Clemens said, "It doesn't matter whether you are male or female, but what matters is the person you are and what you can give to the life of the church and the community."
Gunden Clemens' niece, Mary Jean Gunden, has done significant research on her aunt's life. "To think of her traveling to France to help children at a time when everyone there was trying to leave is really rather amazing," she said. "Even at those times when she was discouraged, she didn't write of any second thoughts of her decision to go, nor did she express fear for her personal safety. She was very much centered on the needs of others."
Mary Jean added, "One of the aspects of Lois' experience that most sustained her was the satisfaction of seeing children thrive who came to her care from horrible circumstances. Some were near death from starvation, and many had already lost at least one of their parents to war or forced deportation."
Three of the Jewish children who were under Gunden Clemens' care are still living, and were able to give testimonies to Yad Vashem about her.
Mary Jean describes her aunt as modest and that she rarely spoke about her World War II experience. "Even in an autobiography written for a family reunion in 1991, she only devoted several sentences to those events," she said. "Certainly it would have been wonderful if her story had been better known during her lifetime."
Gunden Clemens died on Aug. 27, 2005, and will be posthumously honored in a ceremony that will take place in the United States, in which Mary Jean Gunden will accept the medal and certificate of honor on her behalf. The date and location for the award ceremony is still being decided. Her stepdaughter, Pauline Fisher, still resides in Goshen.
Yad Vashem
Established in 1953, Yad Vashem is the world center for documentation, research, education and commemoration of the Holocaust. The other Americans who have been recognized by Yad Vashem as Righteous Among the Nations are Varian Fry and Waitstill and Martha Sharp.