Lois Mary Gunden Clemens '36 honored posthumously as Righteous Among the Nations at ceremony with President Obama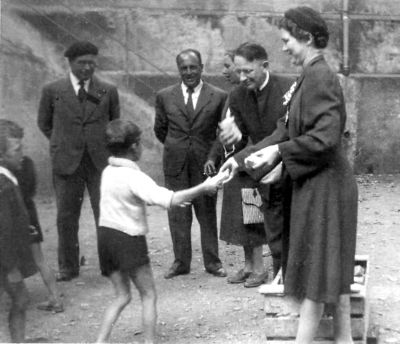 On Wednesday, Jan. 27, 2016, Lois Mary Gunden Clemens '36, in a ceremony with President Barack Obama, was honored posthumously as Righteous Among the Nations by the Embassy of Israel in Washington, D.C., in partnership with Yad Vashem, for her courageous work in France during World War II. Gunden is only the fourth American (of more than 24,800 people throughout the world) to be recognized with this prestigious honor.
---
---
Set to coincide with International Holocaust Remembrance Day, the reception will honor two American and two Polish citizens. Members of Lois' family will be in attendance, along with many other distinguished guests. This is the first ever recognition of American Righteous Among the Nations to take place in the United States.
​​Righteous Among the Nations is the highest honor the State of Israel bestows on non-Jews in the name of the Jewish People. Established in 1963 by the Holocaust Remembrance Authority Yad Vashem, the Righteous Among the Nations expresses the gratitude of the State of Israel and the Jewish people to non-Jews who risked their lives to save Jews during the Holocaust.
Gunden Clemens was a 1936 Goshen College graduate and a French professor at the college from 1939-1941 and 1944-1958.
WATCH: The President Speaks at the Righteous Among Nations Award Ceremony
Skip to 13:08
---
Related news coverage:
» Obama to Honor Americans' Wartime Efforts to Save Jews During Holocaust – The New York Times
» Israeli government, Obama to honor late Goshen woman – South Bend Tribune
» Israeli government to honor Goshen woman who helped save lives of Jewish children during the Holocaust – The Goshen News
» President Obama to honor Hoosier, 3 others who protected Jews during Holocaust – Fox 29
» Obama to honor individuals who protected Jews during Holocaust – CBS News
» Obama to honor 4 who protected Jews during Holocaust – Associated Press
» Obama to speak at Righteous Among the Nations ceremony at Israeli Embassy – Jewish Telegraphic Agency