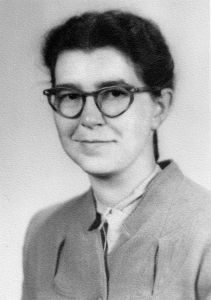 Written by Mary Jean Gunden '77, edited by Jodi H. Beyeler '00 
Though it was well known in her family, community and college that Lois Mary Gunden Clemens '36 (Goshen College French professor 1939-41, 1944-58) had served in southern France during World War II with Mennonite Central Committee (MCC), helped many children and had been a prisoner of war for a year, the extent to which she risked her own safety and played a critical role in helping to save Jewish children's lives during the Holocaust recently came to light with the research of her niece Mary Jean Gunden '77.
As a result, Yad Vashem, Israel's official memorial to the Jewish victims of the Holocaust, recently recognized Lois as Righteous Among the Nations. She is only the fourth American (of more than 24,800 people throughout the world) to be recognized with this prestigious honor. She died in 2005.
We share excerpts from Lois' diaries and letters home for their first-hand perspective on her experience, as she lived out her faith and the college's motto, "Culture for Service," in mundane, yet profound, courageous and inspirational ways. Some of the following material was published earlier in The Mennonite magazine on Sept. 1, 2013.
Lois Mary Gunden, age 26, was ready to start her third year of teaching French at Goshen College when she was invited by MCC to head to southern France, just 30 miles north of the Spanish border, for World War II relief efforts. At the time, Lois lived at home in Goshen with her parents, grandmother and eight siblings. She quickly accepted the invitation and as she was set to sail, she received a telegram from Goshen College.
FACULTY AND STUDENTS SEND GREETINGS AND WISH YOU BONVOYAGE OUR MESSAGE IS PSALMS 121= ERNEST E MILLER PRESIDENT
Lois embarked on the "S.S. Excambion" from New York City on Oct. 4, 1941, with several relief worker companions.
OCT. 5, 1941 (DIARY)
… It was a bit exciting when the gangplank was pulled in at the pier and the last cable was pulled in and the blasts from the boat horn (or whistle maybe) indicated that we were getting under way. We stood on the top deck and waved back at the figures waving to us from the last door on the pier. … After we could no longer see the people on the pier we watched the Statue of Liberty looking at us as we passed by…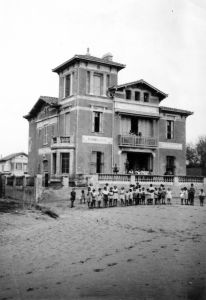 On Oct. 22, Lois began work in Canet-Plage at Villa St. Christophe, a 20-room convalescent home located on the Mediterranean beach. The home held 60 children, and at the time Lois arrived, the majority of them were Spanish refugees.
OCT. 22, 1941 (DIARY)
Woke with noise of happy children outside the window; children singing, playing games, and running on beach …
About 12 miles away, the Rivesaltes refugee camp supplied most of the children housed at the villa. After an initial visit to the refugee camp, Lois recorded her impressions.
NOV. 18, 1941 (DIARY)
Outstanding and unforgettable memories of day – braveness of boys when they discovered they were leaving without parents; sight of bunks with people sitting hunchbacked on them; dirty and bare kitchen – provisions only for one day; eagerness with which children drank milk; possibility for terrible cold when wind blows.
Family events back home and world happenings were both on Lois' mind.
NOV. 20, 1941 (DIARY)
… letter from home telling of Grandma's death on October 19; … went out to supper with red eyes; before going to bed pondered over how good God had been to let me get a letter to grandma and her one to me; her last months were happy ones even if she was sick; to have a letter from home is wonderful!

DEC. 8, 1941 (LETTER HOME)
This morning when I came out to breakfast they showed me the headlines in the paper which declared that Japan and the United States were at war. It is too bad that at a time when people are preparing for the holiday which marks the advent of Him who came to bring peace on earth and goodwill among men still more people should be plunged into war.

DEC. 16, 1941 (DIARY)
… everything quite unsettled, but "Dieu le sait; cela suffit" [God knows, that's enough]. I am still sure that there is a definite purpose I am to serve here.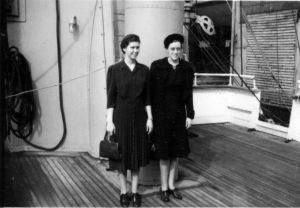 The stress of the work that Lois and the other workers were doing was unmanageable for some. Her Mennonite colleague Helen Penner suffered a nervous breakdown in January 1942 and returned to the United States in mid-May. And yet, life went on at villa St. Christopher, though life in Goshen was never far from Lois' thoughts.
FEB. 15, 1942 (LETTER HOME)
… Elton [Gunden, one of Lois' brothers], how is the class of '43 upholding its basketball tradition? And you must be quite busy with the Maple Leaf [Goshen College yearbook] by now! I guess this is one year of life at Goshen College about which my knowledge will be nil or nearly so. …

APRIL 18, 1942 (LETTER HOME)
… our battle against head lice is constant. Each new convoy of children from the camp is immediately combed with a fine comb. If a boy has a nice number of them, off go his hair. If it is a girl, her hair is cut quite short. …

JUNE 5, 1942 (LETTER HOME)
… The day's experience [of handing out powdered milk at the schools to children] really meant a lot to me, for it helped me realize that even though our efforts at relief work are somewhat limited, every little bit that we can do is greatly appreciated. …In July, large numbers of Jews in France were rounded up and eventually deported to the infamous Auschwitz concentration camp in Poland.
It seems in these changed circumstances that Mary Elmes, an Irish Quaker aid worker colleague in nearby Perpignan for whom Lois had great respect, wanted to ensure that Jewish children at risk of deportation would be sheltered with reliably protective caregivers. Mary probably wasn't certain how Lois would respond to these new realities.
JULY 17, 1942 (DIARY)
… [Mary Elmes] wants me to take children from town; can't figure out why she doesn't want to give us camp children; may be that it is in order to get them to go to Vernet that she informs them that there are no possibilities of coming here; … I decided to try to take into my hands the selecting of children …

AUG. 9, 1942 (DIARY)
… Mary informed me about return of Polish and German Jews to Poland where death by starvation awaits them …

AUG. 10, 1942 (DIARY)
… when I got back to colony found a little boy crying – asking for his barrack and for the Secours Suisse [Swiss Aid to children, organization assisting at the refugee camp]; Miss Elmes had brought us three Jewish boys in an attempt to save them when their parents leave; had quite some time quieting the poor little fellow; but finally his sobs died down …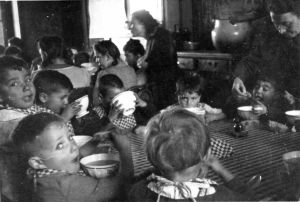 About every two weeks, a group of three to seven children returned to the camp, and a similar number arrived at the children's villa. By February 1942, many of the Spanish refugees were being freed from the camp, and children were leaving the villa to join them. The newcomers to the villa from the camp included an increasing number of German, Polish and other Western European Jews. Many of these families had fled from persecution and took refuge in France for several years before becoming entangled in the anti- Jewish laws of Vichy France, which in many respects were even more repressive than those of Germany.
AUG. 11, 1942 (DIARY)
…While we were eating supper Miss Elmes brought seven Jewish children – some of whom can't speak French; [Isidore] Mussoles cooked some extra macaroni; quelle comedie pour les laver en lavabo! [what a comedy to wash them in the washbasin] Les garçons ne voulaient pas enlever leurs culottes [The boys didn't want to take off their pants] …
Parents would have repeatedly warned their circumcised sons not to take off their pants in front of others, in order to hide their status as Jews.
AUG. 11, 1942 (LETTER HOME)
… every morning, the housewife gets up early in order to get as near the head of the line as possible for anything she may be able to get in the way of fresh fruits or vegetables for the day. She must spend hours in order to get the little bit that she can have. …
Food shortages were a chronic problem for even those who had ration cards, a situation that exacerbated local French resentment toward refugees.
AUG. 12, 1942 (DIARY)
… it is disgusting the way the Spaniards are often decried by the French, and yet today those very ones say how much better it is to have Spanish children [at the villa]; yet it is children from the camp [now mostly Jewish children] who interest us most.

AUG. 20, 1942 (LETTER HOME)
Two more of our big girls who had been at the colony for a year or so left last week. When Isabelle arrived last summer the doctor didn't feel as if she had much of a chance; she was nothing but skin and bones and often had fever when she was tired. … But you should have seen her when she left! During the year she filled out and blossomed into real sixteen-year-old beauty, even to the extent of rosy cheeks. … Since most of the cases are not so extreme one thinks at times that the results of our relief work are rather intangible in the main – at discouraging moments one wonders if he is really accomplishing very much.

AUG. 21, 1942 (DIARY)
… I took care of children on plage [beach] – find a real challenge in trying to establish feeling of brotherhood between Jews and Spanish …

AUG. 26, 1942 (LETTER HOME)
I was surprised by a call from the camp informing me of the arrival of another group of children tomorrow. … I'm quite sure the villa was never meant to house 74 people, but still we manage to stow all of them away. The last group of seven did not assimilate itself so rapidly as usual, for we have been getting nationalities other than Spanish lately.
During this time, if Jewish children under the age of 16 were housed separate from their parents outside the refugee camps, they often weren't searched out, particularly if French officials knew they could already meet their quota for scheduled deportations of Jews. Lois now understood the importance of moving as many Jewish children as possible out of the camps and into the villa.
AUG. 29, 1942 (LETTER FROM MARY ELMES)
... I should warn you that there is a possibility that the children whose parents are still at Rivesaltes may be recalled to leave from there with the rest of the family. We are doing everything possible to prevent this however, but it is unfortunately still an eventuality. I am getting the parents of the children to sign a "discharge" for us, in case they do not take their children with them and I shall pass to you those which concern the children you have. These papers may be of value in the future.

SEPT. 1, 1942 (DIARY)
… in afternoon two policemen called asking me to get the Landesmann children ready in an hour's time; that rather upset the others who had come at same time, because they are afraid of what may be happening to their parents; Ginette [Drucker] has never heard from her mother; I'm afraid for her; after getting all their clothes out ofwashing process in basement, waited with them until ten o'clock …

SEPT. 2, 1942 (DIARY)
All day expected gendarmes [police] to be dropping in, but they did not show up …

SEPT. 3, 1942 (DIARY)
... an urgent telegram was telephoned from Canet concerning the Landesmann children; while at the post office [Maria Louise] Sangarné called me to tell me that Miss Elmes had called saying that the uncle of the children was coming after them immediately; … Mr. Cadier from Pau and a man from the Prefecture arrived shortly before 6 o'clock to get children; when I heard of how they were finally snatched from the fate hanging over them, I felt as if God must have had a hand in preventing anyone from coming after them during these two days interrupted by calls and telegrams concerning them; had they been taken to camp, likely all efforts would have arrived too late for any good. …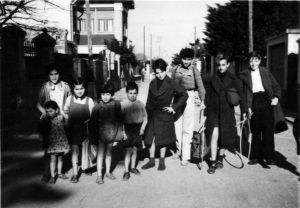 Relief agencies like MCC had been allowed to continue working in France as long as they remained neutral and followed French law. Individual workers like Lois and Mary Elmes had to make difficult decisions. To obviously flaunt the law would render them unable to help anyone. But to release these children in the face of anything short of legal duress was something they both found unconscionable.
OCT. 23, 1942 (LETTER HOME)
… Now I can say that I have lived in France for a whole year. This year we are having much more favorable weather than last season's cold spell that marked our first weeks here. And I was reminded with the passing of the anniversary of my arrival in France that a year has gone by since the passing away of Grandma. That still seems quite unreal to me. …

OCT. 31, 1942 (LETTER HOME)
… But my year's experience in relief work over here has taught me more than ever that one has to live only a day at a time, and that God's faithfulness towards those who put their trust in Him can be counted upon for the experiences of each day as it comes bringing its particular problems. I know that without the assurance of His abiding presence and His sustaining help, I would feel lost in an impossible tangle of circumstances. …
This was Lois' last letter home (before her internment) that is housed in the Mennonite Church USA Archives – Goshen; no further diary entries are known to exist.
On Nov. 11, 1942, Germany took control of southern France, and Americans became unwelcome. On Jan. 27, 1943, Lois was taken as a prisoner of war and spent a year at Baden-Baden, Germany, as part of the official North American Diplomatic Group before negotiations led to her release and arrival in New York City on March 15, 1944. Lois resumed teaching French at Goshen College in the fall of 1944.