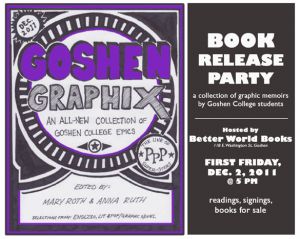 GOSHEN, Ind. – The Goshen College English Department and Better World Books will present "Goshen Graphix," a collection of short graphic memoirs by Goshen College students from their May 2010 Graphic Novel class, at the store on Dec. 2.
A release party featuring the student writers and designers will be held at Better World Books on Dec. 2 (during First Friday) at 5 p.m. Student contributors will discuss their work in a short presentation, light refreshments will be provided and the books will be available to purchase for $5.
"Graphic novels are much more than just glorified comic books; they're a serious and rapidly expanding genre in their own right," said Jessica Baldanzi, assistant professor of English who taught the May 2010 Graphic Novel class. "Students found new and challenging ways to tell stories from their lives in their final projects, many of which are collected in this anthology."
The editors of "Goshen Graphix" are Mary Roth, a sophomore English major from Goshen, and Anna Ruth, a senior English major from Harleysville, Pa.
Student authors include Nate Day, a senior English major from Perkasie, Pa.; Josh Delp, a senior English and Bible and religion double major from Sellersville, Pa.; Mark Hershberger '10; Lauren King, a junior English major from Goshen; Elspeth Stalter, a senior music and English double major from Iowa City, Iowa and Phil Weaver-Stoesz, a senior theater major from Goshen. Also contributing was Hannah Sandvold, a former student.
"Goshen Graphix" will also be available to purchase for $5 after the Dec. 2 reception through Better World Books and the Goshen College English Department. Better World Books is located at 118 E. Washington Street in Goshen.
Editors: For more information about this release, to arrange an interview or request a photo, contact Goshen College Acting News Bureau Coordinator Alysha Bergey Landis at (574) 535-7762 or alyshabl@goshen.edu.