Two recent GC grads lead Guam's first-ever children's deaf camp
GOSHEN, Ind. – Four years ago, Heather Zimmerman came to Goshen College from Guam to study American Sign Language. Now, she has graduated and is taking her passion for ASL to give back to her native island.
After two years of planning, Zimmerman, a 2011 graduate from Barrigada, Guam, who majored in ASL, along with her friend and colleague, Naomi Webster, a 2011 graduate from Bloomfield Hills, Mich., who majored in ASL, led Guam's first-ever day camp for deaf children for a week during the summer.
"Deaf children in Guam often get isolated and are deprived of the same learning opportunities as hearing children," said Zimmerman. That's why she wanted to bring the same atmosphere of intentional learning and fun that she learned from working at several deaf camps in the United States to deaf children in Guam.
So Zimmerman and Webster combined forces and began planning Guam's Own Deaf Children's Day Camp. "We work really well together, because Heather has the big ideas, and I'm good with organizing things and figuring out how to make things work," said Webster.
Zimmerman used her connections to help make their ideas become reality. The camp was held at Southern Christian Academy in Guam, where she previously attended. A member of a local church volunteered to shuttle the campers to and from the school every day. She compared it to the loaves and fish miracle when, a day before the camp started, a local church member volunteered to provide lunch for the campers every day.
Read more:  the American Sign Language Degree at Goshen College
They used yet another connection to get other staff members for the camp. Zimmerman's parents run a nonprofit organization which provides residential recovery counseling for women with substance abuse issues. Several women from the organization signed up to help at the deaf camp in order to fulfill community service hours. Though the women weren't fluent in ASL, they helped lead activities.
"Helping with the camp really helped the women see outside of themselves, and helped inspire them," said Zimmerman.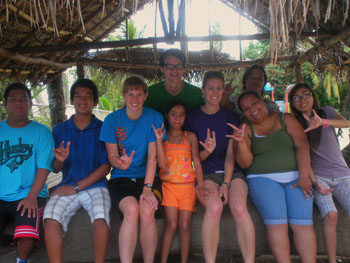 Every day, five deaf children came to the camp, in addition to five to 10 curious hearing children. "Some kids would sneak out of the summer classes that were being held at the academy to join in the camp activities," said Zimmerman, "but we told them they had to sign if they wanted to participate."
Having both hearing and deaf children there made the activities more challenging, since they were planning on using only ASL to run the camp. But they figured out ways to include both deaf and hearing children by playing games, swimming, learning about deaf art and literature, and having time to socialize.
In the end, the camp was well received with many people eager to help out. "Awareness wasn't our original goal; the focus shifted once we got the camp running, but we were able to handle it," said Zimmerman. "Our goal was to inspire deaf children, but we ended up inspiring hearing people, too."
Zimmerman and Webster have even bigger ideas for next summer. They want to expand the camp to be two weeks long and to increase the number of deaf participants. Until then, the two will continue to be involved in deaf culture. This fall, Zimmerman is beginning a two-year master's program in international development at Gallaudet University (the world's only university strictly designed for deaf and hard of hearing students in Washington, D.C.). Webster will be returning to Goshen in the fall to complete her final semester of ASL studies.
"It's been a faith type of journey from my dream that started two years ago," said Zimmerman. "God opened up the doors for us and provided many miracles."
To learn more about Guam's Own Deaf Children's Day Camp, email dcdcguam@gmail.com.
– By Alysha Landis
Editors: For more information about this release, to arrange an interview or request a photo, contact Goshen College Acting News Bureau Coordinator Alysha Bergey Landis at (574) 535-7762 or alyshabl@goshen.edu.
###
Goshen College, established in 1894, is a residential Christian liberal arts college rooted in the Anabaptist-Mennonite tradition. The college's Christ-centered core values – passionate learning, global citizenship, compassionate peacemaking and servant-leadership – prepare students as leaders for the church and world. Recognized for its unique Study-Service Term program, Goshen has earned citations of excellence in Barron's Best Buys in Education, "Colleges of Distinction," "Making a Difference College Guide" and U.S. News & World Report's "America's Best Colleges" edition, which named Goshen a "least debt college." Visit www.goshen.edu.