Beyond burgers and fries: Campus dining hall incorporates care for the earth and students' bodies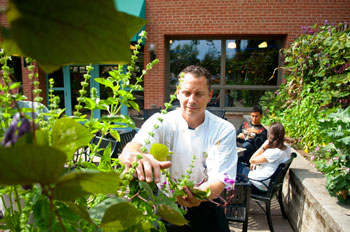 View more photos from the GC Dining Hall.
College dining halls are known for large amounts of food thrown away by students, for grease-laden burgers and chicken nuggets and for preparing mass quantities of food straight from the freezer section that would never be considered "fresh." But something different is going on in the Goshen College Dining Hall, with the AVI Fresh food service provider leading the way in caring for the health and taste buds of each student and for the well-being of the earth. In 2009, when the college was choosing a new food service provider, these qualities were what set them apart.
The Goshen College dining hall service includes gourmet food that is prepared right in front of students at stations; a commitment to whole or multi grains, and as much local and organic food as is possible; food options for persons with special dietary needs, such as vegans, vegetarians, persons with allergies to nuts, dairy or gluten; and the incorporation of recipes from around the world.
Stealth health
As he plans the menus, the dining hall's director Bob Rombach implements AVI Fresh's approach of focusing on "stealth health." They know that college students enjoy comfort foods and foods typically high in fat and sugar, so there is often pasta available and pizza, but made with whole or multi-grain flour. "We are not just about appealing to people's desires, but also to their needs," Rombach said, noting that the chef doesn't use any trans fats and often replaces sugar with fruit juice to sweeten desserts.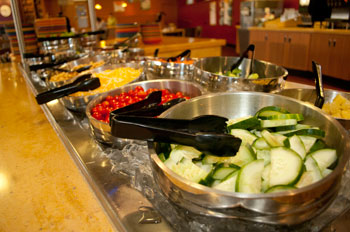 The "stealth health" approach also includes having many foods labeled with nutritional information; preparing a salad bar with 58 items, including tofu, spinach, feta cheese and nuts; changing the menu seasonally; making most of their own bread from scratch; and using a lettuce mix that offers more crunch, moisture and variety than typical iceberg lettuce alone.
This kind of variety is also central to AVI Fresh's approach. They are always incorporating new recipes, including authentic international recipes. And "presentation for us is everything," Rombach said. "Your eyes decide what you want to eat. Everything has to look appealing, even the hummus." So, the chef uses roasted garlic and parsley in the hummus that is served. In addition, the chef marinates meats and properly cuts vegetables. "It is important to regard and respect them from the beginning," Rombach said.
AVI Fresh also knows that the equipment that is used makes a big difference in the quality of the food served. When they were first getting started at Goshen, Rombach bought a meat tenderizer for the kitchen, so that fresh meat can be used rather than frozen meat. As well, they have a breading machine that they use on fresh cut chicken, instead of the frozen pre-breaded chicken tenders that are much more commonly served in institutional kitchens.
Sustainable dining
But the dining hall doesn't just offer good tasting food that is healthy for students. "I believe in a green program and I love that my company promotes that," said Rombach, who came to this position after years of working the fine dining restaurant industry and then several years at Kenyon College, where the dining hall was known for its emphasis on sustainability.
"We are not here to just feed these people," he said. "We are here to offer them an experience."
During 2010, the dining hall managed a little garden around a patio eating area that was both beautiful and provided regular contributions to meals, especially herbs. Daily, chef Jeremy Corson – whose mother initially planted the garden – would go right outside the dining hall and cut basil for pizzas, kale for a stir-fry and flowers for decoration.
And Corson is already planning the 2011 garden. "It will have vining purple beans again for sure," he said. "I think we'll be able to totally enclose the patio for a private outdoor escape and there will be more grape tomatoes and kohlrabi."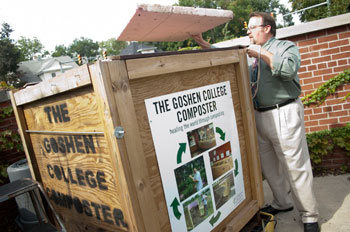 Though students might still refer to the college's dining hall affectionately as the "'Rot" (based on the name of a former food service company), the only thing rotting in the Goshen College Dining Hall is the compost collected through a program that students and dining hall employees collaborate on. This includes the "pre-consumer waste" from the kitchen preparation and the "post-consumer waste" of food not eaten by students. A station has been set-up for students to divide their waste into bins, which student volunteers from the Eco-PAX Club and the dining hall employees take out to a giant composter outside daily (created by adjunct professor and composting expert Lew Naylor). Once all of the food is broken down, the compost is then used on campus as a fertilizer. Previously, about 950 pounds of compostable material was thrown out in the trash each day.
In addition, the dining hall doesn't use trays, so there is less waste and water used (though there are some available upon request). And the dining hall doesn't use disposables and when they are catering across campus, they offer biodegradable disposables.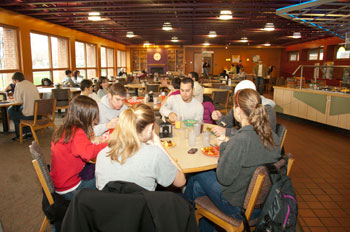 A team that cares
The dining hall also has particular concern for the students and their overall well-being. "We are trying to provide a comfort experience – an essence of someone caring for them individually," said Rombach.
In training his staff, Rombach made sure that the first person who greets students – currently Trudy or Elsie – is someone who is warm and friendly, and remembers their names and the personal tidbits about their lives. "I love that my employees are invested in these students beyond feeding them," he said.
After rattling off a list of his employees, Rombach notes that the quality of service they provide is based both on the larger vision of the company and how it is carried out daily by his team. "Their jobs, dedication to service and their training define them, and the excellent work they do," he said.
Rombach and his crew seem to have found a good home at Goshen in bringing fresh, healthy and local food to students' plates everyday – even a special international Thanksgiving feast right before students headed home for the holiday.
"I love GC students," said Rombach. "They have a sense of the global community and a responsibility to others without reward. It gives me hope. I love that I feed these people; it makes me feel part of them."
– By Jodi H. Beyeler