Former Goshen College President J. Lawrence Burkholder passes away on June 24 and leaves legacy of engagement with the church and the world
GOSHEN, Ind. – Goshen College President Emeritus J. Lawrence Burkholder, an influential figure in the Mennonite church, passed away early on Thursday, June 24 at the Greencroft Healthcare Center in Goshen. Burkholder, 92, played many significant roles throughout the 20th century as a pastor, professor, pilot, philosopher, civil rights activist, war-time relief worker and college president.
"President Burkholder leaves an enduring legacy," said Goshen College President James E. Brenneman. "Connecting all of his roles was a love for God and a love for others. For those of us fortunate enough to have been students, staff or faculty during his time at Goshen College, J. Lawrence will always be our president — a true leader and visionary. He has been my mentor, my adviser and my friend — and I will miss him.
"Many of President Burkholder's contributions to Goshen College are still with us. He made this campus a more beautiful and welcoming place by planting trees. He nurtured closer 'town-and-gown' relationships. He helped put the college on sound financial footing. He also showed us that all Christians — Mennonites and others — could be people of strong faith making a difference in the civic, business, political and institutional establishments of the world. President Burkholder felt that Christians and non-Christians alike were to be world citizens, taking responsibility for creating a more flourishing life for all. And for that visionary witness, I will always be grateful," Brenneman said,
Burkholder was born to Henry L. and Mary (Seitz) Burkholder on Oct. 31, 1917, in Newville, Pa. Upon graduating from Goshen College in 1939, Burkholder married Harriet Lapp, with whom he had four children. Harriet Burkholder grew up in India and became one of the first women to get a bachelor of theology a year later from The Bible School, the forerunner to Goshen Biblical Seminary. "Early on, we made a commitment to devote our lives to the church," said Burkholder in 2004.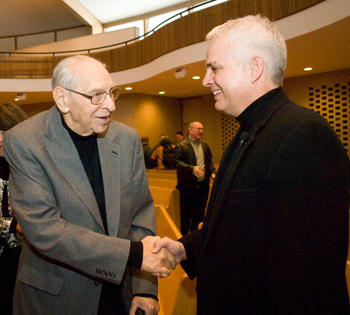 In 1944, he volunteered to be an administrator of a relief program in India, serving as a representative for Mennonite Board of Missions. He then went on to serve in China until 1948, where he acted as associate director of Church World Service with Mennonite Central Committee, directed the activities of the National Clearing Committee and flew DC-3's over the Himalayas to deliver supplies to Chinese refugees.
Burkholder's time and work in China shaped him in significant ways. "I came out of a background of simplicity. Now I was discovering complexity and ambiguity, and sometimes tragic necessity," he said in a 2004 lecture. "And not as a military man, not as a government official, just as trying to give something away and giving it fairly and justly."
Upon his return to the United States in 1949, Burkholder became a professor in Goshen College's Bible, Religion and Philosophy Department. In 1961, Burkholder was called to serve as a professor at Harvard Divinity School, where he was a part of the faculty until 1971. At Harvard, he was named chair of the Department of the Church and was the Victor S. Thomas Professor of Divinity.
Theologian Harvey Cox, Hollis Research Professor of Divinity at Harvard Divinity School, said of Burkholder: "His contribution to this school was immeasurable. It could be said that he brought Harvard Divinity School 'down to earth' from what had been an over-emphasis on theoretical matters, but he did so with an impressive degree of intellectual acumen. The school turned a corner when he was here, and has continued to strengthen practical ministry ever since."
While at Harvard, Burkholder also became involved in the civil rights movement, and in 1964 he was arrested during a sit-in at a segregated restaurant in St. Augustine, Fla.
Then, in 1971 Burkholder left the Ivy League to lead the small college in Northern Indiana he knew intimately. He returned to Goshen College to serve as its 11th president with the conviction that "Mennonites had something to contribute to the world, and I wanted to be part of it," he said.
Burkholder, who served as president until 1984, began his presidency with a simple religious service and the planting of 138 trees around campus. "I wanted to bring beauty to a campus that seemed somewhat barren," he said. "And I hoped to soften and humanize the image of the place in the process."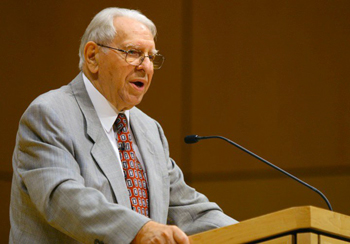 Another notable contribution to the college is the large growth in the college's endowment from the beginning of his term until his resignation. As part of his plan, Burkholder helped to launch the Uncommon Cause, an endowment campaign that helped Goshen bring in a significant amount of financial assistance.
"We've worked for a climate where rhetoric gives way to reality, a climate of authenticity," he said, following his tenure as president. "We have hoped Goshen could be a college that is authentically liberal arts, authentically Christian."
In the greater Mennonite Church, Burkholder became known for his unique philosophy and school of thought on ambiguity. "…While affirming points of emphasis in Anabaptism, I could not accept it uncritically in its ideological form," wrote Burkholder in the book, The Limits of Perfection. "I felt that there was more to Christianity than could be contained within the idea of the isolated Mennonite community and theology of dissent.
"And when it comes to ambiguity, I contended that the world is a sea of good and evil, multiple demands, three-way obligations (triage), making 'tragic necessity' inevitable," he wrote. "That is the way that nature and history cohere. That is not to deny untold opportunities to do good in this world. … Ambiguity imposes limits. Hence, Christians experience genuine dilemmas, not just 'seeming' dilemmas."
Although Burkholder's philosophies sparked controversy within the Mennonite Church, he was a well-respected and active participant of the Mennonite community, including his congregation College Mennonite Church.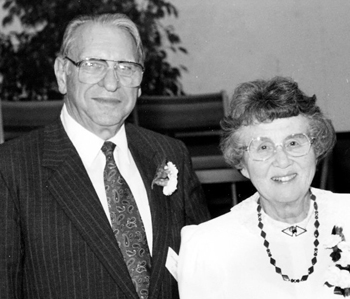 The college opened its doors to the surrounding community in unprecedented ways during Burkholder's presidency. This included starting the Afternoon Sabbatical Program and a continuing education program. The Umble Center was built on campus during his tenure to offer a venue for theater performances.
Along with his work in the church and collegiate arena, Burkholder had hobbies that he was known for. He could often be spotted in his ultralight airplane, flying over Goshen, or on a local tennis court working on his game. He also had a life-long passion for listening to classical music, especially organ music.
Burkholder is survived by his children, Howard Burkholder, Boston, Mass.; Janet (Lauren) Friesen, Flint, Mich., and Myrna Burkholder, Goshen, Ind.; two grandchildren, Eliot (Carrie) Friesen-Meyers and Erica (Blair Franklin) Friesen); one great-grandson, August Franklin; and a sister, Evelyn Kreider, Goshen, Ind.
He was preceded in death by his parents; his wife Harriet, on Sept. 5, 2007; his son, Gerald Burkholder on April 19, 1981; a brother, Harold Burkholder, and two sisters, Mildred M. Hackman and Verna Troyer.
The Burkholders were awarded Goshen College's "Culture for Service" Award in 1990. Their legacy will live on through their family and in the form of scholarships awarded at the college in honor of the Burkholders.
Memorial gifts can be made to the J. Lawrence and Harriet Burkholder Merit Scholarship Fund at Goshen College. For information about ways of donating, go to www.goshen.edu/give. To make an online contribution, click on "one-time credit card gift," choose the "other" box option for designation and type the fund name into the blank box.
Visitation will be from 2 to 4 p.m. and 6 to 8 p.m. on Tuesday, June 29 in the Koinonia Room of College Mennonite Church. Family and close friends will meet at 9:30 a.m. on Wednesday, June 30 for a procession to burial at Elkhart Prairie Cemetery in Goshen. The funeral service will begin at 11 a.m., also on Wednesday, June 30, at College Mennonite Church.
– By Jennifer Steiner and Jodi H. Beyeler
Memories and reflections on J. Lawrence Burkholder
Editor's Note: The following are memories and reflections on the life of J. Lawrence Burkholder from those who knew him well and appreciated his many contributions to Goshen College, the Mennonite Church, Elkhart County and the world. We welcome additional contributions. Please e-mail your thoughts to pr@goshen.edu and we will post many of them below this article, though only letters that include the writer's name, city and province/state, and country (if outside Canada and the U.S.) will be posted. Letters may be edited for clarity and length. You can also post your comments at www.facebook.com/goshencollege/
A Fourth Freedom Forum tribute to J. Lawrence Burkholder
Lawrence Burkholder did much in his life to advance justice and peace. One of his important but less well known contributions was as a founding director of the Fourth Freedom Forum. Burkholder served on the board of the Fourth Freedom Forum for more than 20 years and played a vital role in assuring its creation and growth into a significant voice for developing alternatives to war.
Burkholder was decisive in providing encouragement to Howard Brembeck to found the organization. Brembeck declared often that "without Lawrence Burkholder there would be no Fourth Freedom Forum." He said this to me personally on numerous occasions and he stated it publically at foundation board meetings.
When Brembeck first decided in the early 1980s to use his wealth to create a foundation for world peace, his conservative Republican business friends were skeptical. No one seemed supportive, except Lawrence Burkholder. Howard went to speak with Lawrence, who praised his bold vision and urged him to proceed. Lawrence provided constant assurance and advice and agreed to serve on the foundation's board of directors. His leadership was especially crucial in the early years of the foundation.
When I became president of the Forum nearly 20 years ago Lawrence Burkholder was one of my strongest supporters. When I first came to Goshen Harriet and he invited Karen and me to dinner and introduced us to wonderful Goshen colleagues and friends, Evelyn and Carl Kreider, Sue and J.R. Burkholder and many others. He was a stalwart supporter of the Fourth Freedom Forum throughout my term as president. His role on the board was indispensable in advancing the Forum's work for nuclear disarmament and the prevention of war. All of us who serve the mission of the Fourth Freedom Forum are grateful for the leadership Lawrence Burkholder provided in making the creation and the work of the foundation possible.
David Cortright, Goshen
I will always be grateful to Larry not only because he arranged for the invitation to me to teach at Harvard Divinity School, but once I came here, became my mentor and adviser as well as my friend. His contribution to this school was immeasurable. It could be said that he brought HDS "down to earth" from what had been an over-emphasis on theoretical matters, but he did so with an impressive degree of intellectual acumen. The school turned a corner when he was here, and has continued to strengthen practical ministry ever since.
Harvey Cox Hollis Research Professor of Divinity, Harvard Divinity School
J. Lawrence Burkholder spent his life building bridges in our community and around the world. He connected men and women of differing beliefs and backgrounds. He inspired them to build a renewed society based on personal honor and mutual respect. He was a visionary leader who gave his very best to his family, his church, his community, his country and to the dozens of institutions and causes that benefited from his service during his long and productive life.
Lawrence was an inspiration to me and to dozens of our colleagues in Goshen and Elkhart. He played a key role in creating a community that seeks to live up to the expectations of all of its people. With the force of his intellect and the power of his prayers on our side, we were confident we could meet any challenge and overcome any obstacle.
Thank you, Lawrence, for the generous gift of your grace and the enduring pleasure of your friendship.
Art Decio, Elkhart, Ind.
J. Lawrence and I had had many good discussions. Our times together began with he and Harriet inviting my wife, Mary, and me to their house for tea. Subsequently we had many good visits including those in Switzerland and in Northwest Arkansas in a lake setting. His concerns, while often relating to Goshen College and the Mennonite Church, went far beyond the confines of his immediate surroundings.
When he crossed over to the other shores, I expect that he was met God in whom he believed. He taught me that even though we do not comprehend the full essence of God, we can believe in him. I can also imagine his finding those who went before him and with whom he was intrigued – Bonhoeffer, Barth, Immanuel Kant, Tillich, Kierkegaard and others – who, like Lawrence, struggled to know the truth and determine justice and to co-exist peacefully with all.
I will miss him as will many others.
Herbert Fransen, M.D. Retired medical director of Mennonite Mutual Aid
Sitting in J. Lawrence Burkholder's philosophy class at Goshen College in the early-1950s was my initial exposure to this man's knowledge and ability to communicate profound wisdom. That first impression escalated when he returned to Goshen, especially through the multiple contacts with him during the years I worked with the Chinese exchange scholars. I witnessed his amazing ability to converse with a wide variety of persons about everyday or depth issues effectively. He could hold the rapt attention and interest of literally any group.
In these last years, JLB has become to me not only a truly great human being but also my friend. Thanks be to God for the gift of this marvelous model we have had in our midst!
Ruth Gunden, Professor Emerita of Physical Education 
and Director Emerita of International Education, 
Goshen College, 1953-1994
Lawrence Burkholder and I have been friends for many years. We had met a few times long before we found ourselves teaching together on the faculty of Harvard Divinity School, but it was there that we really became close friends: two Mennonites on the faculty of HDS!
We had much to think about and talk about, and much to learn about our Mennonite convictions, as we worked with our students and fellow teachers – all of them interested in religion but very few acquainted with (or even interested in) the Anabaptist-Mennonite version of Christianity. In that context, Lawrence developed some new, quite interesting, ideas about the distinctive kind of institution-community the Christian church is, and what it is called to be and to do today. These proved to be of interest not only to students preparing for the Christian ministry; they were seriously discussed in the wider faculty as well.
Lawrence was a significant figure in the Harvard Divinity faculty. So when he and his wife decided to go back to Goshen and leave Harvard, the faculty lost a very important member.
Gordon D. Kaufman Mallinckrodt, Professor of Divinity Emeritus, Harvard Divinity School
Another theologian, Dietrich Bonhoeffer, the German who understood the madness of and joined the resistance against Hitler, and who paid the ultimate price for his convictions with a Christ-like expression of his faith, described much about how I perceived Lawrence: "To understand reality is not the same as to know about outward events. It is to perceive the essential nature of things. The best-informed man is not necessarily the wisest. Indeed there is a danger that precisely in the multiplicity of his knowledge he will lose sight of what is essential. But on the other hand, knowledge of an apparently trivial detail quite often makes it possible to see into the depth of things. And so the wise man will seek to acquire the best possible knowledge about events, but always without becoming dependent upon this knowledge. To recognize the significant in the factual is wisdom."
The sense of inner peace and humility that was the person of Lawrence Burkholder was surely a reflection of his ability to see "to the depth [and essential nature] of things … to recognize the significant in the factual." How could it be otherwise? His ability to synthesize the complex into the understandable revealed a wisdom that was so profound that I was often left in awe, knowing not the unfathomable depth of his insights.
Despite possessing Bonhoeffer's intellect, Lawrence was anything but a cloistered academic and theologian. Like Bonhoeffer, his quiet demeanor betrayed a deep-seated passion for action and justice. His life story reads more like that of a modern-day Huckleberry Finn. I think he would like to be remembered that way – although his humility would prevent him from saying so!
Though we all are ultimately liberated from this mortal coil, my friend, the "humble giant" for whom my admiration knew no limits, shall be alive in my memories until my time has come.
Frank K. Martin, CFA Senior Partner Martin Capital Management, LLP, Elkhart, Ind.
Whenever I think of the relationship of Lawrence Burkholder to Goshen College, Shakespeare's famous description of Julius Caesar comes to mind, "He doth bestride the narrow world like a Collossus." Lawrence was a Collossus in so many ways: his physical stature, his intellectual acumen, his knowledge of the world (and uncanny ability to witness dramatic, historical moments in the making), his leadership ability, his love of family, church, community, and world. I could go on. As a young professor, I watched Lawrence Burkholder carefully and was awed by his presence. When he encouraged me to think of becoming a college president myself some day, my life was changed.
Above all, I would select the word "humility" for Lawrence. His was the deep kind of humility. He was impervious to flattery (would have laughed to be called a Collossus) and appeared not to think much about himself. He did think about the mysteries of sin, grace, war, peace, the unfathomable riches of God. He made the life of the mind and the life of the spirit seem like the only life worth living.
My prayers are with Lawrence and all the family,
Shirley H. Showalter, Vice President-Programs, The Fetzer Institute President of Goshen College, 1997-2004
I was privileged to know J. Lawrence Burkholder as a professor at Goshen College and later served as his academic dean. His eloquent speeches and writings were informed by scholarship in philosophy and theology. But he went beyond academics. He taught out of truths that he first lived. He learned from relief work in China that feeding starving people also meant wrestling with moral dilemmas. He gained patience from fly-fishing and tennis. Once in a tight spot, he landed an airplane by knowing Mennonite Church geography. He and his wife Harriet were socially at ease with sawmill laborers and parishioners in upstate New York. He made lifelong friends in Asia. He conversed with President Derek Bok of Harvard, and Father Hesburgh of Notre Dame. All will remember him as a devout, ecumenical Christian. He has enriched us all with his seminal mind and gracious spirit.
Victor E. Stoltzfus, President of Goshen College, 1984-1995
Lawrence Burkholder brought a comprehensive view of the world with him when he rejoined the faculty of Goshen College as president. In working closely with him, two things always stood out. First, he had a deep and profound understanding of the philosophical implications of the actions that he took. Whether the actions were personal or for Goshen College, he was aware of, and would articulate clearly the broader implications of them. Second, he was a person of complete integrity. His planning and work always had genuine transparency. The goals to which he worked were simply stated and were clear. There was no hidden agenda. For a person who pursued the meaning and implications of ambiguity in his professional discipline, this was a remarkable achievement.
Henry D. Weaver, Professor Emeritus of Chemistry, Provost Emeritus, Goshen College, 1957-1980, 1996
We've lost one of the great ones!
I was never a student or colleague of J. Lawrence, but enjoyed getting to know him during visits when he was a patient in the hospital and I was the chaplain, and when his wife was a patient a few times before her death almost three years ago. When I read the following online, I felt a sense of awe at what all this gifted man accomplished in his life.
I feel this piece by Jennifer Steiner and Jodi H. Beyeler deserves to be shared much broader, beyond the menno.edu.goshen forum, so I'm reposting this in Menno.talk.chat.
Clair Hochstetler, Canberra, Australia
I have been deeply grateful and honored to have known J. Lawrence Burkholder. Our discussions have left a lasting impression on my thinking.
Carl Helrich, Professor Emeritus of Physics, Goshen College, 1985-2009
I write these words with sadness about his death, yet with great gratitude for Dr. Burkholder's life and ministry. The authenticity of his life, the realism of his theology, and the compassion of his ministry was amalgamated with his passion for Anabaptist engagement with the world. I have used his dissertation extensively in my own academic and pastoral work, and will continue to grapple with his sociological challenge of the "tragic necessity."
Blessings for his family in this time of bereavement.
Rev. Dr. Sylvia Klauser, Associate Supervisor ACPE, Department of Chaplaincy & Pastoral Education, Houston, Texas
Thirty-three years ago this fall, I applied for the position of Director of Communications, against the advice of a Goshen acquaintance who had said that as a Catholic I'd never be hired. After meeting Dan Kauffman, the head of College Relations, I had an interview with then-President Burkholder. We talked theater (he gave me a tour of the Umble Center, still under construction), philosophy, and town-gown issues, subjects obviously close to his heart. He was the reason I accepted the job, not knowing that he was the one who had made the decision to take a chance on this OTM.
It was my great privilege to work with him on grant applications and Uncommon Cause materials, and it was as much a pleasure to hear him in chapel or convo as to talk with him in his office. J. Lawrence gave me the invaluable gift of furthering my education in philosophy and ecumenism and letting me contribute a little to the college at the same time. Like many, many others, I am grateful and blessed to have known him.
Judith Davis, Professor Emerita of French and Humanities, Goshen College, 1977-2001
Lawrence Burkholder was a wise and courageous Mennonites leader. In the post-World War II period, his realism and sense of tragedy gave him a unique role on a Mennonite stage often dominated by utopian voices.
Especially impressive was his width of influence as a professor and Goshen College president who personally helped individual students make life-changing decisions. He could relate to our congregational constituency as well as others drawn to his global philosophy and international experience. As a church leader he cherished the uniqueness of the Mennonites, at the same time that he appreciated the larger Christian tradition.
Professionally and educationally, he travelled far from his Pennsylvania Mennonite roots, but his longer view of history and love of the church, made him a trusted voice in the Mennonite community, its congregations and institutions. His counsel will be missed.
Levi and Gloria Miller, Scottdale, Pa. Daniel and Mary Miller Walnut Creek, Ohio
I too am saddened at the loss of one who has contributed so much to our lives and to many whose lives Lawrence touched. I was executive secretary of the Mennonite Board of Education during the years when Lawrence was president of Goshen College, and I have warm memories of his inauguration and years of service. He made a great contribution to the education of members and future leaders of the Mennonite Church.
The intersections of Lawrence's life path with mine have been almost too numerous to count. I was a student at Goshen College around 1949, when he first came to teach. Lawrence was, for a time, a pastor or intern at my home church, the Oak Grove Mennonite Church, in Ohio. I stayed with the Burkholder family for a night or two when I had my doctoral oral exams in physics at Princeton University. Among my most personal memories, I recall that Lawrence and I were each in Goshen for the fall semester of 1960-61. He was leaving for Harvard in mid-year, and I was going on a five-year leave from Goshen to serve as academic dean at Bethel College, Kansas, so we jointly led a large fall Sunday School class of college students on "Great Theologians." We started with Schleiermacher, and he took a theologian one Sunday and I took one the next. When I presented, he opened the question period, and conversely. I had just returned a few years before from theological studies with Karl Barth et al. in Europe, and I have many happy memories of those Sundays of collaboration and conversation with Lawrence.
Albert J. Meyer, Goshen
Flying and Landing
Having become a pilot as a Pennsylvania teenager, Lawrence, whether living in China, Massachusetts or Elkhart County, loved to fly. And well after his retirement, those of us living in Goshen, both town and gown, would glimpse his ultralite buzzing overhead. From those altitudinal perspectives he could envision the broader context of where he chose to plant his feet when on the ground. And with pen, pulpit, platform and personal talk he shared what he saw.
Among those more intimate, richly informed conversations, we find a vivid case in point, metaphorically shaped through creative lines and sensitive insight into "Flying Lesson," the concluding poem in Julia Kasdorf's 1998 second collection. In this poem, upon having once listened to her confessed intention to leave Goshen for New York, President Burkholder speaks from his earlier experience when a teacher at Harvard Divinity School, flying "a tiny plane alone out over the ocean … each time pressing farther into the dark," turning "at the last moment," then gliding back toward the shining city and gracefully landing, "fuel needle dead on empty."
The poem is a remarkable mirror that reflects an essential element of Lawrence's persistent and gracious blending of the ideal and the real. It ends with "advice" to the young poet that is shared with us all:
… fling yourself
farther, and a bit farther each time,
but darling, don't drop.
John J. Fisher, Professor Emeritus of English, Goshen College, 1953-1992
I was a paper carrier in Souderton, Pa., in 1964 for the North Penn Reporter and the Philadelphia Evening Bulletin. One day when I was 13 my dad, Stanley (soon to be on the faculty at Goshen College and serving throughout Burkholder's presidency), opened the Bulletin in our living room, saw an Associated Press photo at the top of a page 1 story on civil rights and exclaimed, "That's Larry Burkholder!" It showed JLB and Mrs. Peabody, mother of the former governor of Massachusetts, being arrested in Florida during a sit-in at a segregated restaurant. I had never heard of J. Lawrence Burkholder before that; at the time he was a professor at Harvard Divinity School. I found out recently that he was already in the South and had agreed to look after Mrs. Peabody, who was up in years.
Not long ago my son Jason was seen wearing his "Menno Power" T-shirt with JLB's caricature prominently displayed. The simple sketch had been done in the 1970s by Roland Bainton, a British historian visiting Goshen College at the behest of Alan Kreider, a GC history professor. Bainton, an amateur artist, caught Burkholder from the side and captured his profile perfectly.
Dan Shenk '75, Goshen
As an alumnus, if I heard Lawrence Burkholder speak, it restored my faith in God. I respected him, and remember him flying over ball games in his ultralite plane.
Flo Harnish '53, Ephrata, PA
When President Burkholder began his presidency at Goshen College in 1971, I was in my sixth year of teaching at GC and had just assumed the role of chair of the art department. His first request of me as chair was to assemble representative works of art from each of our art faculty to be displayed in his office. Concerned about what he might like, stylistically, I posed that question. He answered in his usual low-key conversational manner that whatever was important to each of us, would be right for him, indicating he learned from art works that held some mystery. That response signaled an attitude of inquiry continuing throughout his presidency. Only weeks before his passing, on one of my visits, he seemed amused when I studied my painting which hung prominently in his apartment, muttering that I hadn't remembered accenting a section of the painting as I had. This led to a discussion about the process of painting and how that process echoes life itself, always evolving.
Abner Hershberger, Professor Emeritus of Art, Goshen College, 1965-1999
Editors: For more information about this release, to arrange an interview or request a photo, contact Goshen College News Bureau Director Richard R. Aguirre at (574) 535-7571 or rraguirre@goshen.edu.
### 
Goshen College, established in 1894, is a residential Christian liberal arts college rooted in the Anabaptist-Mennonite tradition. The college's Christ-centered core values – passionate learning, global citizenship, compassionate peacemaking and servant-leadership – prepare students as leaders for the church and world. Recognized for its unique Study-Service Term program, Goshen has earned citations of excellence in Barron's Best Buys in Education, "Colleges of Distinction," "Making a Difference College Guide" and U.S. News & World Report's "America's Best Colleges" edition, which named Goshen a "least debt college." Visit www.goshen.edu.