Alumnus Peter J Dyck dies at age 95 after life of service and storytelling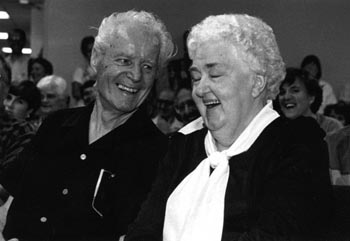 GOSHEN, Ind. – Peter J Dyck, a 1952 Goshen College alumnus, was born in Lysanderhöh, Russia, on Dec. 4, 1914. He died Jan. 4, 2010 of cancer at the age of 95.
When Peter was a young child during a famine and typhoid epidemic, he was on the brink of death when a shipment of food relief from North American Mennonites saved his life. At the age of 12, the family emigrated to Saskatchewan. Peter later often recounted his father's difficult decision to move the family of nine children to Canada, leaving behind all relatives and his position of leadership in the Mennonite community in Russia.
Peter attended the University of Saskatchewan and Bethel College, North Newton, Kan., and graduated from Goshen College with major in English. In June 1968 he completed his master's of divinity degree at Bethany Theological Seminary, Chicago. Waterloo University in Ontario granted him an honorary doctorate in 1975 in recognition of his years of service.
During World War II, he served with Mennonite Central Committee (MCC) in England, where in 1945 he married Elfrieda Klassen, an MCC nurse. Immediately after the war Peter and Elfrieda transferred to Holland to direct a massive relief program. He was later knighted by Queen Juliana of the Netherlands in recognition of MCC's feeding and clothing program.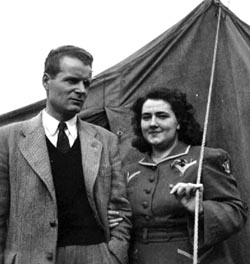 After the war ended, Peter and Elfrieda moved to Germany to take care of thousands of Mennonites who had fled from the Soviet Union. They established refugee camps and eventually transported more than 5,500 to South America. Most went to Paraguay, some to Brazil and Uruguay. Still others emigrated to Canada. The popular Mennonite children's book Henry's Red Sea told this story from the perspective of a young Russian refugee boy. The Dycks themselves recounted their experience in their 1991 book Up From the Rubble.
Upon arrival in war-torn England, Peter bought an 8-mm and then a 16-mm camera. He chronicled the work of MCC and the plight of the Dutch people as well as Mennonite refugees. He and Elfrieda traveled across the United States and Canada showing his film and raising money and awareness for the work of MCC with European refugees. Peter went on to make numerous films on MCC work throughout Europe, North Africa and in Paraguay.
From 1950 to 1957, Peter served as pastor of the Eden Mennonite Church in Moundridge, Kan. Then Peter and Elfrieda with their two daughters, Ruth and Rebecca, returned to Europe to direct the MCC program there and in North Africa. He also was responsible for MCC's East-West program, visiting Russia seven times.
In 1967 they relocated to the MCC headquarters in Akron, Pa., where he continued living until his retirement in 1982. In 1995, Peter and Elfrieda moved to Scottdale, Pa., to be closer to their children and grandchildren.
For two decades after his "retirement" from MCC he travelled to speak in churches, schools and at retreats. He was well-known among the Amish and Mennonites for his inspiring stories, was popular in his 70s and 80s at Mennonite high schools and colleges for his ability to engage young people, and still packed auditoriums when he spoke at age 90. He was a passionate advocate for peace, conflict resolution, justice and tolerance. He promoted and embodied active participation in bringing about peace in the world. In 1993, Peter received Goshen College's Culture for Service Alumni Award.
Peter is the author of five additional books. Three were children's books (The Great Shalom, Shalom at Last and Storytime Jamboree), one was a collection of his stories (A Leap of Faith) and his last one was a meditation on growing old gracefully, Getting Home Before Dark. His spellbinding storytelling was captured on three videos produced by the Menno-Hof in Shipshewana, Ind.
Surviving are two daughters: Ruth, married to Jack Scott of Scottdale, and Rebecca Dyck, married to Peter Deslauriers of Montreal, Quebec; five grandchildren: Peter Eash-Scott of Lancaster, Pa., Deborah Scott of Highland Park, N.J., Cornelia Scott of Abingdon, Va., Sasha Dyck and Michael Dyck, both of Montreal, Quebec; and two great-grandsons. He is also survived by one brother, CJ Dyck of Normal, Ill., and two sisters, Clara Dyck and Rena Kroeker, both of Winnipeg, Man.
Dyck was preceded in death by his wife, Elfrieda; one brother, John Dyck; and four sisters: Elise Quiring, Anna Neufeld, Irma Balzer and Helene Funk.
When he died, Peter donated his body to the University of Pittsburgh School of Medicine, the last service that he could perform for mankind.Peter's memorial service will be held at the Akron Mennonite Church on Saturday, Jan. 9, at 2 p.m. All are welcome and there will be a light meal following the service.
In lieu of flowers, and as a memorial tribute to his life of service, the family asks that contributions be made to the "Peter J. Dyck Peace and Justice Scholarship" at Goshen College. This scholarship joins Goshen's "Elfrieda Klassen Dyck Compassionate Nursing Scholarship." For information about ways of donating, go to www.goshen.edu/give. To make an online contribution, click on "one-time credit card gift," choose the "other" box option for designation and type the fund name into the blank box.
Editors: For more information about this release or request a photo, contact Goshen College News Bureau Director Jodi H. Beyeler at (574) 535-7572 or jodihb@goshen.edu.
### 
Goshen College, established in 1894, is a residential Christian liberal arts college rooted in the Anabaptist-Mennonite tradition. The college's Christ-centered core values – passionate learning, global citizenship, compassionate peacemaking and servant-leadership – prepare students as leaders for the church and world. Recognized for its unique Study-Service Term program, Goshen has earned citations of excellence in Barron's Best Buys in Education, "Colleges of Distinction," "Making a Difference College Guide" and U.S. News & World Report's "America's Best Colleges" edition, which named Goshen a "least debt college." Visit www.goshen.edu.