Mary Jane Rieth, donor of Merry Lea Environmental Learning Center, dies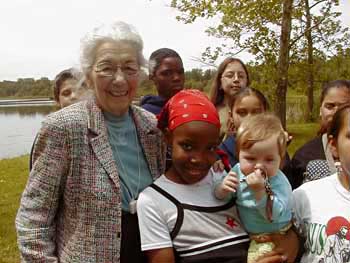 GOSHEN, Ind. – Mary Jane George Rieth, 92, a prominent Indiana conservationist and philanthropist, died Wednesday, Dec. 31 at her home in Goshen.
In 1964, Mary Jane and her husband Lee Rieth co-founded the Merry Lea Environmental Learning Center near Wolf Lake, Ind., in Noble County. They had a dream of establishing a natural sanctuary and hoped that people of all ages could learn about how the earth sustains life.
The Rieths carefully nurtured their dream and developed Merry Lea into one of the largest privately owned environmental education facilities in Indiana. In 1980, with the assistance of the Nature Conservancy, they called on Goshen College to be the steward of this resource and to operate the environmental center. Then-president J. Lawrence Burkholder pledged that the college would be "instrumental in the fulfillment of the Rieths' dreams for Merry Lea as a center with a permanent educational program of considerable significance."
The 1,189-acre facility is one of the premiere environmental facilities in the Midwest that provides educational resources for over 7,000 elementary visitors, undergraduates in environmental science and interdisciplinary studies, as well as graduate students. Merry Lea's unique landscape includes a diversity of forest, prairie and wetland ecosystems. It is now also home to Rieth Village, an ecological field station for environmental study that is the only US Green Building Council LEED Platinum project in Indiana, Michigan or Ohio. Merry Lea also is the site of the college's master's program in environmental education.
"Mary Jane had a tenacity to fulfill the vision that she and her husband birthed together," said Executive Director of Merry Lea Luke Gascho. "She was always wanting to make sure there was a solid foundation for Merry Lea in terms of the programs we offer, a strong connection to the college and broader financial support."
Goshen College President James E. Brenneman expressed his condolences to the Rieth family and appreciation for Mary Jane's many contributions. "I join many others at Goshen College in grieving Mary Jane Rieth's passing from this earth and praying with her family," Brenneman said. "Mary Jane and her husband, Lee, made a generous gift in helping to create the Merry Lea Environmental Learning Center. They left an invaluable legacy through their vision of creating a natural land sanctuary for the plants and animals of Northern Indiana and helping provide environmental education for future generations."
Mrs. Rieth was born in West Lafayette, Ind., and grew up in Marion, Ind., where she graduated from Marion High School in 1933. She attended Ball State University and trained as a dietician at Purdue University where she received a bachelor's degree in 1938 and master's degree in 1942.
After graduate school, she served as a staff dietician at the Indiana University Medical School Hospital in Indianapolis and then married Lee A. Rieth in 1944. She assisted him in his executive roles with the family business, Rieth-Riley Construction Company.
Mrs. Rieth's generosity enabled Goshen College to create an environmental science laboratory when the college renovated and expanded the Science Hall in 1992. To insure strong financial support for Merry Lea Environmental Learning Center, Mary Jane established endowment funds with community foundations in Elkhart and Noble Counties, as well as the Rieth Endowment Fund for Merry Lea. In the 1980s, she served on the President's Advisory Board for Merry Lea, and more recently as a permanent member of Merry Lea's Board of Trustees. Declining heath in recent years limited her roles, but her support for environmental education and preservation never wavered.
"Mary Jane Rieth's passion for Merry Lea was unfailing," said Larry Yoder, the first director of Merry Lea under the college's leadership. "I treasure the relationship we enjoyed over more than two decades. She was an inspiration to all."
Mrs. Rieth was not a distant philanthropist. She welcomed the staff for picnics at her Klinger Lake cottage and visited Merry Lea regularly. She was happy to lend a hand with the work as the staff prepared for special events and festivals.
Though the Rieths never had children of their own, they loved children dearly. According to Betty Martin, of Goshen, who cared for Mary Jane, the Rieths' beach house at Klinger Lake, Mich., was always open to children. The couple welcomed not only their nieces and nephews, but also the children of many friends, patiently cleaning up the sand the children dragged in. The Rieths also shared trips to Florida with children they knew. And both Lee and Mary Jane loved to teach children about nature and history. Indeed, the youth of northern Indiana – kindergartners to graduate students – benefit from the continuing vision of their "Aunt Mary Jane."While Merry Lea was their primary philanthropic interest, the Rieths were the quiet benefactors of other major projects including the 47-bell carillon at Christ the King Cathedral in Kalamazoo, Mich. Lee Rieth passed away in 1984.
In 1991, Mrs. Rieth established the Rieth Professorship in Environmental Engineering in the Department of Civil Engineering at Purdue University, her husband's alma mater. She and her two sister-in-laws, Beth and Martha, made significant financial contributions to the Rieth Interpretive Center in Goshen.
In addition to her husband, Mrs. Rieth's sister Marge Baker and her brother Robert George preceeded her in death. She is survived by her sister Virginia Karl of Geneseo, N.Y., as well as nieces and nephews.
Visitation and refreshments will be on Sunday, Jan. 4 at 2 p.m. in the Greencroft Meetinghouse at The Gables. A memorial service will follow at 3 p.m., with Luke Gascho officiating.
Editors: For more information about this release, to arrange an interview or request a photo, contact Goshen College News Bureau Director Jodi H. Beyeler at (574) 535-7572 or jodihb@goshen.edu.
###
Goshen College, established in 1894, is a residential Christian liberal arts college rooted in the Anabaptist-Mennonite tradition. The college's Christ-centered core values – passionate learning, global citizenship, compassionate peacemaking and servant-leadership – prepare students as leaders for the church and world. Recognized for its unique Study-Service Term program, Goshen has earned citations of excellence in Barron's Best Buys in Education, "Colleges of Distinction," "Making a Difference College Guide" and U.S. News & World Report's "America's Best Colleges" edition, which named Goshen a "least debt college." Visit www.goshen.edu.