Merry Lea's green building outperforms energy projections
WOLF LAKE, Ind. – Somewhere in Appalachia, there is a big pile of extra coal: about 3.5 tons, or enough to fill five pick-up trucks. That's how much coal Rieth Village, a biological field station owned and operated by Merry Environmental Learning Center of Goshen College, didn't use in the past six months. The five-plus tons of carbon dioxide that are not in the atmosphere are harder to visualize but also important in light of mounting concerns over global warming.
Rieth Village, completed in April 2006, was designed to earn a Platinum or high Gold LEED rating from the U.S. Green Building Council. At present, Rieth Village is the only LEED building in Indiana registered at this level. LEED stands for Leadership in Energy and Environmental Design.
Although the project's design team projected a 60 percent savings over conventional American Society of Heating, Refrigerating and Air-Conditioning Engineers (ASHRAE) standards, so far, the buildings have done even better than that. From August 2006 through January 2007, the three buildings, totaling 8,200 square feet, used only 3,272 kilowatt hours of electricity to heat, cool and light and run appliances. According to the Department of Energy, the average U.S. household consumes over 5,000 kilowatt hours in that length of time.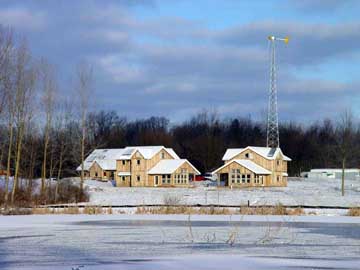 Photos of the April 2006 Rieth Village dedication service
"Our engineers are grinning," Merry Lea's executive director, Luke Gascho, told the crowd when he announced the figures at an energy-related tour of Rieth Village on Feb. 17. There's even more to grin about when one learns that all of those 3,272 kilowatts were generated onsite with the help of a 4.8-kilowatt photovoltaic array and a 10-kilowatt wind generator. On a still night or a cloudy day, the village drew on the power grid. When wind and sunshine were abundant, the system sold power to Noble County REMC. So far, Rieth Village has covered its own needs with a kilowatt or two to spare.
Over the past nine months, Gascho and other staff members at Merry Lea have made frequent trips to the basement of Oshtemo Cottage where the computer that monitors the buildings' energy performance is housed. A screen titled "Power Meters" shows how many kilowatts the building is using at any given time and which of three sources it is drawing on: the power grid, solar cells and/or a wind generator.
"It's always interesting to see how the buildings perform under different conditions," said Dale Hess, a Merry Lea agroecologist whose office is in Oshtemo Cottage. "One windy day when our 10-kilowatt wind generator hit 11.2 kilowatts, I clicked a picture of the screen because I didn't think anybody would believe me."
Despite the gust that Hess recorded, photovoltaics have outperformed the more costly and more visible wind generator. From August through January, the wind turbine contributed 1,397 kilowatt hours while the solar cells produced a generous 1,875 kilowatt hours.
This stellar performance in cloudy northern Indiana was a surprise even to Alan Chaulifoux of Eta Engineers, Champaign, Ill., who designed the energy systems. "Wow! Why aren't more people doing this?" he asked.
Although generating one's own electricity is inspiring, Gascho spends the bulk of his energy presentations focusing on more humble heroes: the ground source heat pump which exchanges energy with the soil instead of the air, the passive solar design of the buildings' layout and the many savvy practices that make a tight, energy-efficient building envelope.
After reviewing strategies such as 6-inch walls with an R-value of 25, triple glazed windows, operable skylights to release heat and roof overhangs, Gascho showed a graph of the temperature of Oshtemo Cottage during a 24-hour period in September, when the ground source heat pump was neither heating nor cooling. Although night-time temperatures dipped into the 50s, the indoor temperature held steady in the low 70s, varying only a few degrees. Only a highly efficient building envelope can do this.
Merry Lea's program director, Dave Miller, says he has been surprised by how quickly his office heats up on winter mornings and how long it holds a comfortable temperature even after the thermostat is lowered.
One of the more striking slides Gascho showed in his Feb. 17 presentation was a chart detailing how much the temperature of a roof is likely to exceed the air temperature depending on what it is made of. For example, a black asphalt roof reflects only 5 percent of the sunlight it receives back into the atmosphere and can be as much as 90 degrees hotter than the surrounding air. In contrast, the white metal roofs on Rieth Village have a solar reflectance of 80 percent and are not likely to become more than 15 degrees hotter than the air temperature. Obviously, these differences matter when it comes to cooling a building.
"Working on Merry Lea's project has shown me that this kind of vision is possible," Chalifoux of Eta Engineers said. "Sustainable design is about the process. It is not about gadgets; it's about the focus and the planning, and Merry Lea did that right. This kind of planning turns out a product that is not just a little better, but much better."
Gascho continues to fill requests for building tours and to share his expertise in sustainable building design on a regular basis. The next tour open to the general public will take place on Saturday, May 5 during Merry Lea's NatureFest. Call (260) 799-5869 for more information.
Merry Lea Environmental Learning Center is a 1,150-acre nature center located in central Noble County and owned and operated by Goshen College. This natural sanctuary for northern Indiana's plants and animals provides environmental education for people of all ages and a setting to recreate opportunities that benefit the human body and spirit without exploiting the land. Merry Lea was created with the assistance of the Nature Conservancy and the generosity of Lee A. and Mary Jane Rieth.
– by Jennifer Schrock
Editors: For more information about this release, to arrange an interview or request a photo, contact Goshen College News Bureau Director Jodi H. Beyeler at (574) 535-7572 or jodihb@goshen.edu.
###
Goshen College, established in 1894, is a four-year residential Christian liberal arts college rooted in the Anabaptist-Mennonite tradition. The college's Christ-centered core values – passionate learning, global citizenship, compassionate peacemaking and servant-leadership – prepare students as leaders for the church and world. Recognized for its unique Study-Service Term program, Goshen has earned citations of excellence in Barron's Best Buys in Education, "Colleges of Distinction," "Making a Difference College Guide" and U.S.News & World Report's "America's Best Colleges" edition, which named Goshen a "least debt college." Visit www.goshen.edu.