We have been and continue to be on a journey at Goshen College to go green. The roots of our ecological stewardship journey are Christian faith and the belief that God calls us to care for all of creation. Read on to learn how we are encouraging sustainable practices and reducing use of fossil fuels on campus.
Recent Initiatives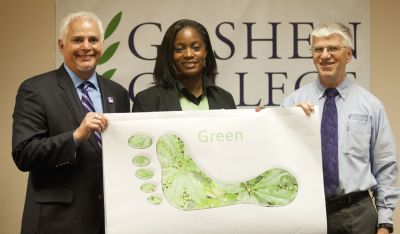 In 2013, President Jim Brenneman announced that Goshen College would begin voluntarily purchasing 100% of electricity from renewable energy sources, such as wind and solar power. This single action reduces the college's carbon footprint by about 45 percent.
Read more about Goshen College's commitment to renewable energy.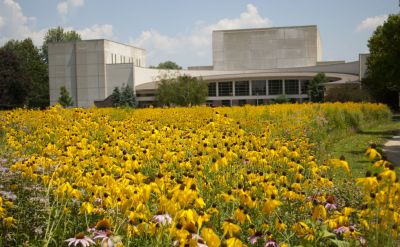 In recent years Goshen College has converted 12 acres of its approximate 55 acres of lawn to native landscaping, establishing several areas of low-profile native grasses and perennial wildflowers. In addition to creating a more diverse landscape, this project has led to an improved habitat for birds, small mammals and insects; a reduction in mowing and chemical herbicides; less irrigation; and improved air quality.

LEED Certification
Rieth Village is an ecological field station for undergraduate programs at Merry Lea Environmental Learning Center. Two cottages provide housing for up to 32 students, and a third cottage serves as the initial classroom and office building. In 2007, Rieth Village was awarded the platinum LEED certification (55 points) from the U.S. Green Building Council, the highest level possible.

A 924 solar panel array on top of the Rec-Fitness Center roof completely meets the energy needs of the campus' Church-Chapel building. As well, the SunShower Collector System is a student-driven and faculty-supported project that uses solar energy to heat the shower water in the Rec-Fitness Center.
Smart lighting
Goshen College uses LEDs in many locations around campus, including the elevator lights and major parking lot areas. The college also has motion light sensors in many of its buildings and in outdoor lighting facilities to cut down on amount of energy used for lighting when not needed.
Geothermal power
The college uses geothermal heat pumps for the Student Apartments, Recreation-Fitness Center, Good Library, Umble Center and a portion of the Union Building. Geothermal heat pumps use moderate temperatures in the ground to boost efficiency and reduce the operational costs of heating and cooling systems.
Climate neutrality
In 2007, President Brenneman signed the President's Climate Initiative, making Goshen College the second higher education institution in Indiana and the first Mennonite college to sign the landmark commitment to climate neutrality.
SUSTAINABILITY COMMITTEE
Goshen College's Sustainability Committee is comprised of students, faculty and staff who lead the campus in collaborative efforts to encourage sustainable practices and reduce use of fossil fuels. The committee usually has about 15 members with approximately equal numbers of faculty, students and staff, with representation from multiple academic disciplines.
The committee's responsibilities include educating the campus community about sustainability and raising awareness of best practices, individually and collectively. These goals are achieved through special events, communications on the sustainability website and print media, making policy recommendations to college administration, and supporting student clubs and student-led sustainability initiatives. Our work is guided by the 2016 revision of the Climate Action Plan. 
» See the Goshen College Climate Action Plan
In 2019-20, the committee was responsible for guiding the campus through a thorough audit of our sustainability practices using the Sustainability Tracking, Assessment and Rating System (STARS) which is managed by the Association for the Advancement of Sustainability in Higher Education (AASHE). Goshen College is a charter member of this organization and submitted STARS reports in 2009 and 2014 achieving Bronze and Silver rankings, respectively. (Our current ranking is pending review for our 2020 submission.)