Goshen College honored with Bike Friendly University award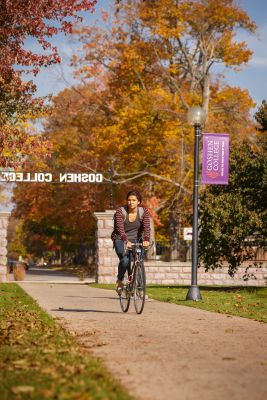 Goshen College is on its way to becoming an officially certified Bike Friendly Campus. On Nov. 29, the League of American Bicyclists gave out the Bike Friendly University (BFU) awards, including honorable mention to GC.
Nat Dick, a junior environmental science major from North Newton, Kansas, led the application process through the college's Ecological Stewardship Committee.
"This is an excellent step in the direction of becoming a certified Bike Friendly Campus," Dick said. "I'm proud of the work we have done so far."
Goshen College is the first private liberal arts college in Indiana to receive a Bike Friendly University award, and the third college in Indiana, following Purdue University (silver) and Indiana University Bloomington (bronze).
"This is a competitive designation and often takes multiple years of application to receive recognition," said Ken Newbold, provost and executive vice president. " Nat did a great job putting this together."  
According to the League of American Bicyclists site, the Bike Friendly University program recognizes colleges and universities for promoting and providing a more bikeable campus. It also provides the roadmap and technical assistance to create great campuses for cycling.
When considering a school, the BFU program looks at the applicant's efforts to promote bicycling in five main areas: engineering, encouragement, education, enforcement and evaluation/planning.
The College is bisected by the Winona Railway Trail, which runs through campus, and there are many other trails within miles a few miles. There are about 760 bike parking spots on campus and the college recently added a bicycle repair station outside of the residence halls.
Goshen College joins the City of Goshen, which was designated as a bronze-level Bike Friendly Community in 2011 by the League of American Bicyclists, one of just 10 in Indiana.  
— By Maddie Birky