Isacc Hernandez '13: Coming full circle and passing on the lessons
This article originally appeared in the Spring/Summer 2023 issue of The Bulletin
By Isacc Hernandez '13, an academic counselor in the college's Academic Success Center Edited by Ashlee Hoogenboom
---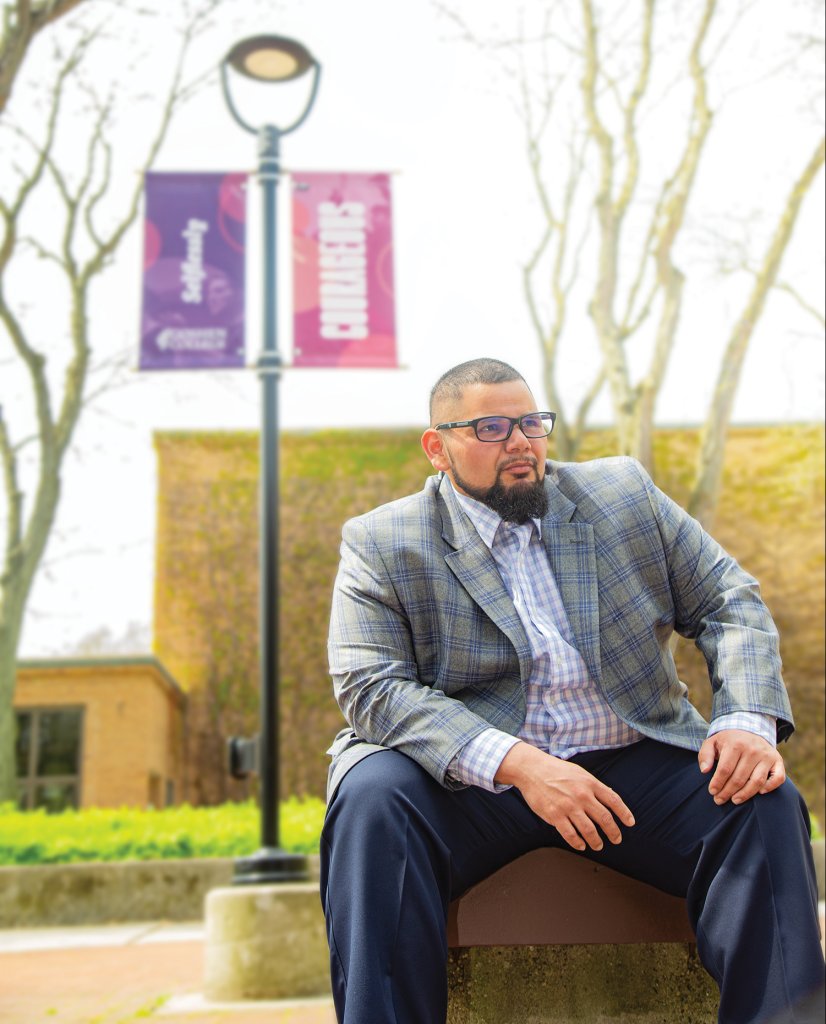 Finding your place isn't always easy.
Sometimes the path can leave you feeling alone. All it takes to make a difference is one person to see you, to see your journey and say "Hey, I've been there. I know what that's like. Here's what I did, maybe it can help you too."
My name is Isacc Hernandez. I came to Goshen College from Nampa, Idaho in 2008 and graduated in 2013. Now I work as an academic counselor here at GC helping students adjust to the challenges of college.
I didn't make many great choices in high school. Like many teens, I wasn't engaged in my education or my future. I was more invested in my friends and wound up on a bad path. Eventually my high school recommended I find somewhere else to finish my studies.
After I left high school, my mom sat me down and told me I needed to finish something in my life. I wanted to make her proud, so I pursued an alternative education and earned my GED in 2008, just shy of 17 years old.
My aunt, Rebecca Hernandez, had recently accepted a position as the director for a new program at Goshen College aimed at bringing first-generation students in underserved demographics into college, the Center for Intercultural Teaching and Learning (CITL). She told my mom that there was a space for me there. I didn't have any other plans for my future, so I reluctantly headed to Goshen College with much support and encouragement from my mom and aunt.
My first year was hard. I felt isolated and out of place. Goshen was a lot smaller than my hometown and I wasn't very close with my aunt at the time.
And, Goshen College was still in the very early stages of its journey to becoming the Hispanic-Serving Institution that it is today, so there weren't many Hispanic students on campus besides my CITL cohort. There were even fewer who understood the Chicano culture I grew up in. I felt caught between cultures and questioned if I truly belonged here.
Over the course of the year, I withdrew into myself. I started skipping classes. I disengaged from my cohort. I kept telling myself that I hadn't chosen to be here, I didn't belong, so I shouldn't even bother trying. Eventually I was dismissed from Goshen College.
During this time, my aunt — who was becoming one of the most influential people in my life — asked me what I wanted to do with my life. I didn't have an immediate answer, but I thought about it a lot while I was working in factory jobs. Thankfully, my aunt, my mom and my academic counselor, Suzanne Ehst, never stopped believing in me.
Having people believe in you, when you don't even believe in yourself, is definitely the kind of energy that motivates you to persist for them, but also for yourself. They helped me realize what mattered and to get back on track. Working in the factories made me realize that college was a step in the right direction towards leading a better life.
I took some classes at Hesston (Kansas) College, and began to form better academic and social habits. I learned how to be a successful student and leverage the resources available to me. Then I was ready to transfer back to Goshen as an interdisciplinary major, studying communication, social work and sociology. I was also able to reconnect with my original cohort and find my community on campus.
After graduation, I ended up back in my hometown working at a family fun center. I had worked my way up there, but felt a pull to do something else, so I took the time to reflect and know myself better in order to understand that calling. I realized I wanted a job that gave me a sense of purpose and that I was at a stage where giving back to help others felt like a priority.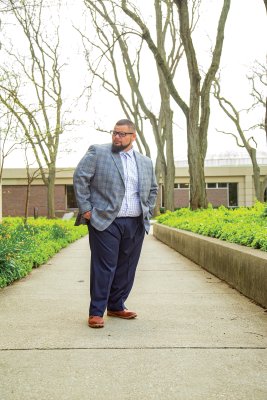 During this time, I happened to reconnect on Facebook with Suzanne. As we caught up, she mentioned there might be a job opening as an academic counselor at the college, and I knew immediately this was something I wanted to pursue. My time spent as a manager mentoring young people who came in for their first jobs was something I had truly enjoyed. Now, I wanted to use my experiences to help students who were struggling to find their place like I did as a new first-generation college student.
I was hired for the job, but I was nervous to come back as an administrative faculty member. I felt I had a bad reputation from my time as a student and that might make people wary of working with me. What I found was quite the opposite. People did remember me, but not in a bad way. Coming back felt like a fresh start, but also a second chance.
Now as an academic counselor myself, I often reference my own time as a college student. I remember how easy it was to feel I didn't belong here, making it harder to reach out for help. I still regret not being more involved as a student the first time.
Having taken the journey from struggling student to transformed alumni to thriving employee, I recognize that a big part of what makes Goshen College such a great place is that people here are focused on the whole person. I am glad to be in a position now where I can offer that insight to students and help them succeed here, just like I did.