The Bulletin | Fall/Winter 2022
The Fall/Winter 2022 issue of The Bulletin will arrive in mailboxes in late November. Look for yours!
---
ABOUT THE COVER
Illustration by Hannah Gerig Meyer '08
Jewel Yoder '99, '20 (DNP), chair of the college's Nursing Department, has said, "Employers often say they prefer Goshen College nursing graduates because they provide compassionate, culturally sensitive and high-quality care for patients." That combination of a very human-centered approach, with an understanding and appreciation of the different needs of people, along with the technical excellence is a key differentiator in the college's nursing and public health programs. It is also needed more than ever in healthcare broadly, which is experiencing a critical shortage of healthcare professionals that preceded and was exacerbated by the pandemic.
---
FROM THE PRESIDENT
Rooted in good soil
By Rebecca J. Stoltzfus '83, president
What makes our community so unusually fruitful? I believe it is because we are rooted in good soil. True to our Indiana home, we are like a prairie.
---
FEATURES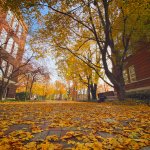 Our 2022 alumni awardees
Read the stories of five alumni honored this year for their lives and
commitments to the college's core values: Dan Miller '61, Evelyn
Dueck '81, Stefon Luckey '15, Katie Sowers '09 and Jason
Potsander '01.
---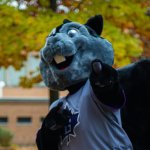 Meet GC's new #1 fan: Dash
Enjoy learning more about the college's new mascot, Dash, a black squirrel, which was unveiled during Homecoming Weekend, as well as the history around a previous unofficial mascot, Captain Maple Leaf.
---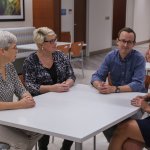 'We all need each other': A round table discussion
As Goshen College prepares to expand its facilities for the nursing and public health programs, President Rebecca Stoltzfus '83 sat down with a small group of alumni community healthcare leaders for a conversation about the urgent needs in the industry.
---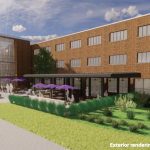 Westlawn Hall renovations: Growing nursing and public health in state-of-the-art learning spaces
Learn more about the plans to renovate Westlawn Hall and expand GC's nursing and public health programs.
---
LASTING TIES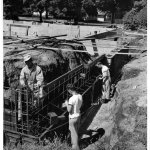 Westlawn: Built to last
By Joe Springer '80, curator, Mennonite Historical Library
221 tons of structural steel, 515 cubic yards of mass concrete and another 37,000 square feet of concrete slabs. All of this and more went into the original construction of Westlawn Hall.