Five alumni honored for 2022 Goshen College alumni awards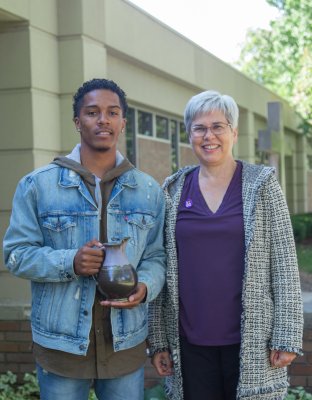 Five outstanding alumni have been chosen for the 2022 alumni awards for their commitment to living out Goshen College's motto, "Culture for Service" and who exemplify the core values of the college. They will be presented with their awards during a special convocation on Friday, Oct. 7 at 10 a.m. in the Church-Chapel as part of Homecoming Weekend activities.
The 2022 alumni awards are being presented to:
The Culture for Service Awards and Young Alumni Servant Leadership Award were established by the Goshen Alumni Association to honor and recognize the achievements of Goshen College alumni who exemplify the college motto, "Culture for Service," and who live out the core values of the college. Recipients distinguish themselves through commendable accounts of service and achievements at home or in their churches, colleges, communities and the larger world. With the same criteria as the Culture for Service Awards, one Young Alumni Servant Leadership Award is presented annually at or before their 15th class reunion year.
The Goshen College Maple Leafs Athletic Club presents the Dr. Ruth Gunden and the Dr. Roman Gingerich Champion of Character Awards. The two awards, created in 2005, are presented to a male and female alumni athlete who exemplify the college's core values in their lives, work and community service. Gunden and Gingerich were pioneers in Goshen College's athletic history.
---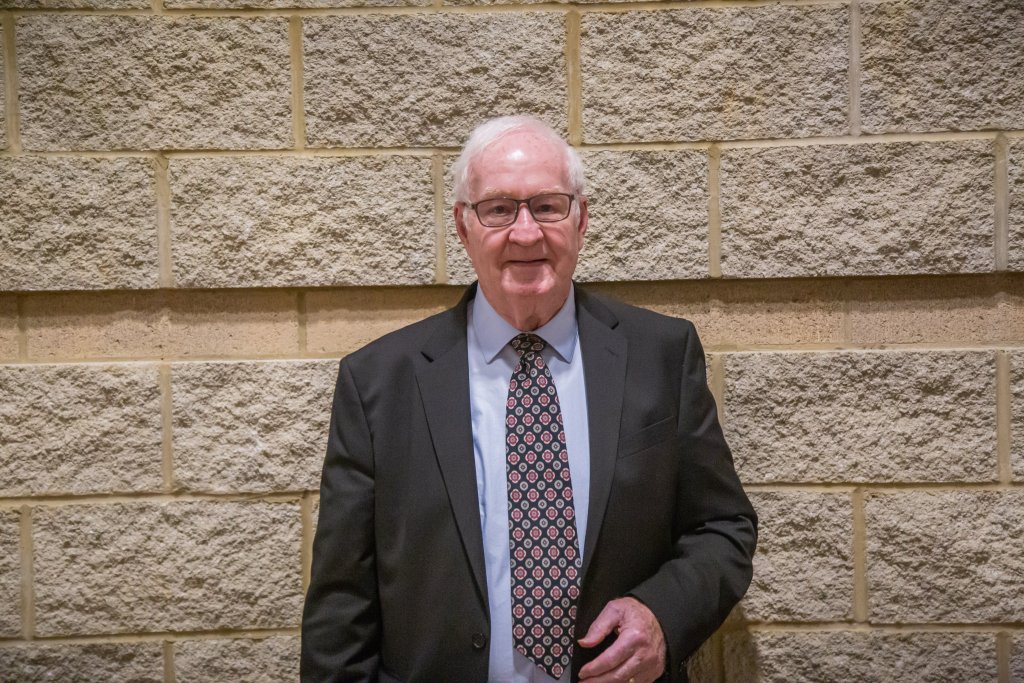 Dan Miller '61
Doctor and business leader
Walnut Creek, Ohio
As a doctor and business leader, Dan Miller '61 has spent over 60 years building a life focused on faith through action and service.
Miller's  deep desire to help those around him led him to devote 40 years to medicine and his retirement years to serving on the boards of the Mennonite Economic Development Associates (MEDA), the Dutchman Hospitality Group and Commercial Savings Bank.
"He has a heart for those with less, those in need and the helpless who may be abused by others," said Ben Sprunger, Ph.D, past president of Bluffton College (now University) and past president of Mennonite Economic Development Associates (MEDA), in his recommendation for the award.
While studying at Goshen College, Miller became involved with various groups that helped deepen his faith and introduce him to the intersections of faith and science. His experiences with his peers and his environment helped him to refine what it means to live a Christian life and provided new definitions and examples of service to the community. He decided to pursue a pre-med degree.
"Goshen provided an environment where issues such as evolution, the meaning of life, the basis of pacifism and the conflict between science and religion could be explored and debated," said Miller.
Miller also developed skills in mediating difficult discussion topics, learning to address differences while at the same time diffusing the tensions that may arise. This strength has become one of Miller's distinctive traits, helping him become a respected leader in many of his group settings.
After graduating in 1961 and subsequently earning his doctoral degree, Miller answered the call to service. He returned to his home community of Holmes County, Ohio, where he opened a family practice, dedicating the next 12 years of his life to the needs of the community, around the clock, with the support of his wife, Mary.
When the needs of the community became unsustainable for a single medical provider, he worked to create a corporation that attracted new talent to fill the needs. Over the following years, he brought five new medical practitioners to the county, including his own son.
When he retired after 40 years as a medical doctor, Miller went on to serve on the boards of MEDA, Commercial Savings Bank and Dutchman Hospitality Group, which owns several inns, shops and restaurants, including Das Dutchman Essenhaus located in Middlebury, Indiana.
Miller considers his roles on the boards as another extension of his service to the community, offering Christ-centered leadership by providing meaningful work for community members and using his position to expand the impact beyond jobs. He has worked to help create leadership training programs to build up community members, as well as budgeting 10 percent of profits for support of charitable causes including college scholarships, local and regional church projects and other donations.
Dan and his wife Mary reside in Walnut Creek, Ohio. They have four children – Cynthia Miller Spiegel '88, Bart MIller '90, J. Eric Miller '92 and Heidi Miller Hershberger – and 10 grandchildren.
---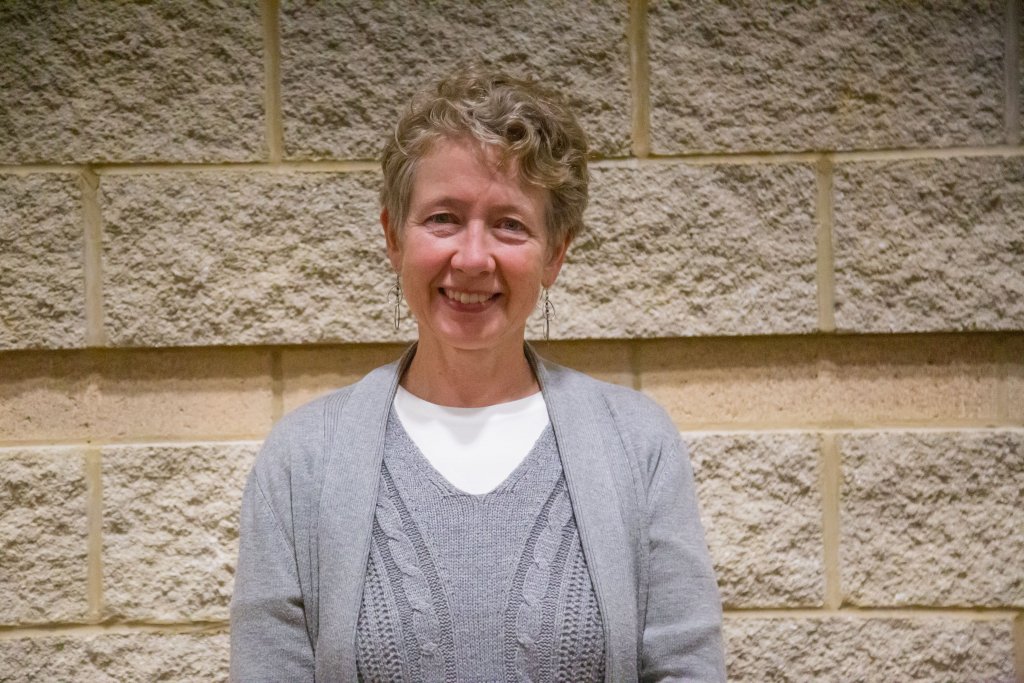 Evelyn Dueck '81
Historic building restoration
Berlin, Massachusetts
Evelyn Dueck '81 is a catalyst for positive change and community engagement in her small town. From those she has interacted with, it is clear that she has many gifts, one of which is bringing people together for a common purpose.
In Berlin, Massachusetts, Dueck has used her gifts to transform two neglected historic buildings into vibrant community centers. One of her projects was 19 Carter, a renovated Methodist church that allows for a space where people of all generations and viewpoints can gather and escape from the stress of life. As the leader of the project, Dueck raised the capital funds and donations for the project.
She also led the restoration team and recruited hundreds of volunteers, and to this day, Dueck trains, schedules, and manages over 300 volunteers which remain an integral part of the success of 19 Carter.
"Great connections seem to happen here," Dueck said. "People come by and meet others in the community and they make things happen. It's truly a pleasure to work with the community at large to create the conditions for connecting through music, art, over shared food and conversations, and a myriad of other activities at 19 Carter."
In addition to 19 Carter, Dueck also transformed the 1870 Town Hall building into a venue for programs, social events, gatherings and local art endeavors.
"Both projects are flourishing because of the innate spirit of Evy," said Mark and Patricia Smith, members of the Berlin community who recommended her.
Janet Woodward, a volunteer and community member who recommended her for the award, said, "Evy trusts in connections between people and throughout the world that go beyond the tangible and temporal, which gives her a relaxed and happy approach to life and her work, even while taking on what some of us would call a burden of responsibility."
In addition to her work as chair of the 1870 Town Hall advisory committee and catalyst of 19 Carter, Dueck is also a Berlin library trustee. She worked in non-profit management at Indian Hill Music in Littleton and the Pro Arte Chamber Orchestra in Cambridge. Dueck was also a professional classical violinist and fiddle player.
Dueck continues to live in Berlin, where she and her late husband Don raised their two adult daughters, Annette and Rebecca.
---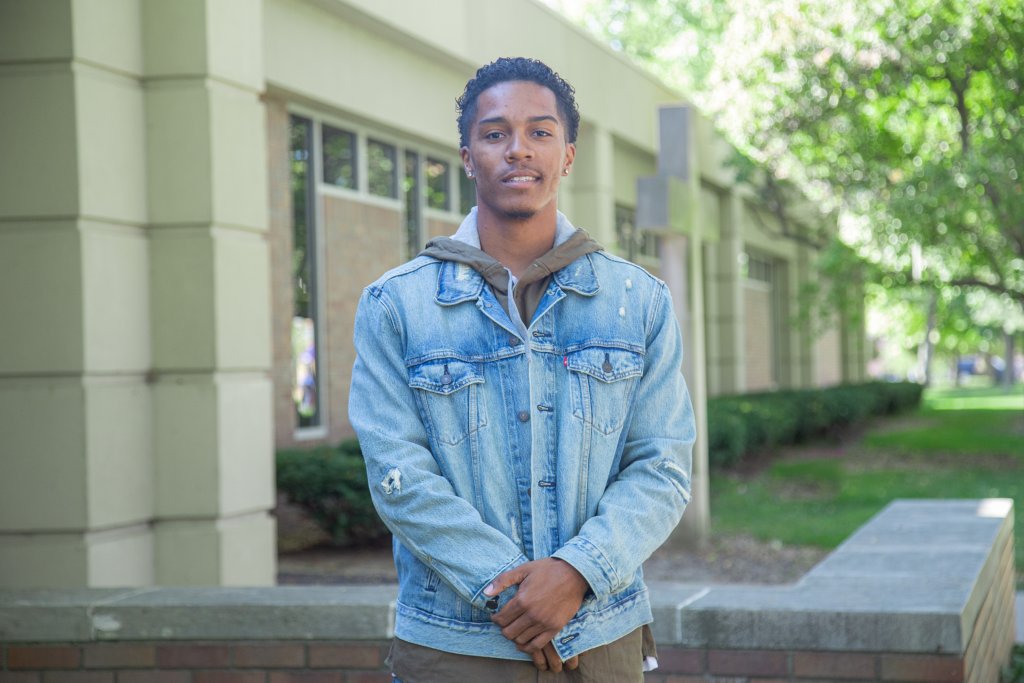 Stefon Luckey '15
Teacher, coach, elected official
Cassopolis, Michigan
Stefon Luckey '15, a 7th-grade teacher at Cassopolis (Michigan) Middle School and varsity girl's basketball coach at Cassopolis High School, sets an example every day of what it means to show respect to all people, regardless of background or worldview.
Self-respect, care for others and servant leadership are just a few of the characteristics that Luckey radiates daily, reflecting his faith in his interactions with others.
"He is a passionate learner who isn't afraid to jump in and help. And not just help, but learn and find new ways of doing things better for those around him, and for himself," said Lisa Cutting, executive administrative assistant at Cassopolis Public Schools, who recommended him.
Luckey grew up living at a few different foster homes before finally landing with Charlene Lee at the age of 8 and adopted by her at 11. Dan Lee, Stefon's uncle, recognized and nurtured Luckey's love of basketball, an interest shared between the two, helping him get involved with local teams, which eventually earned him a scholarship to Goshen College and took him around the world. Dan's involvement in the community — founding youth mentoring and athletic programs — also spurred Luckey's path to teaching and leadership.
"I loved basketball before and with his love for the game I had no choice but to keep that going. Once I saw the impact that he had on the community and the schools, I knew what I wanted to do," said Luckey.
While at Goshen, Luckey studied physical education and played on the basketball team. He particularly enjoyed Goshen for the welcoming nature of the community and for the professors who supported him. He earned his degree in physical education from Goshen College in 2015.
Before his teaching career, Luckey coached and played basketball overseas. He was a personal trainer in Vietnam for an academy call Eballs and played in a local circuit with Ho Chi Minh City Wings. Luckey also played, coached and mentored with Palmerston Power and PaRBA in Darwin in the northern territory of Australia. The skills and experiences Luckey gained during his international travels continue to serve him in his current work with youth, offering him a deeper appreciation for the diverse backgrounds he encounters from his students and players.
"Going overseas, you end up mentoring kids from across the world," Luckey said. "I was able to be a mentor, coach and train. I've always been able to connect to the youth, and playing internationally allowed me to get into mentorship full force."
In addition to his leadership in Cassopolis Public Schools, Luckey also serves as a council member on the Cassopolis Village Council. He won his position of council through public election after being sworn in as a trustee. Luckey is proud to serve as a community leader and understands the responsibility of his position, both as a leader and a role model for youth in his community.
"It means a lot," he said. "For me to be in that position, it is very important for them to see where I've been and where I came from. Through me, they can see that their dreams are possible. It takes a village to raise a child. I really believe that, and I want to inspire the next generation of young leaders to dream big."
Stefon Luckey lives in Cassopolis, Michigan, next door to his mother. He continues to work at developing opportunities for the children in his community.
---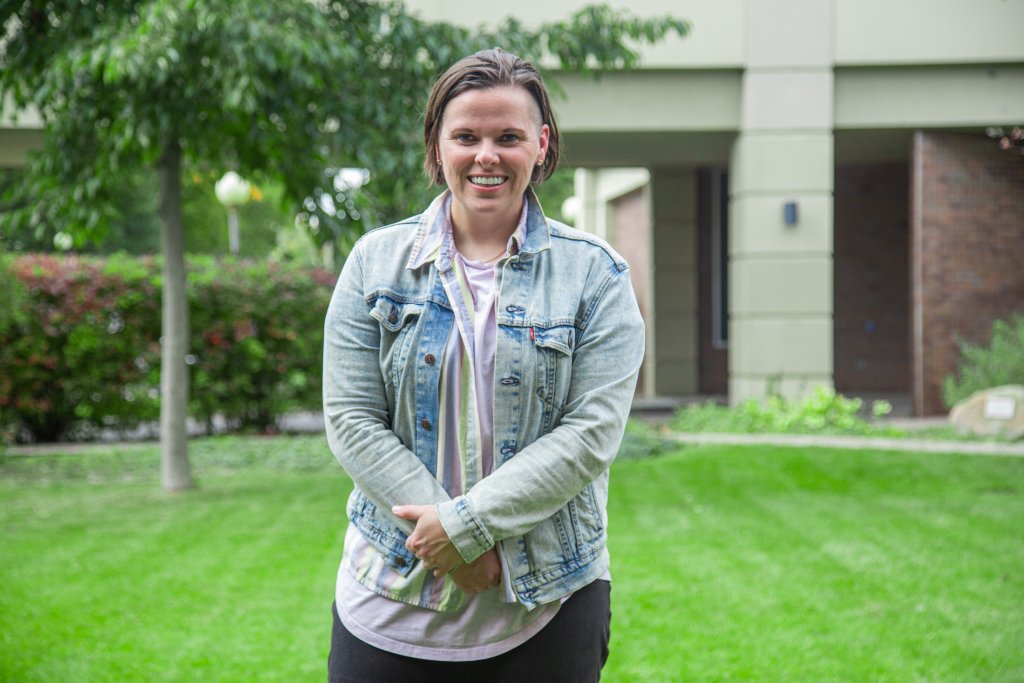 Katie Sowers '09
Athlete, Coach
Ottawa, Kansas
Katie Sowers '09 has shaken the sports world everywhere she has been. Before she was the first female and first openly gay person to coach in the Super Bowl, her path brought her through the campus of Goshen College.
Basketball was Sowers' primary sport growing up, but she also played volleyball and track in high school. She went on to attend Hesston College, where she competed on the women's basketball team and also played one season of softball. She transferred to Goshen College, which was a natural transition since she grew up in a Mennonite family and her parents had attended Goshen.
With the Maple Leafs, Sowers played on the basketball team, spent two seasons on the track and field team, and spent one year playing soccer. She was an NAIA scholar-athlete all three years and holds the GC record for javelin throw (132 feet, nine inches), the sport in which she traveled to nationals in 2008 and 2009.
While at Goshen from 2006-2009, Sowers was denied a volunteer assistant coaching position because of her sexual orientation. In 2009, Goshen College policies and the laws of Indiana allowed for hiring decisions to consider sexual orientation. Goshen College adopted a new non-discrimination policy in 2015. "My experience as an openly gay student-athlete during a time when Goshen was still evolving in the realm of acceptance toward those who identify as LGBT was extremely difficult at times, but I would not trade it for anything," said Sowers. "No matter what we believe, we are all ultimately seeking the same happiness and working to do the best we can with the knowledge we hold."
Although her time at Goshen had its ups and downs, Sowers was molded into the person she is today because of her time at GC. "Goshen played a crucial role in my life and my vision for how the world could be," she said. "There is an emphasis placed on love and compassion at Goshen that is very much needed in our world today."
Sowers graduated in May 2009 with a degree in physical education and played for the West Michigan Mayhem and the Kansas City Titans in the Women's Football Alliance for eight years. She was the MVP with the United States Women's National American Football Team at the 2013 International Federation of American Football Women's World Championship.
After five years as the athletic director of the City of Kansas City, she became an intern with the Atlanta Falcons and then an offensive assistant coach with the San Francisco 49ers. She was the second woman to hold a full-time NFL coaching position and the first openly gay coach in the NFL. Sowers was with the 49ers for five years working with wide receivers, and made more history as the first female and first openly-gay coach in a Super Bowl in 2020.
Now, Sowers serves full-time as the Director of Athletic Strategic Initiatives at Ottawa University in Ottawa, Kansas, which has included growing the school's women's flag football program as the defensive coordinator.
Sowers is listed as one of the 100 Most Influential Women in Sport by Sport360 and has been featured in several publications and magazines, such as ESPN, USA Today, NFL.com, Forbes and Outsports.
---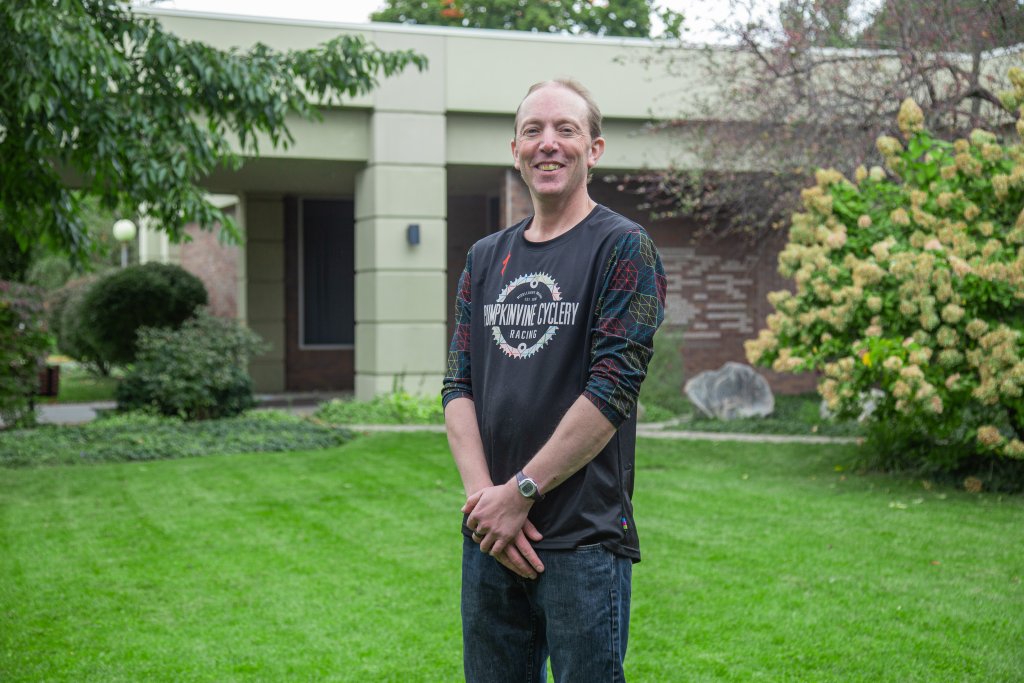 Jason Potsander
Teacher, Bicyclist, Survivor
Goshen, Indiana
Jason Potsander '01 has been through trials and tribulations, including numerous cycles of chemotherapy, but through it all, he has never let go of his priorities.
Potsander grew up in Wellman, Iowa, and competed in cross country and track at Iowa Mennonite School, now Hillcrest Academy. During his high school years, he completed the Register's Annual Great Bike Ride Across Iowa (RAGBRAI) three times and began dabbling in sprint distance triathlons.
While at Goshen, Potsander was a member of the cross country and track teams when he wasn't injured. He was also a part of the on-campus student-led Bible study put on by Communion Fellowship (now Life Springs) and was active and supportive of the International Students Club. "Goshen College reinforced my life and career priorities to be focused on service and helping others as much as possible," said Potsander. "I left with the critical thinking and writing skills I attribute most of my professional accomplishments in public school teaching. I also left with a compassionate heart, more global awareness, and an appreciation for ideas and people that were different from me."
Potsander married Heather Graber '01 in 2001, and they have three kids. They lived in Anchorage, Alaska, for seven and a half years, where they started their family and were leaders in the Anchorage, Alaska Service Adventure through the Mennonite Board of Missions in 2003 and 2004. Potsander has been an elementary school teacher for 21 years, most recently working with English learners at Chamberlin Elementary in Goshen, and enjoys competing at the highest levels in running, triathlons, swimming, and bicycling events – in all types of weather conditions. He attends Faith Mennonite Church in Goshen.
Yet arguably, the most impressive components of Potsander's life have come more recently after he was diagnosed with stage IV pancreatic cancer. Despite the many cycles of chemotherapy treatment, Potsander has fought through adversity with optimism and a strong work ethic. He has become even more committed to what matters most to him in life – his family and biking.
Potsander's accomplishments since his diagnosis are staggering. In 2020 he completed an Everest bike ride in under 24 hours – continuously riding up and down a hill until reaching the equivalent height of Mount Everest's summit – more than 29,000 feet. He shares the course record for the Melting Mann 24-mile gravel course in Vandalia, Michigan. In 2021, he won the Michigan Gravel Race Series in the fat-bike category, along with his "Cancer Be Damned" team. He won the Lumberjack 100 mountain bike tandem division in 2022 with the same team.
In 2020, "The Goshen College Cross Country  Heart Award" was renamed "The Jason Potsander Character Award" to recognize one male and female student-athlete that have been able to withstand challenges. He reminds us all to live life to the fullest by centering around what matters to you most.
Potsander and his wife Heather live in Goshen with their three children Selah, Analise and Solomon.