Dr. "Sarge" Yoder, former professor, coach and namesake of baseball field, dies at 94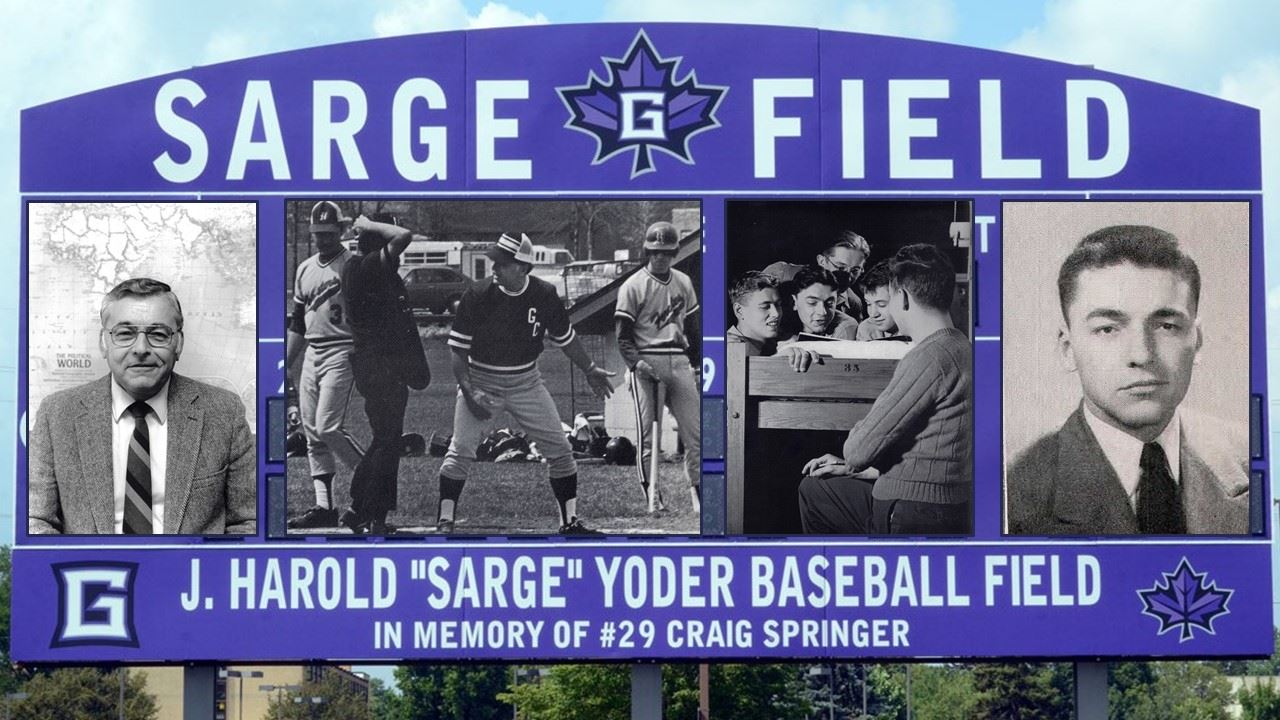 Jay Harold "Sarge" Yoder, longtime professor emeritus of physical education and head coach at Goshen College, died Thursday, April 14, 2022, surrounded by family. He was 94 years old.
Dr. Yoder taught physical education and coached at Goshen College primarily from 1955 to 1987. The J. Harold "Sarge" Yoder Baseball Field, named in 2015, honors his dedicated service.
Dr. Yoder coached four different teams during his time at Goshen. He was the men's head basketball coach for four seasons, from 1958-1961 and then again for the 1964-65 season. He also served as the men's head soccer coach in 1961 and 1962. His men's tennis teams sported a record of 82 wins and 45 losses when he guided the team from 1976 to 1986 and in 1990. In 1983, Dr. Yoder was voted Tennis Coach of the Year by the coaches of 11 District 21 teams participating in the 1983 National Association of Intercollegiate Athletics (NAIA) tennis tournament. His team took first place in the Mid-Central College Conference tournament held that year. He was even the Athletic Director for a period of time.
But the team that Dr. Yoder left the most significant impact on was the Maple Leafs baseball team. He was the first coach when the program began in 1957 and is still the winningest baseball coach in program history. He compiled 229 wins over 28 seasons and four stints from 1957-1965, 1967-1971, 1973-1978 and 1980-1987.
On Saturday, October 3, 2015, Dr. Yoder was in attendance as Goshen's baseball field was named in his honor. The Dr. J. Harold "Sarge" Yoder Baseball Field will forever remind student-athletes, coaches and fans of the man who was instrumental in establishing or building numerous teams at Goshen College in the early days of Maple Leafs athletics.
"It was a great experience," Yoder told The Goshen News about the dedication at the time. "It humiliates me almost because I was just another jock here. It's a great pleasure and an honor."
Dr. Yoder was born on June 10, 1927, in Harper, Kansas, to Stephen and Esther (Lehman) Yoder. He was a 1950 Goshen College graduate. He married Patricia L. Shellenberger on December 29, 1951. She attended Goshen from 1946 to 1948 and they were married for 44 years before she preceded him in death in 1995.
Dr. Yoder was an instructor of physical education at Hesston College in the 1950-1951 school year and provided relief with the Mennonite Central Committee in Japan from April 1952 to August 1953 and in Korea from August 1953 to March 1955. He would later return to work in Japan in 1972 as a part of Goshen College's Study-Service Term (SST) and then again in 1979. He completed his master's at The Ohio State University in 1957 and his doctorate at Purdue University in 1968.
After his time at Goshen College, Dr. Yoder coached the Bethany Christian High School boy's tennis team and was the director of tennis tournaments for the Goshen Parks and Recreation Department.
Along with his parents and wife, Dr. Yoder was preceded in death by his siblings, Rueben Clifford Yoder and Florence Lucille Detrow, and a grandson, Neil Yoder. Survivors include three children, Beth Yoder Jensen, Barbara Yoder and Steve Yoder, all of Kansas, and seven grandchildren.
Dr. Yoder was a long-time member of College Mennonite Church in Goshen.
Visitation will take place Sunday, April 24, 2022, from 3 to 5 p.m. at College Mennonite Church. A memorial service will be held Monday, April 25, 2022, at 1 p.m. at the church. Private burial will be in Violett Cemetery.
Memorial gifts may be directed to Goshen College International Student Aid Fund.