Augusta Nafziger wins first place in state journalism competition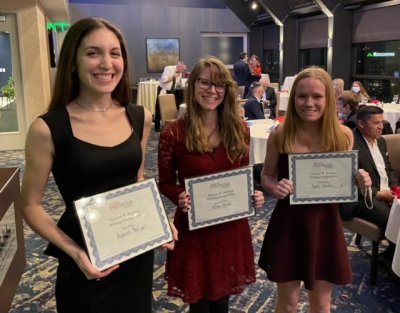 Augusta Nafziger, a junior music and writing major from Weyers Cave, Virginia, took first place in the 35th annual Keating Competition on Saturday, Nov. 13, in which 10 of the top collegiate journalists in the state of Indiana had five hours to report and write a story.
The Indianapolis Press Club Foundation, which sponsors the contest, gave the students their topic on Saturday morning: write about change under way in Indianapolis: change in business, in climate, in construction, in music – any kind of change.
Along with the other students, Nafziger set out at 10 a.m. in downtown Indianapolis. One of the people she happened across was Dusty Bo, an alternative southern rock musician who was setting up the mic stand at the Indianapolis Tin Roof.
"The people here are hungry for entertainment," he said. "You can tell that they were missing it."
Two blocks away, Nafziger approached the Indianapolis Symphony Orchestra office building, where a rehearsal was under way for the annual Yuletide Celebration show.
Brandy Rodgers, the senior manager of pops and Yuletide, slipped out for a spontaneous interview of "10 minutes and no more."
The show is back after the cancellation of the orchestra season last year because of Covid, "a devastating blow," Rodgers said.
At 3 p.m., on deadline, Nafziger finished her article, which included Rodgers' pledge that the cast and staff of Yuletide are committed to making the return of the show "as exciting and fun as possible."
This is the second time in three years that Goshen College was represented among the finalists. Abigail King and Gabe Miller were finalists in 2019. This was the first time that a Goshen College student received first place.
Nafziger received a $3,000 prize as the first-place finisher. All 10 finalists received separate $100 checks.
"The judges paid Gussie one of the highest compliments in saying that her piece arrived publication-ready," said Duane Stoltzfus, chair of the communication department and adviser to The Goshen College Record. "For someone who had never been in Indianapolis until this weekend, she wasted no time in making herself at home.
The other finalists this year were from Franklin College and Indiana University. The contest began in 1986 as a tribute to Thomas R. Keating, a former Indianapolis Star columnist.