Student filmmakers debut rom-coms and thrillers
By Patrick Webb '21
Four film students at Goshen College can now add film credits to their resumes after premiering their short film projects in May.
The students debuted their projects together in a private viewing at the Umble Center on May 18, 2021. The short film projects included rom-coms and a thriller.
"Whispers in the Woods"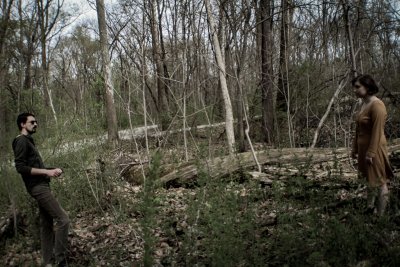 Ash Caldera, a senior film production major from Aibonito, Puerto Rico, premiered "Whisper in the Woods."
"'Whispers in the Woods' is about a man that goes to the woods to complete a photography assignment and encounters a girl," said Caldera. "Following that encounter he begins to hear incoherent whispers in his head."
"I am proud of my final product because a lot of work went into creating it and seeing a script come to life is something that I'll never get tired of," Caldera said.
Caldera is planning to submit "Whisper in the Woods" to several film festivals, including The Puerto Rico Film Festival, The Riverbend Film Festival and The Indy Film Fest.
A lesson Caldera plans to take away is "always overshoot."
"Getting sufficient coverage is something very important and it's something that I wanna keep in mind for next time and of course to be prepared for inconveniences," said Caldera. "I encountered many barriers while trying to get this short film done and although I was able to finish it I need to always have a back up plan for everything."
"Next Chapter"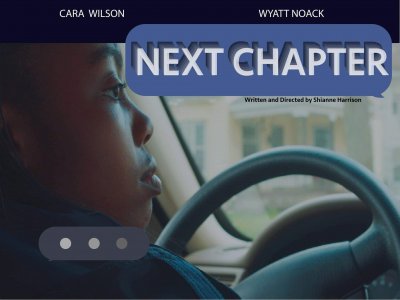 Shianne Harrison, a 2021 film and theater double major graduate from Goshen, released "Next Chapter," a romantic comedy.
"'Next Chapter' centers around a girl named Ruth as she works up the nerves to tell her friend that she likes them, as they are about to graduate from college," said Harrison. "The short ended up taking shape as a romantic comedy of sorts, as the attempts that Ruth makes aren't really that successful as the story takes shape."
Harrison appreciated having an in-person release for her film. "I was thankful that my story's end product read the way I hoped, and the audience seemed to enjoy the story and the edit as a whole," She said.
Harrison is considering sending "Next Chapter" to film festivals, but has no set plans.
Working on "Next Chapter" taught Harrison the importance of planning, as well as "implementing multiple takes, and locking in blocking, as in how I hoped to run the scene or how I wanted the actors to move around the set/space, prior to shooting."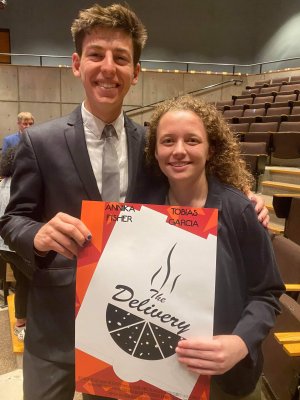 "The Delivery" 
Court Templeton, a sophomore film production major and writing minor from St. Louis, Missouri, worked with Jackson Steinmetz, a junior film production and communication major minoring in spanish and graphic design from Bluffton, Ohio on "The Delivery."
"'The Delivery' is about a pizza delivery girl who has to deliver a pizza to her crush's house and she is very nervous about it," said Steinmetz. "Once she arrives she finds something she didn't expect."
Steinmetz, the film's director, gave guidance for lighting, sound and cameras.
"It was my job to take a written script and verbalize my creative vision to put that on the screen," he said.
Templeton acted as producer. "It was my job to coordinate schedules, auditions and gather props," Templeton said.
"We learned a lot through the process of making the film about what works well and what doesn't," said Steinmetz. "It was a really good practice run for when I do my capstone project in a few years. For the most part I will walk away feeling a lot more confident about the process and knowing how, when and why to do things. I think that having this experience under my belt will be really beneficial to me down the line."
"This project taught me the different processes of how to make a movie," Templeton said.
*Because these projects may be considered for film festivals, the feature-length films are not currently available for viewing.