Goshen College sophomore Denisse Aguilar wins 2021 peace oratorical contest
Goshen College sophomore Denisse Aguilar, a psychology and sociology major from Goshen, won the 2021 C. Henry Smith Peace Oratorical Contest and $300 in prize money on Feb. 16 with her speech titled "Living the American Dream on Borrowed Time."
Aguilar spoke about her experience as a beneficiary of Deferred Action for Childhood Arrivals (DACA), the uncertainty she has felt and her inspiration at the resiliency of other DACA recipients.
"My parents came to the U.S. in search of this idea of economic transcendence," she said. "The idea of creating a good life by following instructions and working hard, the American dream."
However, throughout high school and as she began college, her DACA status seemed like both a blessing and uncertainty.
"My future had been built on a two-year by two-year basis, and thinking further than that seemed like overreaching," Aguilar said. "And during this time, I thought 'Am I just living the American dream on borrowed time?'"
Aguilar encouraged listeners to be good advocates and to work together to create a peaceful, caring and safe environment for all.
"This has been part of my story, yet there are still 799,000 others that you have not heard," she said. "Therefore, I urge you to listen and display compassion and empathy for those around you. And more importantly, if you have found your voice, as I recently have, use it. Use your voice for those who have been silenced."
With this win, Aguilar will be entered into the binational intercollegiate Mennonite Central Committee C. Henry Smith Peace Oratorical Contest.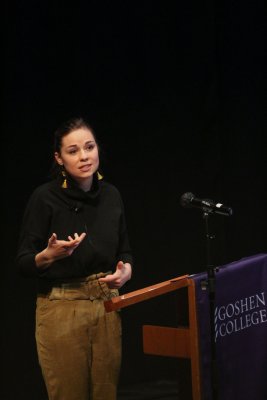 Taking second place was Mackenzie Miller, a senior journalism and English major from Lancaster, Pennsylvania, with her speech titled "Making Peace with Death: Transforming a Language of Violence and Inequality in America."
Miller spoke about our cultural understanding and fear of death, and her experience in Varanasi, India, where she watched Hindu pilgrims bathe in the Ganges River and perform funeral rites.
"There, in that place, death was mourned, for sure, but it was also celebrated… because we will all die someday, and we must all create room in our culture and in our language to acknowledge that," Miller said.
Miller wove together the ways that death has affected our communities and world in the past year, causing civil unrest after unjustified police killings and as a result of COVID-19.
"Here in this western world, in my middle class white Mennonite America, death has too often been an unwelcome stranger, an untouchable, denied, feared piece of human existence."
Miller said that Goshen, though far from India, is not far from death, noting the Yoder-Culp funeral home across the street from campus.
"We too live beside death. We too are human. We too will die. We too are dust."
The other contestants included Gabriella Klopfenstein, a junior public relations major from Goshen, whose speech was titled "Share the Road: My Dad's Story;" Olivia Krall, a sophomore history major from Carmel, Indiana, whose speech was titled "The Rope That Ties Peace and Pain Together;" and Lisa Nalliah, a sophomore environmental and marine science major from Huntington, Indiana, whose speech was titled "Change Is Purple."
The judges who made up the panel were Robert Brenneman, Goshen College professor of criminal justice and sociology; Malinda Berry, associate professor of theology and ethics at Associated Menonite Biblical Seminary (AMBS); and Janna Hunter-Bowman, assistant professor of peace studies and christian social ethics at AMBS.
Duane Stoltzfus, professor of communication, directed the event.