Goshen College's Conference on Religion and Science will explore brain science and Abrahamic mindfulness
Conference: 19th annual Goshen College Conference on Religion and Science, with speaker Dr. Michael Spezio, associate professor of psychology and neuroscience at Scripps College and an ordained minister in the Presbyterian Church.
Public lectures:
• Friday, March 6, 7:30 p.m., "Imagining the True Self"
• Saturday, March 7, 10:30 a.m., "Humility as Inclusive Empathy"
Location: Goshen College's Church-Chapel
Website: goshen.edu/religionscience
---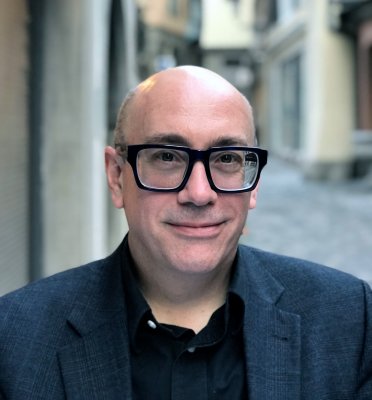 Registration is now open for the 19th Annual Goshen College Conference on Religion and Science, Mar. 6-8, 2020, featuring Dr. Michael Spezio, associate professor of psychology and neuroscience at Scripps College in Claremont, California, and an ordained minister in the Presbyterian Church.
Spezio heads the Laboratory for Inquiry into Valuation and Emotion (The LIVE Lab) at Scripps College. He is an ordained minister in the Presbyterian Church (U.S.A.) and the author of several books, the latest being Habits in Mind: Integrating Theology, Philosophy, and the Cognitive Science of Virtue, Emotion, and Character Formation (Philosophical Studies in Science and Religion).
The conference theme is "In Whose Image? Perspectives from Intersections of Brain Science and Abrahamic Mindfulness."
Spezio will offer two free public lectures on Friday, March 6, 7:30 p.m. and on Saturday, March 7, 10:30 a.m. A third lecture for registered conference attendees, titled "Neural and Informational Codes of Consciousness," will take place on Sunday, March 8. These lectures will take place in Goshen College's Church-Chapel.
Registration for the conference is $330, with discounts available for first-time attendees, students, retirees and Midwest Religion and Science Society (MRSS) members. Registration includes five meals during the conference.
The annual Goshen College Conference on Religion and Science is designed to provide discussion prompted by a leading thinker in the dialogue between religion and science. A single invited speaker presents three lectures, two of which are open to the public. Small, moderated discussion sessions provide conference participants an opportunity to address topics from the lectures in conversation with the speaker.
Conference participants include pastors and laypersons, academic scientists, mathematicians, theologians and students.
Carl Helrich, professor emeritus of physics at Goshen College, serves as conference director. For more information about the conference or to register, visit www.goshen.edu/religionscience.
About Dr. Micheal Spezio
Micheal Spezio began his career with degrees in biochemistry from the University of Case Western Reserve University. He received a Master of Divinity degree at Pittsburgh Theological Seminary, Ph.D in biochemistry from Cornell University, and Ph.D in cognitive and systems neuroscience from University of Oregon.
He heads the Laboratory for Inquiry into Valuation and Emotion (The LIVE Lab) at Scripps College.
The LIVE Lab uses computational models of semantic relations, mental processes, and neural systems to study the dynamic valuation of self and other factors critical for choices about how to live. This work includes studies of empathy, compassion, forgiveness, virtuous formation, mindfulness, prayer, theory of mind, belief and value updates using available evidence, and the extent to which both temporal horizon and evidence weighting influence interactive learning during cooperation and competition.
He developed the first course in Data Science Ethics and Justice at the Claremont Colleges and works on virtue in the practices of science. He is Co-Editor of the journal Philosophy, Theology, and the Sciences (Mohr Siebeck) and of the Routledge Companion to Religion & Science.
Dr. Spezio focuses his research on emotion, empathy, moral action, contemplative practice, and the development of mindfulness and virtue. In addition to experimental work, his interdisciplinary research includes philosophy of mind, moral philosophy and ethics, religious studies, and theology. He has been on the Scripps College faculty since 2007 and is currently visiting faculty at Caltech in affective and social neuroscience. He is co-editor of the 2011 Routledge Companion to Religion and Science and of the 2012 Theology and the Science of Moral Action, also from Routledge.
Dr. Spezio has written several books about the relationship between religion and science.