Seth Weaver: Balancing college life with professional Ultimate Frisbee
By Sophia Martin '20
A version of this story originally appeared in The Record
Seth Weaver, a senior molecular biology/biochemistry major from Madison, Wisconsin, runs cross country, sings in Vox Profundi choir and spends a lot of time in the ceramics lab.
"I love to throw," Weaver said. "It's just something I enjoy doing to turn my mind off."
But when he's not throwing clay, he's throwing a disc as a professional Ultimate Frisbee player.
Weaver recently featured on ESPN 3 on Oct. 27 in the Ultimate Frisbee National Championships.
Despite coming into the tournament ranked sixth in the USA Ultimate (USAU) Men's Club Division, Weaver's team, Chicago Machine, made it to the finals. Machine fell just short of the title, with a 13-12 loss to Seattle Sockeye in the finals, but Weaver himself put up an impressive performance with a number of key plays.
Going pro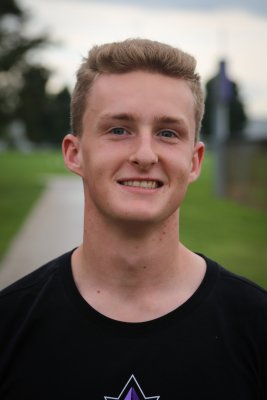 Machine signed Weaver in July 2019, but he has been playing Ultimate professionally since February, when he was offered a spot on Chicago Wildfire, Chicago's professional Frisbee team in the American Ultimate Disc League (AUDL), after attending their open tryouts.
Weaver had been an avid Ultimate player for four years at Madison East High School in Madison, Wisconsin but hadn't played on an organized team since graduation. His three-year recess didn't prove to be a problem: Wildfire offered Weaver a spot after tryouts. He signed early that spring.
Playing with Chicago Wildfire reminded Weaver of his passion for the sport. "I didn't realize how much I had missed it," he said.
But he knew that he wanted to play at a higher level: "It sounds counterintuitive, but club Frisbee is actually much more elite than professional Frisbee." Based on the recommendations of his Wildfire teammates, Weaver decided to try out for Machine. He made it, and now plays for both teams.
Chicago Machine was in San Diego for the National Championships. The weekend-long tournament is the third leg of the Triple Crown Tour, which represents the highest level of competitive Ultimate in North America.
Chicago Machine isn't a classic heavyweight in the division. The team had never been in the championships before, and it was only their first time in the semifinals of the tournament.
"We came in sixth seed, but felt like we were a top-three team there," Weaver said. "We had a bad start to the season, and sixth seed wasn't representative of what we were."
Weaver was excited as he took the field at Mira Mesa High School. "I don't really get nervous," he said. "As soon as we start playing, nerves go away; you're just playing Frisbee, just tossing plastic."
The championship was the last game of the club season. But Weaver still plans to play for Wildfire at the start of the professional season in February 2020.
School vs. Ultimate
Balancing professional athletics and schoolwork hasn't proven a problem for Weaver, so he's eager for the start of the new season.
"I got really lucky with my schedule," he said. With Machine's weekly Wednesday evening practices in Chicago, Weaver didn't get back to Goshen until late on those nights. But his Thursday mornings were completely free this semester.
"I don't know what I would have done if I would have had class early," he said. "Those few extra hours of sleep made it possible."
Although professional Ultimate has been possible during his time at GC, Weaver remains unsure about his future with the sport.
His main goal for next year is to study biochemistry at the graduate level. Playing Ultimate would be a bonus. "Hopefully I can get into a program with a decent college team at a location that has a club and professional team," Weaver said.
At this point, it is uncertain whether he will play for Machine again next season.
"It's all dependent on where I go to graduate school," he said. "I'm grateful for the experiences that I've had on the professional level, and I want to keep playing Ultimate as long as I can, even if it is just recreationally."