Senior Emily Stoltzfus wins annual peace oratorical contest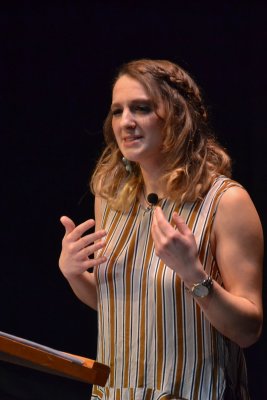 Goshen College student Emily Stoltzfus, a senior social work major from Goshen, won the 2019 C. Henry Smith Peace Oratorical Contest and $500 in prize money on Feb. 12 with her speech titled "Getting the Words Right: Rethinking our Measures of Education."
Stoltzfus spoke about how schools measure the success of their students, and that the ways they do this don't always take all factors into account and can lead to negative outcomes for the students.
"In the school systems, we are eager to separate and divide people: winners and losers. Gifted and ordinary. Fast learners and slow learners. Those who read early and those who read late," she said.
Stoltzfus emphasized the steps that can be taken to maximize learning and opportunities that bring out the best in students, and ended with a call to seek out the talent and intelligence in each student.
This speech is not a call for lowering standards or encouraging us to settle for less. Grades and the dean's list and challenging tests can serve as important motivators and measures. But to stop there, makes measuring intelligence and success incomplete. How can we enable everyone to flourish? Our calling should be to seek out the talent and intelligence in each person, recognizing that everyone has their own story and challenges. In a society so quick to judge, we need to honor each individual as unique and worthy. As my supervisor tells the students at Chandler Elementary, it doesn't matter if you've won or lost the cookie jar game; everyone deserves a piece of chocolate, even if the winner gets two."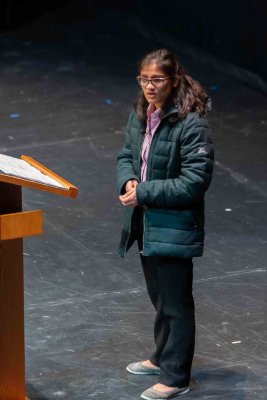 Taking second place was Mandira Panta, a senior sustainability studies major from Bhaktapur, Nepal, with her speech titled, "Why Climate Change?"
Panta's speech focused on how it can be difficult for people to care about climate change when they don't feel like they directly experience its effects.
"It gets a bit easier, when we see people like us in Bangladesh, suffering from flood, year after year," she said. "It gets even easier to care when it's our own friends and families in Florida or California going through hurricanes and storms and fires. But it all becomes a reality when we rush to our basement every hour to see whether it's flooded. The hundred year flood that Goshen experienced last year will happen more frequently and our infrastructures cannot keep up with it."
"Even when effects of climate change come knocking at our doors, and we don't respond, what exactly are we waiting for? I have been in a position of environmental privilege as have many of you. Maybe we will get lucky, and won't face huge consequences, but our children and grandchildren will. And they will ask us, 'Why didn't you do anything when you should have?'"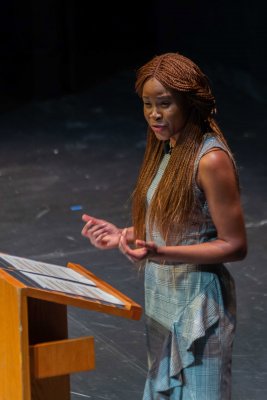 The other contestants included Deborah Tshidimu, a senior nursing major from Kinshasa, Democratic Republic of Congo, whose speech was titled "The Human in Me: How MJ Shaped the Heart of a Congolese Girl;" and Ronit Goswami, a first-year exercise science major from Goshen, whose speech was titled "Interfaith Exploration and Learning."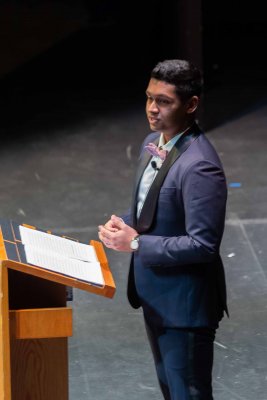 The four judges who made up the panel were Richard Aguirre, community impact coordinator at Goshen College; Malinda Berry, assistant professor of theology and ethics at Anabaptist Mennonite Biblical Seminary; Adrienne Nesbitt, event coordinator for Eyedart Creative Studio; and Allan Rudy-Froese, associate professor of Christian proclamation at Anabaptist Mennonite Biblical Seminary.
Senior nursing major Sara Azzuni directed the event, along with Jason Samuel, assistant professor of communication.