Students spend fall break serving in Puerto Rico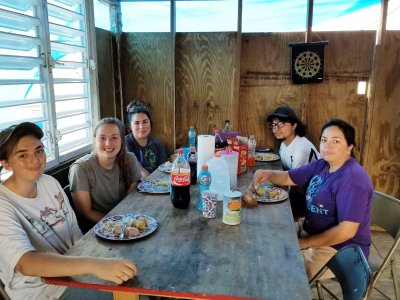 Five Goshen College students traveled to Puerto Rico during fall break, Oct. 15-19, to serve with Mennonite Disaster Service (MDS) in an area affected by Hurricane Maria in September 2017.
The volunteers included Mikol Aspinwall, a senior computer science major from Goshen; Erica Ewing, a junior sustainability studies and peace, justice and conflict studies major from Wooster, Ohio; Sandra Mcmasters, a senior social work major from Goshen; Talia Miller, a sophomore social work major from Millersburg, Ohio; and Vanessa Navarro, a senior social work major from South Bend, Indiana
The students traveled with Madeline and David Maldonano, community outreach pastors at College Mennonite Church in Goshen. David Conrad, a 1978 Goshen College graduate and architect from Washington, D.C., led the project.
The group traveled to Viví Arriba in the central mountains near Utuado, which was heavily affected by flooding, property damage and power outages. Because of its remote location, relief has come slowly to the region.
There they helped to rebuild a church and homes, including one for a local Mennonite pastor's family. They tiled floors, painted, laid foundation and did other odd jobs, contributing to the ongoing work that MDS is doing in that area.
"Prior to the trip, I had very minimal knowledge of any of the tasks that I performed – so everything I did I managed to learn on the fly," Aspinwall said.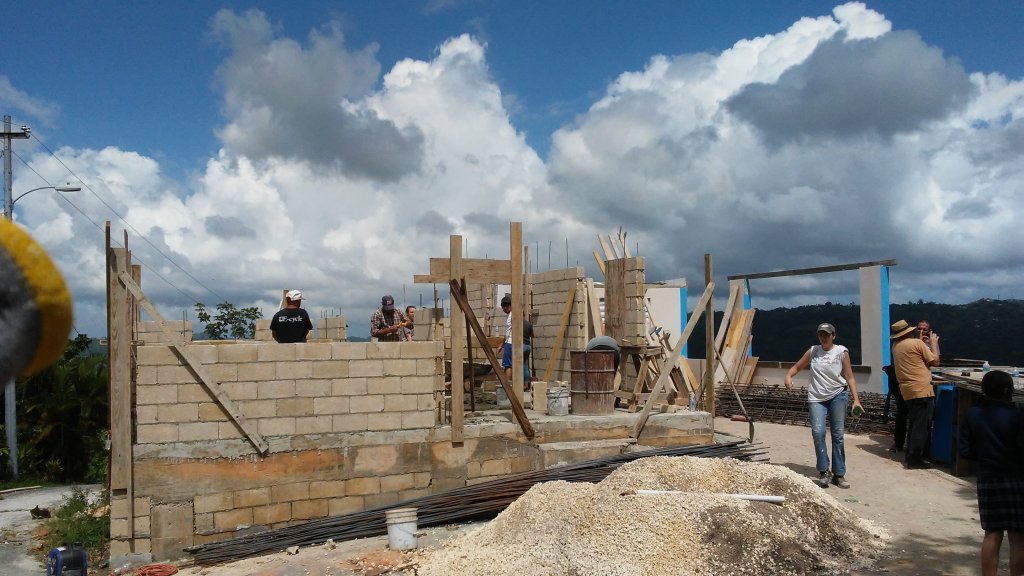 Called to serve
The students said they felt a call to spend their vacation helping others in need.
"I believe as a Mennonite, a global citizen and a servant leader, it is important to find ways to serve other communities, as well as my own faith and cultural communities," Aspinwall said.
Sandra Mcmasters grew up in Aguascalientes, Mexico, in a neighborhood with few resources when it came to addressing natural disasters.
"When I learned what Mennonite Disaster Services does, I thought that this could be a good opportunity to help a family that is in need, especially because I remember when I was a child how difficult it was to have ends meet," she said.
"When I learned that my group was the 24th group coming to help this family and there were several more groups scheduled to help through the end of this year, I understood that the importance of our work is not to do it all, but rather to do our part with all of our heart and to really show that we are working with them," McMasters said.
She said she felt saddened by the idea that there are still many people in Puerto Rico recovering from the aftermath of Hurricane Maria.
"I am aware that with helping just one family I am not going to end poverty," McMasters said. "But I believe that I contributed to give hope to this family. And seeing the smiles on their faces is something that encourages me to continue working for social justice."