Goshen College wins MACOG Partners for Clean Air award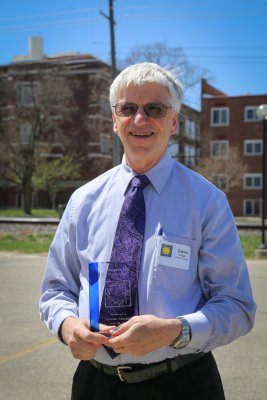 Goshen College received the 2018 Partners for Clean Air award from the Michiana Area Council of Governments (MACOG) at their annual awards luncheon on April 25, 2018 in Elkhart.
MACOG recognized Goshen College as a leader in energy conservation and land management. Over the last several years, Goshen College has converted 12 out of about 55 acres of lawn to native landscaping, which improved air quality and reduced mowing, irrigation and use of chemical herbicides. The college has also steadily reduced its energy consumption through energy efficiency improvements such as smart LED lighting and digitized energy management and added solar thermal and geothermal technologies. The campus electrical consumption has returned to 1992 levels and gas consumption is 30% less than it was at that time, all while increasing building square footage by 60 percent.
"We're grateful to be part of a community that cares so much about promoting a cleaner environment," said Glenn Gilbert, director of facilities. "And at Goshen, we've added a number of new programs for people who want to study environmental science and sustainability, and we just have a lot of students showing up wanting to be environmental educators."
Goshen College received this award along with Plymouth Products, Tippecanoe Valley School Corporation and the Indiana Toll Road.
"This year's award winners represent a broad array of options for achieving both economic and environmental success," said MACOG Executive Director James Turnwald. "Their leadership and initiative serve as outstanding examples for others wishing to make a positive impact on air quality as well as quality of life. We applaud their efforts."
Goshen College previously received this award in 2009 for Rieth Village at Merry Lea Environmental Learning Center.
Partners for Clean Air is a coalition of businesses, industries, local governments and community groups committed to improving overall air quality and public health through voluntary actions.
More information about the MACOG Partners for Clean Air program is available at www.macog.com/sustainability.html.