Goshen College President Rebecca Stoltzfus inaugurated in 'Distinctively Goshen' event
In a celebratory public ceremony around the theme of "Distinctively Goshen," Dr. Rebecca J. Stoltzfus was inaugurated as Goshen College's 18th president in the Music Center's Sauder Concert Hall on Feb. 17.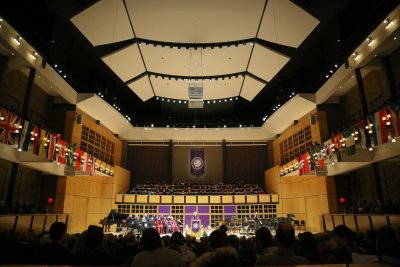 The event — filled with abundant creativity, student participation and a strong global thread — opened with a procession of many of the college's international students into the hall that was lined with flags from all of the college's Study-Service Term locations, as well as of the countries that current students are from. It concluded with the college's Women's World Music Choir singing while surrounding the room.
---
---
President Stoltzfus offered four "distinctively Goshen" affirmations in her inaugural address. "These qualities are not new to us, but are re-affirmations of who we have been," she said.
The first was that a Goshen education "will continue to express and to integrate the transcendent values of beauty, truth and goodness," she said.
Secondly, Stoltzfus said, a Goshen education "will be one in which the faculty are outstanding scholars engaged in the pursuit of truth.
"Let us manifest our respect for the intrinsic worth of every member of our campus community, and also our freedom to ask challenging questions and speak opposing views."
Third, Stoltzfus affirmed that a Goshen education "will continue to be experiential and transformative to an unusual and adventuresome degree."
Finally — in direct reference to the inaugural Scripture, Ephesians 3:16-17 — she affirmed that a Goshen education is "rooted in an educated conscious love, formed and transformed by the way of Jesus, a love that gives us courage to be vulnerable and to be fierce when called upon to act for goodness."
She added, "This taproot of love leads us to make particular commitments in this time and place: At a time in our nation when social inequalities are increasing, we will strive to craft policies and choose actions that expand social opportunity and increase equity. At a time when the rhetoric of higher education pits job preparation against holistic human development, our education will be holistic and prepare our graduates for great careers. At a time when the arts and humanities are viewed as non-profitable, we will preserve them, because they enable us to make a world that is worth living in. At a time when we are overwhelmed by disconnected information, we will host 'the eternal conversation about things that matter.'"
Stoltzfus concluded, "Most of all, I imagine the joy of working with this community to create shared vision and new aspirations as we continue to offer a distinctive and excellent Goshen College experience for life, leadership and service."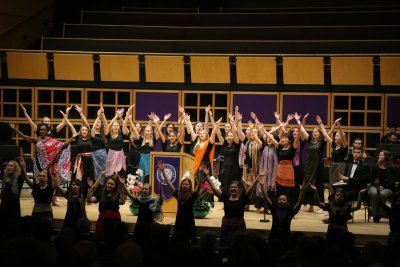 Music played a central role in the ceremony. Stoltzfus' address was preceded by singing the Goshen College hymn, "Teach Me Thy Truth" and followed by the singing of the Goshen College Alma Mater. Performing before, during and after the ceremony were a student jazz ensemble, the Goshen College Symphony Orchestra, a student vocal ensemble and the Women's World Music Choir.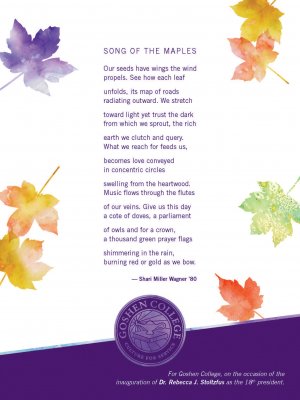 The artistic ceremony included a two-part commissioned dramatic reading, titled "Goshen Voices." It was written by 1972 Goshen College alumnus Don Yost, performed by students and shared the stories of 1936 alumna Lois Gunden, 1968 alumnus Ramzi Farran and 2004 alumna Arely Perez. The ceremony also featured a commissioned poem, titled "Song of the Maples," written by 2016 and 2017 Indiana Poet Laureate Shari Wagner, a 1980 Goshen College graduate.
A number of people from Stoltzfus' time at Cornell University and in Ithaca, New York, participated in the ceremony. Dr. Judith Appleton, vice-provost at Cornell University, provided an introduction. And Stoltzfus' former pastor Rev. Rebecca Dolch, of St. Paul United Methodist Church, Ithaca, New York, gave an invocation.
Dr. Conrad Clemens, a 1985 Goshen College graduate and chair of the Goshen College Board of Directors, gave the installation charge. Dr. James E. Brenneman, former Goshen College President and 1977 alumnus, presented the presidential medallion, an emblem of office for Goshen College presidents, designed and made by Associate Professor Emerita of Art Judy Wenig-Horswell. Rev. John H. Powell, a member of the Goshen College Board of Directors, provided a prayer of blessing. Joining Stoltzfus on stage were the living former college presidents, including her father, Vic Stoltzfus, who served from 1984 to 1996.
---
---
Stoltzfus is a 1983 Goshen College graduate, where she studied chemistry, before earning a master's and doctoral degree in human nutrition from Cornell University in Ithaca, New York. Before joining the Cornell faculty in 2002, she taught human nutrition at the Johns Hopkins Bloomberg School of Public Health (Baltimore, Maryland) — the top-ranked school of public health in the United States. Her ongoing research focuses on the causes and consequences of malnutrition in women and children in low-income countries. She was most recently the vice provost for undergraduate education at Cornell University. She began her duties at Goshen College president Nov. 1, 2017.
President Stoltzfus is married to Kevin W. Miller, a 1985 Goshen College graduate with bachelor's degrees in biology and nursing, and a master's degree in public health from The Johns Hopkins Bloomberg School of Public Health. He has worked as a nurse, a public health practitioner, a community health researcher and a church administrator. They are parents of Lydia Miller '18 and Gabe Miller '20.
Stoltzfus' inauguration was the climax of a week of public events celebrating the theme of "Distinctively Goshen."
By Jodi H. Beyeler